Description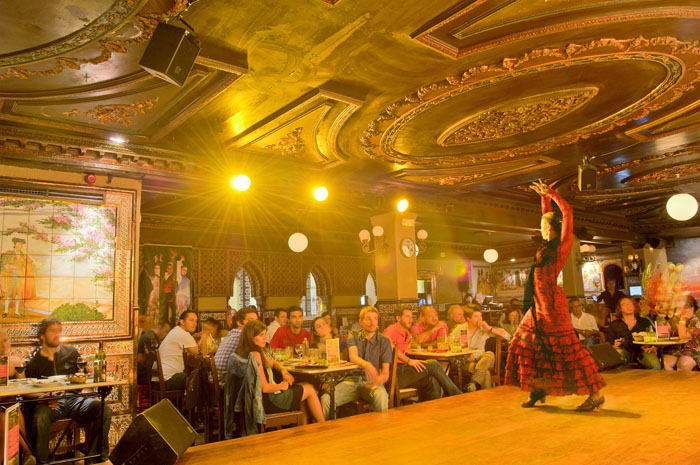 Join us for an unforgettable evening of dinner
and an extraordinary Flamenco show

VIP Seating for the first 24 guests!
Thursday, June 23: Dinner: 7:30, Show: 8:30
Menu:
Villa-Rosa Salad (with crispy chiken and goat cheese)
Ox Entrecott with Sliced Potatoes
Or
Tempura Cod with Romescu Sauce
Dessert: Cake
Bread and 1 Bottle of Wine each 4 people and 1 Bottle of Water each 2 people
Villa-Rosa and Flamenco
Madrid has been and is the capital of flamenco since the early twentieth century. Artists of all kinds and condition to reach fame and prestige. Here the first companies are formed, the best shows are released and flamenco enshrines gender as we understand it today . If you were to ask an amateur by the most emblematic of Madrid of the 20s, quite possibly the first name that would cite the flamingos places of Villa Rosa.
Villa- Rosa was founded in 1911 on the site where he was an old mill chocolate. The original owners were the Penny Farfan and picks along with the flagger Alvaradito and was working as frying and Andalusian tapas bar and flat until 1918.
In 1918 was transferred to Valencia Colombí Rafael Marcos , who used it as a restaurant and a half . approximately in 1919 the local was taken over by two waiters from the nearby bar Viña P , Antonio Torres and Thomas Pajares those who completely transformed . They installed a beautiful wooden counter and artistic coffered ceiling supported by columns on that ride lobed arches that recall to the Alhambra in Granada and a polychrome tiled walls , all Andalusian Arabic style . All interior scenes painted on tiles are flamenco and bullfighting theme and were made ​​by the best potters of Madrid Antonio Ruiz de Luna and Julian Santacruz, which by the way, the first was also the author creator of all ceramics that indicate names of all the streets of the downtown area of Madrid.
Want to learn more? Check out their website: www.tablaoflamencovillarosa.com