VIP Vendor at 2017: The Year of Women Entrepreneurs' Conference!
Actions and Detail Panel
VIP Vendor at 2017: The Year of Women Entrepreneurs' Conference!
Fri, February 24, 2017, 8:00 AM – 5:00 PM PST
Description
Reserve your Exclusive VIP Vendor today! (spaces are limited)
Join Promote Her Business as a featured, VIP VENDOR for the First Annual Conference: "The Year of Women Entrepreneurs," where you'll network, be given a "business spotlight" to get in front of your ideal clients, and proudly support the movement to have more people think of women-owned businesses FIRST for their shopping needs!
For only $250 (which includes your general admission), you will be able to have a table for your business, where prospects will come to you to learn about your awesome products/services.
What's included?
Guaranteed VIP seating

A continental breakfast AND delicious plated lunch . (And you'll be given three plated choices when you register)

Exclusive access to eat lunch with Illustrious Business, Marketing and Sales Experts and Speakers

Double exposure: Opportunity to put out marketing materials during BOTH networking parts of the conference (both morning and later afternoon networking) and offer a raffle prize at your table

1 minute, "Business Spotlight" commercial during event

Your name, company, blurb and contact info in post-event email thanking sponsors (please email this information to jos@promoteherbusiness.com immediately)

Share the Year of WE conference with your network... both women entrepreneurs and male allies! And years from now, be able to say you were in the very room where history was made... where Silicon Valley was a role model for the rest of the world on the next frontier for women entrepreneurs!
When? Friday February 24th, 2017 from 8am-5pm
Where? Silicon Valley Capital Club. We are celebrating the Year of The Women Entrepreneur at a venue that reflects the beauty and high-mindedness of the entrepreneurs we're committed to supporting -- a venue which many say has the most beautiful view of San Jose from the17th Floor – Silicon ValleyCapital Club.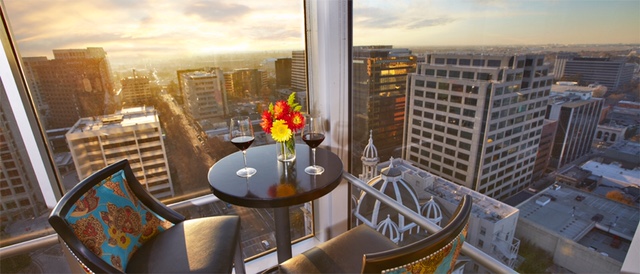 Parking? Parking is available directly beneath the building. Enter the underground parking from San Fernando St (between Market St and 1st St). Take the parking garage elevator to the lobby and exit the elevator. Then enter the building elevator to the 17th floor. (The elevator from the parking garage to lobby and lobby to 17th floor are two different elevators.)
Important note: Becoming a VIP Vendor includes your ticket to the Yr of WE conference and VIP Seating.
Setup/Takedown:
Vendor registration & set up is from 7:15am - 7:45am; you must be set up by 7:45am. Doors open at 8am.
Event endds at exactly 4pm and we need to be out of the room immediately afterwards. So, please think of the best way to pack up extremely quickly.
Please note that SPACE is VERY LIMITED (only 15 spots available!), so register TODAY to secure your VIP spot before it runs out!
Here's ot promoting your business and each other: Online. Offline. All the Time!
Your SV Chapter Leadership Team
Francie Schildhauer, Recruiting and On-Boarding Director
Amy Robe, Membership Experience Director
Elizabeth Miner, Chief Enthusiasm Officer
Vaidehi Normand, Secretary/ Systems Blue Print
Kim Martin, Marketing Director
Josephine "Jos" Hanan, Chapter President