Description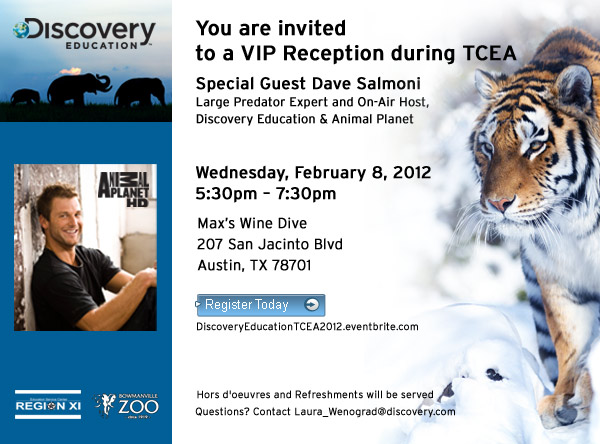 Discovery Education provides engaging digital resources to schools and homes with the goal of making educators more effective, increasing student achievement, and connecting classrooms and families to a world of learning.

Discovery Education is a division of Discovery Communications, LLC the leading global nonfiction media company. The leader in digital video-based learning, Discovery Education produces and distributes high-quality digital resources in easy-to-use formats in all core-curricular subject areas. Discovery Education is committed to creating scientifically proven, standards-based digital resources for teachers, students, and parents that make a positive impact on student learning. Through solutions like Discovery Education streaming, Discovery Education Science, Discovery Education Health and more, Discovery Education helps over one million educators and 35 million students harness the power of broadband and media to connect to a world of learning.
Organizer of VIP Reception during TCEA with Special Guest, Dave Salmoni
As the global leader in standards-based digital content for K-12 classrooms worldwide, Discovery Education is transforming teaching and learning with award-winning digital textbooks, multimedia content, professional learning, and the largest professional learning community of its kind. Serving 4.5 million educators and over 50 million students, Discovery Education's services are available in approximately half of U.S. classrooms, 50 percent of all primary schools in the UK, and more than 50 countries around the globe. Inspired by the global media company Discovery Inc., Discovery Education partners with districts, states, and like-minded organizations to captivate students, empower teachers, and transform classrooms with customized solutions that increase academic achievement. Explore the future of education at DiscoveryEducation.com.