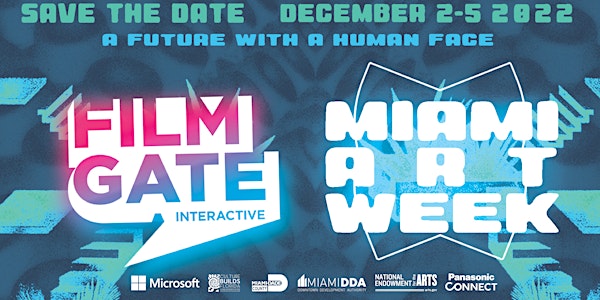 VIP PASS: FilmGate Interactive #09
VIP PASSES FilmGate Interactive Festival #09
When and where
Location
Phillip and Patricia Frost Museum of Science 1101 Biscayne Boulevard Miami, FL 33132
Refund Policy
Contact the organizer to request a refund.
About this event
WHAT: 9th FilmGate Interactive Media Festival 2022
WHEN: Monday November 28 - Monday, December 5
WHERE: Various Locations around Downtown Miami & Miami Beach
Phillip and Patricia Frost Museum of Science
The Downtown Media Center
The SE Financial Center
O Cinema South Beach
Tickets
VIP passes $300 Presale / $400 Regular
Tickets from $0 to $75
Kids under 12 are free
Student Pass with current valid ID $25
With its slogan "art x tech empowering our future", the 9th Annual FilmGate Interactive Media Festival returns to Miami Art week and over four days, continues to explore the best local and international mind-bending stories and concepts, using extended reality (XR) storytelling, or the content of the future, as its platform.
The FilmGate Interactive Festival, a one-of-a-kind international festival, taking place in person and virtually in Miami and Miami Beach, is designed to highlight and showcase how emerging tech empowers new ways of artistic and media expression. Over the course of four days, Friday through Monday, Dec. 2-5, 2022, creators, producers, tech companies and curious audiences will have access to over 30 interactive experiences, 15 labs and talks, interactive exhibits, 4 dome experiences, a financing market, b2b meetings, music, and live events, accessible to all ages.
The theme of the 9th Annual FilmGate Interactive Festival is SOLAR PUNK- a science fiction literary genre and art movement. "We decided to present works that search for and explore answers to the most provocative issues of our time, issues that challenge our very existence. We live at a time when difficult and important decisions must be made to address human impact, and human-machine relationships, as the world as we know it is irreversibly changing. We dared our community to envision how the future might look, if humanity succeeded in solving major contemporary challenges" said Festival and FilmGate's Co-founder/Executive Director, Diliana Alexander.
Here is our TICKET BREAKDOWN and FESTIVAL SCHEDULE:
Public Installations: Access to our curated program at the Frost Science Museum, the Downtown Media Center, O Cinema, and the SE Financial Center. XR projects and chats (over twenty VR, AR, and interactive stories from around the world). This does not include access to the opening night, sunset cruise, parties, and networking events.
Opening Ceremony: Access to our opening night at the Phillip and Patricia Frost Museum of Science. For event details, please see below. Complimentary drinks and treats. To purchase a ticket just for this event please visit this link:
Closing Sunset Cruise/Awards Ceremony: Access exclusively to our Sunset Cruise, interactive project, and our Awards Ceremony. Complimentary drinks and treats. For event details, please see below.
VIP: This will grant you access to all projects, experiences, events, and meet-ups. All VIP events include complimentary craft/drinks.
*Free admission for children under 12 years of age accompanied by an adult.
FILMGATE 2022 SCHEDULE
Theme: Solar Punk
An activist and artistic movement that envisions a sustainable future, interconnected with nature, art, technology and community and rejects nihilism and embraces decolonial enthusiasm for creating such a future.
ONGOING - Nov 28th to Dec 5th
Exhibitions at the Frost Science Museum
Plastisapiens
Our Common Ground: AI Art in Public Space: Mobile projection of Common Ground exhibitio
ONGOING - Friday Dec 2nd - Monday Dec 5th
Exhibitions at Downtown Media Center and the South East Financial Center
20 experiences, including
German Spotlight
Korean Spotlight
French Spotlight
Canada Spotlight
Common Ground, an exhibition of AI art on the blockchain, featuring 17 established and emerging digital artists whose work explores strategies for finding creative common ground with machines and their environment.
For a full list of projects at the Downtown Media Center: https://www.filmgate.miami/fg-imf-09-dowtown-media-center
For a full list of projects at the SE Financial Center: https://www.filmgate.miami/sefinancialcenterfgimf09
Friday Dec 2nd
Opening night at the Dome 7pm to 10pm
7pm cocktail
8pm 4 Interactive Experiences:
–22.7 C
The Orchid and the Bee
Vaudeville Sounds presents Waves and Particles
DJ set by Paperwater with friends
Sat Dec 3rd - 5th Floor Frost
10:30 AM - Breakfast/ SOLARPUNK opening lighting talks
Diliana Alexander, FilmGate Interactive - Opening remarks / Kick off the festival
Doug Roberts, Frost Science Museum - Opening remarks
Miri Chekhanovich/Edith Jorisch, creators Plastisapiens
11a - Panel: How NOT to build a Metaverse
The term "metaverse" is everywhere now, and it's divisive. Both a promise and a punchline, the concept for some represents the future; for others, a fad or false start. What should we NOT do when building a metaverse? What does it really mean to be "metaversal"? Why are we experiencing these "empty world" problems? And where does Web3 and AR fit in? Panelists will discuss best– and worst!– practices for designing a metaverse, and shed some light on what is (and isn't!) next for this new paradigm.
Joanna Popper, Chief Metaverse Officer, Creative Artists Agency
Emma Chiu, Global Director, Intelligence at Wunder Thompson
Sam Schoonover, head of Immersive at Coachella, and founder of The Future, Immersive Agency
Mirko Vogel, Vaudeville.tv
Moderator - Savannah Niles
12p - Panel: XR in Education -Powered by Microsoft
How do we inclusively onboard educators, emerging creatives and technologists into XR?
Pavani Yalla, Director of platform experience design, Magic Leap
Mauricio Ferrazza, Chairperson for Miami Animation & Gaming International Complex (MAGIC)
Darrell Booker, Microsoft
Moderator - Tangy Frederick, Founder, Tech Education Foundation
1p - 2 Lunch
2p - Lightning talks
AMPD & Departure Lounge, ​​James Hursthouse, Chief Strategy Officer at AMPD Ventures Inc. | CEO and Founder of Departure Lounge Inc. and Adam Rogers Co-Founder, VP Creative & Head of Studio at Departure Lounge Inc.
Michael Pickering, Cloud Constable - introduces AI "Eva"
2:30p - Panel: IRL as Site and Subject
IRL is back. After two years in lockdown, the places and people around us open up again. As new platforms like augmented reality, interactive displays, and volumetric capture become viable at scale, the world around us becomes site and subject for the experiential. What's next? What are the crucial interventions and imperatives for location-based experiences today?
Hugo Laliberte, Ottomata
Nicolas S. Roy - CEO of Dept
Tamara Shogaolu
Atley Loughridge, Snap
Moderator - Nelly Gocheva
3:30p - Everything is Different - Web3, AI, and the New Creative - Sponsored by Microsoft
Just as we've accepted that Web3 has radically changed the creative economy and the worlds of art and entertainment, in the last few months, the dizzying pace of advancement in generative AI has shattered our model of creative production entirely. Time to forget everything we know. What does it mean to be "a creative" now? And how will these new technologies continue to transform art, entertainment, commerce, and more?
Pierre Zandrowicz, Atlas V
Michelle Abbs
Victoria Bousis, UME
Mathieu Rozières, Dark Euphoria
Moderator - Denise Mendez, Microsoft
4:30p - Panel: Common Ground | Uncommon Tools
Flimgate presents Common Ground, an exhibition of AI art on the blockchain, featuring 17 established and emerging digital artists whose work explores strategies for finding creative common ground with machines and their environment. In this panel, "View Source" behind the work of several featured artists from the exhibition, Common Ground, as they share the diverse artistic research practices and software tools being used to invent a new medium of cultural production.
Lonliboy [ Ivan Tulpa ], curator
Karan4D, Artist
Ivona Tau, Artist
Sophia Crespo, Artist
Moderator - James Powderly, Snap
5:30p - Happy hour at the Frost
6:30pm Projection: Common Ground
7p - Performance of Cosmogeny
Sunday Dec 4th
10am - Party Bus to O Cinema
10:30 am Villa Albertine Presentation by Camille JEANJEAN, New Media Officer, Villa Albertine, French Embassy in the US
The Cultural Services of the French Embassy is thrilled to introduce "Immersive spaces" a new program dedicated to the export of French immersive exhibitions and multi-user large-scale immersive experiences in the United States in collaboration with the French Insitute in Paris. Discover Villa Albertine new medias residents all over the country.
11am - Current State and Future Growth of the Asian Pacific XR Market
The Asia Pacific XR market will grow by 49.0% over 2020-2026 with a total addressable market cap of $288.2 billion as the total demand in the fast-growing region. Hear from key players, programmers, producers and influencers from South Korea, China, Taiwan, and Japan.
Moderator: Jimmy Cheng, Director of International Partnership Sandman Studios
Eddie Lou, Founder / Curator, Sandbox Immersive Festival
Jay Kim, Producer of GiiÖii & XR Curator of BIFAN, South Korea 
Min-Wei Kuo, Taicca Taiwan
Katsutoshi Machiba, Festival Director, Beyond the Frame, Japan
12 to 1p - This is Not a Ceremony Panel
Colin Van Loun, creator This is Not a Ceremony
Rev. Houston R. Cypress, Otter Clan; co-founder of Love The Everglades Movement
Moderated by Vivian Marthell, co-founder O Cinema
1 - 2p - Lunch
2p - 5p - Pitches
9 creators - 7 Canadians and 3 Miami creators will pitch in front of festival attendees and a panel of dedicated jury
5p - 7p - Canadian Cocktail
8 - 10p - 2nd performance of AI Art in Public Space: Mobile projection of Common Ground exhibition
Monday, Dec 5th
10am to 2pm - Market Morning creator/producer/business meetings - downtown
4p to 8p - Awards/boat ⛴️Bayside
For more information, please go to our website: filmgate.miami
Let's celebrate Miami Art Basel and new technology together!
Thank you to our partners: The National Endowment for the Arts, Miami Dade Cultural Affairs Office, Florida State's Department of Cultural Affairs, The Downtown Development Authority, Microsoft, The Canadian Consulate Miami, French Embassy in Miami, German Consulate in Miami, O Cinema, Alacran Group,Tito's Handcrafted Vodka, Equiano.
*The Cultural Services of the French Embassy and FACE Foundation, in partnership with UniFrance, the Institut Français, the CNC, launched French Immersion. The grant brings French creators or producers to the US on the occasion of a screening or presentation of their work during a significant festival or program identified by the Cultural Services team.