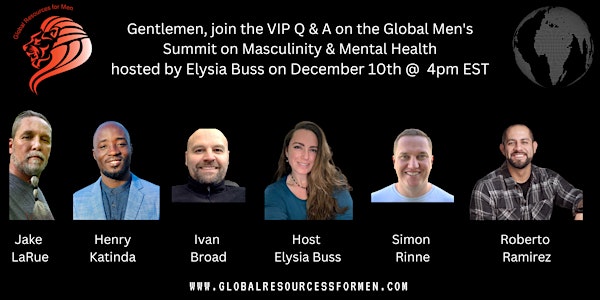 VIP panel Q & A session Global Men's Summit on Masculinity & Mental Health
This VIP panel will help reduce stigma around mental health & provide attendees with resources & strategies for better mental wellness.
Refund Policy
Contact the organizer to request a refund.
Eventbrite's fee is nonrefundable.
About this event
Mental health is an important issue for people all over the world. Unfortunately, there is still a lot of stigma surrounding mental health and many men don't feel comfortable talking about it. That's why we're excited to announce that at the Global Men's Summit on masculinity & mental health we'll be having a VIP panel Q & A where audience members can ask questions to a group of expert speakers from around the world!
The speakers will cover specific issues like PTSD, depression, anxiety, OCD, trauma, sex, general struggles in relationships and parenting in connection to mental health, and much more. It's great to be able to get a well rounded perspective regarding the different ways one can address difficulties in life.
The VIP panel Q & A session is from 4-5pm EST on Day two. So far the men speaking on the VIP panel are Jake LaRue, Ivan Broad, Simon Renne, Roberto Ramirez, Matthew Shapiro and Henry Katinda.
So whether you're looking to learn more about men's mental health for yourself or for a loved one, register today and be a part of the conversation! Two lucky winners from the audience will have the opportunity to work with Brett D. Scott in his new program launching in early December called the Elite CEO Growth Accelerator valued at $3,800 USD! Don't miss this opportunity to learn more about how to take care of your mental health! Register today and be a part of the conversation!
We are continuing to add speakers to the list; so please stay tuned by joining the private men's group on Facebook: Global Resources for Men. You can check out some of the footage from previous summits on the YouTube channel: Global Resources for Men. If you'd like to join us for the VIP panel Q & A session make sure to buy your VIP tickets at www.globalresourcesformen.com.
This event will be recorded and resold at a later date, to help promote mental health awareness, help others not feel so alone in their struggles, and provide resources. If you do not want your voice, name or image to be shared please turn off your video, change your name on your Zoom screen and ask your questions in the chat, where they will be relayed to the speakers. Consent is important and by purchasing these tickets you are giving yours to be recorded. If sharing your own story, please be mindful to not use identifiable names of other people.
Text translation will be available for languages other than English through Zoom for those who purchase tickets. Any women who are caught on the Summit will be removed without refund. The host is the only woman allowed on the Summit who identifies as a woman. This Summit is meant to be a safe, non-judgmental space for men to share without fear of shame or antagonism. Any person who is found to be antagonistic or disrespectful will be removed immediately without refund at the discretion of those helping run the Summit. Please help us to provide a space of safety and growth at this impactful event.
Gentlemen, if you have any additional questions, feel free to contact us through the private men's group on Facebook: Global Resources for Men. Guy's if your ladies need some support, feel free to refer them to Elysia's private women's group on Facebook called Phoenix Rising Women's Group. We hope you enjoy the Summit and get a tremendous amount out of it!