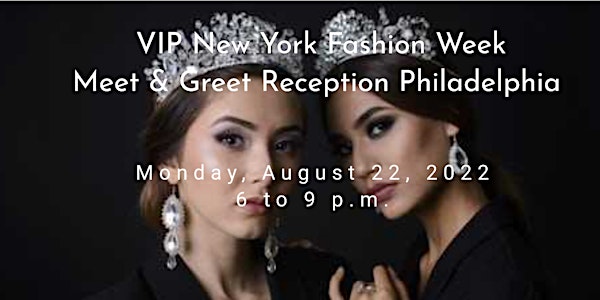 VIP New York Fashion Week Philadelphia Meet & Greet Reception
This event is a VIP New York Fashion Week Meet & Greet Reception to introduce easy sign ups for VIP Designers and the NYC Model Workshop.
When and where
Location
Chestnut Hill Hotel 8229 Germantown Avenue Philadelphia, PA 19118
About this event
An invitation to VIP Designers
and
Fashion Models
Re: VIP New York Fashion Week Philadelphia Meet & Greet Reception
VIP New York Fashion Week Designer Representative, Bonnie Harmon is pleased to present VIP New York Fashion Week Philadelphia, a Meet & Greet reception. The invitation is open to the Emerging Designer, the Ecocentric Show, and the RISE of Beauty Fashion Show to showcase collections.
At this event, up and coming models will have the opportunity to register for the NYC Model Workshop which will prep them for the VIP NYFW Casting for Models. Also, this event is being held on Monday, August 22, 2022 at 6 p.m. in the Bombay room of the Chestnut Hill Hotel in the Chestnut Hill section of Philadelphia. Guest will get an exclusive meet & greet with both Fashion Designers and Models. Dress code: casual, but stylish This special evening will provide a menu from the Chestnut Grill (a "CASH BAR"), and free parking.
Philadelphia has a long history of fashion design and manufacture. As to represent the designer and train models locally, VIP NYFW Network is a globally renowned Fashion & Beauty TV network, the first of its kind, dedicated to pageant systems, models, contestants, and all fashion and beauty industry businesses.
We will see you then at this event.
Vendors DM event organizer!