VIP Mentoring WESummit VIRTUAL Summit 2020 Registration
Sales Have Ended
Ticket sales have ended
Thanks again for participating in the 3rd Annual Women Entrepreneur Summit. We ask all our attendees to take a few minutes to answer a market survey. This information is used to identify who is attending, if we are reaching our target market, helps us with sponsorships and grant awards which is critical to being a sustainable nonprofit organization. Please take a few minutes to take this quick survey. https://forms.gle/r3yrQm7JWdihdus69 (If you are unable to click this link please copy and past it into your browser)
Sales Have Ended
Ticket sales have ended
Thanks again for participating in the 3rd Annual Women Entrepreneur Summit. We ask all our attendees to take a few minutes to answer a market survey. This information is used to identify who is attending, if we are reaching our target market, helps us with sponsorships and grant awards which is critical to being a sustainable nonprofit organization. Please take a few minutes to take this quick survey. https://forms.gle/r3yrQm7JWdihdus69 (If you are unable to click this link please copy and past it into your browser)
Come join us celebrating global Women's Entrepreneur Day with 3rd Annual Women's Entrepreneur Summit VIRTUAL conference.
About this event
3rd Annual Women's Entrepreneurship Summit
In 2020 the WOMEN'S ENTREPRENEUR SUMMIT is going virtual, and you will LOVE IT! We are using Hopin.to and premium conference platform, that includes a lobby, main stage, exhibit space and LIVE networking!
CELEBRATING GLOBAL WOMEN'S ENTREPRENEURSHIP DAY THURSDAY, NOVEMBER 19TH 9 am – 4 pm
⭐You will experience ● 19 Presentations from women business leaders, successful women entrepreneurs sharing their resources, insights, and women entrepreneur inspirational journeys ● 20 Business Spotlight Exhibits ● LIVE Networking all within Hopin.
⭐With registration you will recieve a 30-Day all access pass providing you with a replay link to all the presentations. speakers, and exhibits.
SPECIAL OFFERS FOR 1st 50 SUMMIT ATTENDEES
⪧ FREE eBook copy SUPERCHARGE YOUR BODY complements of Cindy Cohen RN
⪧ Women Entrepreneur Summit Workbook
⪧ Women Entrepreneur Business Resource Guidebook
⪧ Registered for Door Prize drawing
What will you learn atthe summit?
⭐ Learn new skills to succeed
⭐ Connect with support organizations
⭐ Network & build new business relationships
⭐ Empower yourself to be catalyst of change and innovation
⭐ Celebrate the contributions of women entrepreneurs
⭐ Ignite yourself and/or other women entrepreneurs to initiate startups
⭐ Inspire the leader in you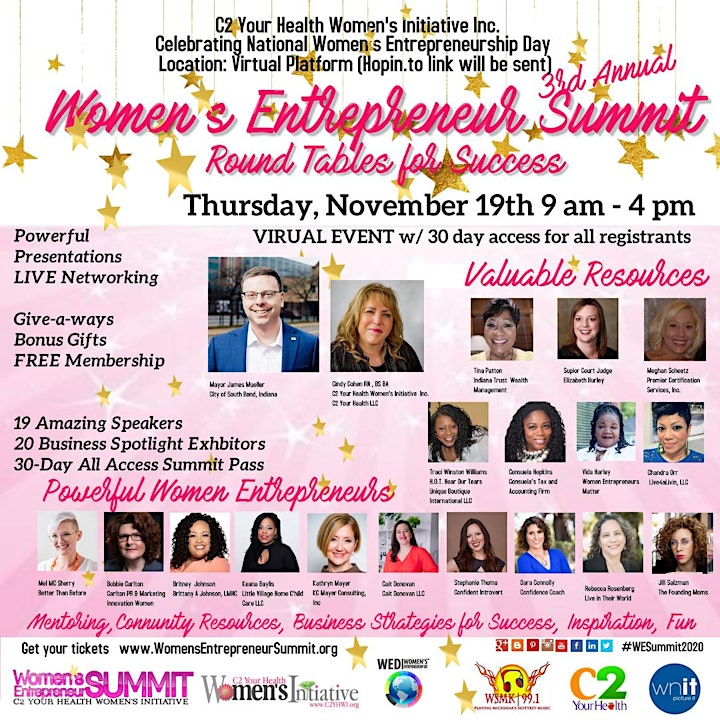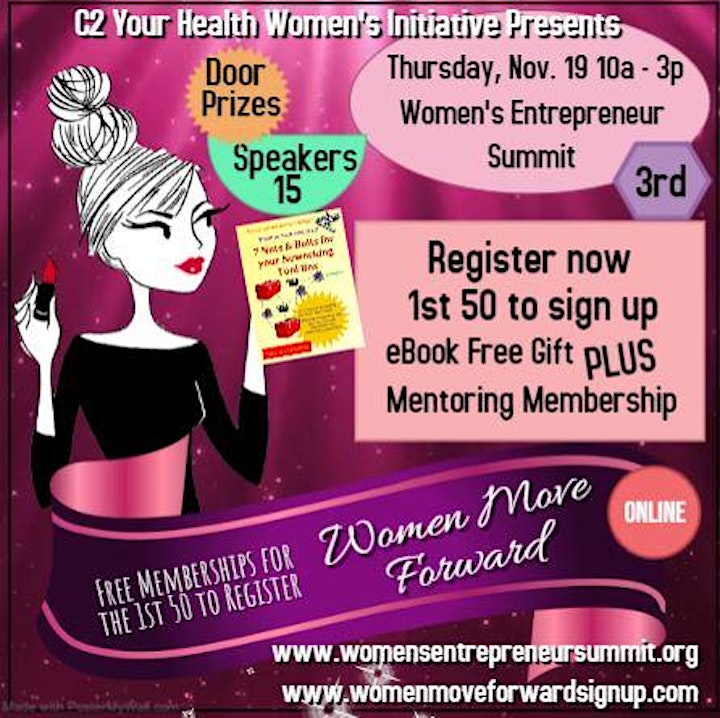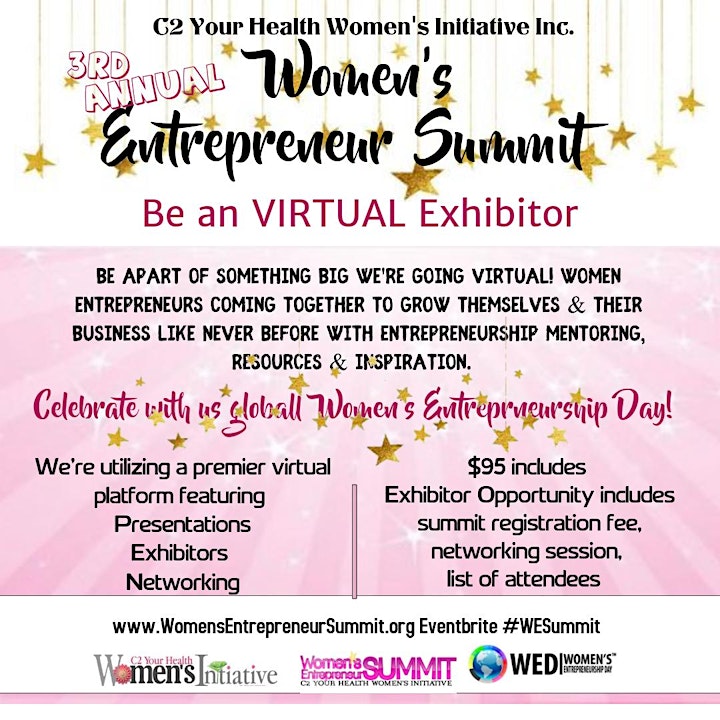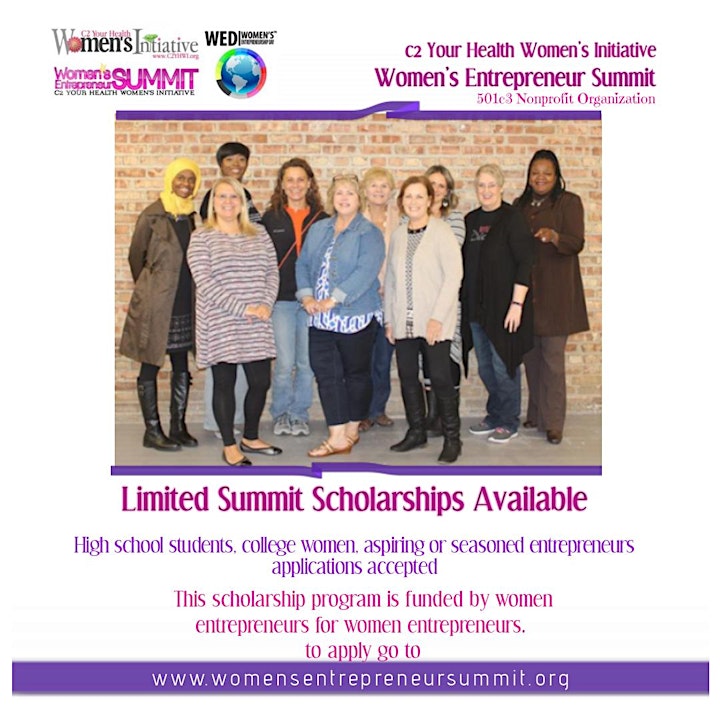 CONNECT WITH US
#choosewomen #WomenPreneurCollective #WESUMMIT2020
Summit is hosted by a nonprofit organization providing entrepreneur mentoring leadership skills, business scaleup strategies, business resources and confidence building activities for women from low income neighborhoods and families.
C2 Your Health Women's Initiative Inc. (501c3) www.C2YHWI.org #C2YHWI #mentoringwomenworks
C2 Your Health LLC www.CindyCohenRN.com is the parent organization for C2 Your Health Women's Initiative Inc. #C2YourHealth
Date and time
Location
Refund policy
Organizer of VIP Mentoring WESummit VIRTUAL Summit 2020 Registration
Through C2YHWI programming and services we connect aspiring, and seasoned micro-business women entrepreneurs to mentoring, role models, city, state, local, regional resources, education, and confidence building activities. Our goal is to help women become successful business owners, and economic stable entrepreneurs to be resilient during COVID-19 and beyond.
Volunteer opportunities: We are seeking women and men who have a hear for women entrepreneur small business owners, women seeking to escape from domestic violence through entrepreneurship who would love to mentor, support and assist the women entrepreneurs in our community of women.
Fundraising events: VIRTUAL Women's Entrepreneur Summit , LOCAL Community Advisory Board Meetings, LOCAL Women Entrepreneur HUB gatherings, Domestic Violence Awareness programming . We are seeking event sponsors, exhibitors, and scholarships for those who would not normally be able to attend due to limited financial resources. Find Women's Entrepreneur Summit on Facebook.
Mentoring memberships: Women Move Forward Entrepreneur Mentoring Community This is a new VIRTUAL women entrepreneur mentoring and certification program. Sign up in pre-launch for your free gift. Join us in our group Facebook Women Move Forward We are seeking community partners.
Women Entrepreneur Certification: The benefits of certification are: Gain a competitive edge, become more efficient, increase earning potential, expand knowledge and skills and build professional credibility.
Scholarship awards for women impacted by domestic violence seeking entrepreneur mentoring, women summit attendees, and entrepreneur memberships. Contact Cindy Cohen to learn how you can help by email CindyCohenRN@yahoo.com or voice mail 800-245-8917
Domestic Violence Advocacy, Education, Community Advisory programs in partnership with H.O.T Hear Our Tears click here