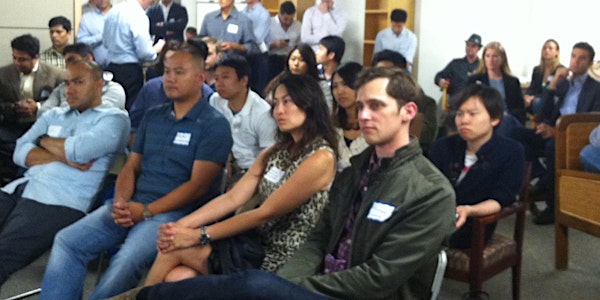 VIP Investor Dinner and Tech Startup Showcase
When and where
Location
JJ Lake Business Center 340 East Middlefield Road Mountain VIew, CA 94043
Description
For more info, contact Angel Launch: 650 226 3490 or info@angellaunch.com
Event includes delicious dinner, unlimited drinks and networking with investors.

We thank our event sponsor GLOBALIZE ACCELERATOR

This is a general event so covers all areas of tech for apps, platforms, or devices:
Consumer Tech

Enterprise Tech

Hardware and Devices

Software and SAAS

Health Tech, biotech, medical devices

Startups Pitch By Registering Here
Startups who want to pitch juust register here for their number of minutes. You do not need to apply, just register. Each startup with 3 or more minutes also gets 1-2 minutes of questions from audience. You will get details after you register.

Investors Request Comp Tix:
Send email to info@angellaunch.com to request code for comp tickets. You must be accredited investors such as angel, VC, corporate or incubator.
___________________________________________

SCHEDULE:
5:00-6:00 NETWORKING, DEMO SHOWCASE, FOOD AND DRINKS

6:00-6:45 STARTUPS PITCHING
Each startup will give pitch from 3 to 8 minutes from stage followed by 1-2 minutes q/a (if pitch over 3 minutes). Each startup also gets a shared table or their own demo table during showcase.
8 Minutes:
FIRMA AUTOGRAFA DIGITAL

6 Minutes:
Endiatix

4 Minutes:
VidDrop
Kitcast

3 Minutes:
Streemfire
Yatzz
Oniad
AppsCode
TrioMotors
Deep Sight Labs
Flipgift
6:45-8:30 NETWORKING AND DEMO SHOWCASE
REGISTERED INVESTORS:

Angel Investor, SrinySundararajan

Angel Investor, Uday Kiran Chaka

Colgate-Palmolive, Director of Technology Strategic Innovation, Gary Binstock

Cybernaut, Investment Director, Rui Lu

Einstein Ventures, Managing Partner , Mag Hidir

Genesis Block, VC Venture partner, Karthik iyer

M Capital Group ,CEO, Sri Murthy

MGK Ventures, Founder & CEO ,Sunzay Passari

Motwani Jadeja Family Foundation, Venture Consultant, Raghav Gupta

Angel Investor ,William Lee

Ofilm Group Co., Ltd. VP, N. America Market Development , Tristan Joo

Photon Fund, Investment Director, James Lee

Samsung Sr, Director ,Tom Kim

Strategic Management Investors & Advisers, CEO, Managing General Partner Charles Kenmore

Wharton Alumni Angels, CPA/VC Advisor, Peter Morris
Angel Launch, based in Silicon Valley, is a leading producer of tech venture forums connecting thousands of global startups to hundreds of accredited investors for early and advanced stage funding. For the 12
th
year, we are bringing together investors (VCs, angels, institutional and corporate) from Silicon Valley and other regions to meet promising innovative startups in the bay area and before trade shows. We connect investors seeking opportunities to exceptional high growth startups and private companies.
STARTUPS, ARE YOU LOOKING FOR FUNDING AND MEETINGS WITH MULTI MILLION DOLLAR INVESTORS?
if you are looking for funding, then you should register to pitch. You will meet at Silicon Valley investors; give a demo; and host a demo table. You register to pitch and also get 2 minutes of q/a from audience after the pitch, and a demo table.
WHO SHOULD ATTEND OR PITCH
Pitch: Early, mid-stage or advanced growth startups seeking 1M to 50M in funding or Corporate Partners

Attend: Large companies or tech solution providers with or seeking products in deep tech for services, platforms, hardware, apps or devices.
ACCREDITED INVESTORS and CORPORATE PARTNERS RECEIVE COMP TICKETS
Our events attract qualified investors which includes accredited investors, high net worth individuals and angels, and institutional investors. Investors or corporate partners from large brands can register directly on our website and will be notified if you are approved.
STARTUPS CAN PITCH IN THESE MARKETS:
Consumer Ventures:
Mobile, digital media, entertainment, music, audio, games, augmented reality, virtual reality, TV, hardware, Internet of Things, apps, retail, health, wearables, Internet of Things, connected cars, self driving cars, consumer electronics devices.
Enterprise Ventures:
AI, robotics, Internet of Things, sensors, Mobile, big data, analytics, communications, hardware, Internet of Things, apps, eCommerce, security, infrastructure, chips, cars, services, transportation, workplace, retail, ecommerce, clean tech, energy.



Health Tech, Bio Tech, Med Devices:
Biotech, life science, medical devices, ag tech, food tech, cannabis, healthcare services, management, sensors, healthtech
_________________________________
TESTIMONIALS:
Here is testimonial from Michael Gibstine, Managing Director, Hanover International.
"I work in Silicon Valley and attend many venture forums and investment summits. If you select one event to attend this year, I highly recommend Angel Launch events, either Silicon Valley Funding Summit in Las Vegas or Silicon Valley Investing Summit on Oct 1 in San Francisco. I have known the founder Zahava Stroud for six years, and she produces the best regarded, highest quality summits for startups and investors. The events feature high quality innovative attendees from startups, investors and corporate partners; exciting customer experience with lavish food and drinks; and exceptional attendee experience with engaging discussions.
The events are impeccably organized with well crafted, thoughtful agendas addressing emerging tech trends; excellent speakers from top tier investment firms, VCs, corporate brands, and angels; and high level networking opportunities with demo tables. I have had follow up discussions with many high quality startups or advanced growth companies seeking capital. I highly recommend this summit to any person, company or agency that wants to bolster its connections to Silicon Valley; network with investors; meet high growth startups looking to expand their offices; and learn how to emulate Silicon Valley in your region."