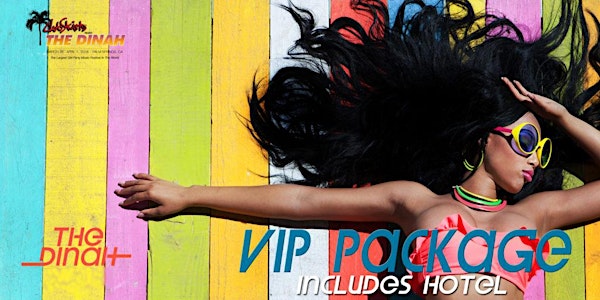 VIP Hotel Package 2021 - scheduled for September 29-Oct 3rd
The largest lesbian/queer women event in the world!
When and where
Location
Hilton Palm Springs 400 East Tahquitz Canyon Way Palm Springs, CA 92262
About this event
IT'S OFFICIAL!!!!!!!!
THE DINAH WILL TAKE PLACE 9/29- 10/3, 2021. THE STATE OF CALIFORNIA HAS GREEN LIGHTED LARGE EVENTS OF OUR SIZE !
INFO ABOUT THE DINAH
The world famous Club Skirts Dinah Shore Weekend aka The Dinah is the largest lesbian event on the planet.  2021 marks our 30 year anniversary!  The Dinah is the world's most celebrated queer women/lesbian/Non-binary event. The Dinah regularly features musical performances, comedy shows, pool parties, night parties, concerts, Celebrity meet and greets, Contests, DJ Battles, fun and games, and so much more. The official Dinah Shore Weekend only takes place in Palm Springs, California.  The Dinah is famous for picking the next big thing in the music world. Past Dinah performers include Bebe Rexha, Kiana Lede, Daya, Snow Tha Product, Jessie Reyes, Tegan and Sara, Katy Perry, Lady GaGa, Meghan Trainor, Iggy Azalea, Eve, Chaka Khan, Salt 'N Pepa, Christina Perri, Natasha Bedingfield, Lizzo, and more. Final talent announcements take place in June, 2020. Visit TheDinah.com for updates info.
IMPORTANT INFORMATION
Online pre-sale ends September 28th, 2021
All sales are final. Absolutely NO refunds or exchanges for any reason.
All events are 21 and over.
All events are rain or shine.
Artists are subject to change, cancellation and or replacement, including on the dates of performance and scheduled talent. Should we cancel a date entirely, we will offer a replacement date and your tickets will be transferred to the replacement date. There are no refunds for any reason. All sales are final. Club Skirts is not responsible for errors and omissions.
WRISTBANDS & TICKET INFORMATION You will immediately receive an order confirmation e-mail with a barcode for entry to the event. If you did not receive an order confirmation same day, please contact us. You MUST present the Eventbrite barcode to retrieve your wristband.  
Wristbands WILL NOT be mailed. Weekend Passes will be available at WILL CALL in the lobby of our main hotel or at the door of any event. Individual tickets will be available at the opening of that party.
If you are ordering for other people, you must list all names and email addresses in order for them to receive their confirmation letter. Lost or stolen confirmation letters that have been fraudulently used to gain entrance is the responsibility of the purchaser. If you lose your confirmation letter and think it may potentially be used to gain admittance, contact us immediately.  Failure to do so will result in the loss of our ticket's value if someone else has used it.
Any disputes arising out of a ticket purchase online or at the event will be governed by California law. Wearing a wristband is a condition of attending this event. All sales are final. No refunds. No exceptions.
PHOTO/VIDEO RELEASE
All guests agree to participate in promotional, publicity, or merchandising pictures of the guests during this event. The guest hereby agrees that MT Productions, Inc, dba Club Skirts, and affiliates may use film and photographs from our events, including images of our attendees, for promotional and advertising purposes. The guest hereby authorizes the reproduction, sale, copyright, broadcast and /or distribution of said video, sound recording and pictures without limitations. The guest further agrees and releases MT Productions, Inc. dba Club Skirts, their sponsors, representatives and agents from any liability, loss, expense or claims arising from distribution, broadcast, sale or use of his or her likeness or voice. The guest certifies that he/she is over 21 years of age. If a guest desires not to be included in any promotional videos and pictures, please avoid the camera and if you feel you were photographed or filmed, let the camera person know you do not want to be included. We do not have control over the media in attendance. MT Productions, Inc dba Club Skirts, can not guarantee your likeness will be not be included in promotional or news materials.
COVID RELEASE
COVID-19 ACKNOWLEDGEMENT AND LIABILITY WAIVER
As a precondition to your admission onto the premises of [INSERT COMPANY NAME]("Company") for the [INSERT EVENT NAME] (the "Event"), you and Company agree to the following: You understand that Company has endeavored to comply with applicable governmental and public health guidance to create a safe environment for staff, performers, attendees, and other visitors to the Event. You understand that COVID-19 is a highly contagious disease transmitted through human contact and respiratory droplets (including through the air and via common surfaces), that it is possible that you may contract COVID-19 while at the Event, and that contracting COVID-19 could lead to sickness or death. You assume all risk in connection with your admission to the Event. In consideration for Company allowing you admission onto the premises for the Event, on behalf of you and all of your heirs, executors, administrators, and assigns, you hereby waive and release any and all claims that you could bring against Company, any of its affiliates, or any of Company's or its affiliates' respective owners, shareholders, partners, members, executives, officers, directors, employees, or other personnel (collectively, the "Company Parties") in any arbitration or court proceeding, including any cases arising from the Company Parties' own negligence, except as prohibited by law. You promise not to sue any of the Company Parties in any court or arbitration based on any claim released or waived hereunder, either individually or as part of any group or class, and further promise not to authorize any other individual or non-governmental entity to pursue claims on your behalf.You represent and warrant that (a) you fully understand the terms, conditions, and significance of this COVID-19 Acknowledgement and Liability Waiver and its binding effect; (b) you understand that you are waiving legal rights and remedies, including but not limited to any negligence or "tort" claims you otherwise could pursue; (c) you are competent to manage your affairs and enter into this COVID-19 Acknowledgement and Liability Waiver; (d) you are entering into this COVID-19 Acknowledgement and Liability Waiver knowingly, voluntarily, and without any pressure by any of the Company Parties; and (e) you have not assigned any of the claims waived hereunder to any other person or entity
FAQs 
Are there ID requirements or an age limit to enter the event?
You must be 21+ to attend all events. Photo ID will be required at the entrance to all events.  
What are my transport/parking options getting to the event?
Hilton Palm Springs offers valet parking and there are rideshare services throughout Palm Springs.
What can/can't I bring to the event?
Bring - Friends, sunscreen, and good vibes!
Do not bring - Outside food or drinks, beach chairs, umbrellas, water guns, bad attitudes, weapons, or anything else that can be used to hurt someone. Be nice. Play nice. Dinah is nice.
Where can I contact the organizer with any questions?
info@thedinah.com | 1-888-92-DINAH (34624) 
Is my registration/ticket refundable or can it be transferred?
All purchases are non-refundable.  No exceptions. It may be transferred to the next year at the discretion of MT Productions, Inc.
THE 2021 VIP PACKAGE
AS A VIP PACKAGE GUEST, YOU CAN EXPECT: 
POOL VIEW ROOM ON 1ST OR 2ND FLOOR OF HILTON HOTEL: You'll enjoy a pool view room on the first or second floor at our main host hotel, which is home to our massive pool parties. We assign floors on a first-come, first-served basis. Please note: you may book up to five (5) nights total.  We do not guarantee what floor you end up on but we will take your requests into consideration.
VIP PASS: (value $600 per person) Each registered package holder gets a VIP Festival Pass. This gets you into all events, even ones advertised after you purchase.

AIRPORT TRANSFERS: Pickup and return to the Palm Springs International Airport only.

EXPRESS CHECK IN: Enjoy first class service when you arrive at The Hilton with express check-in! No waiting in line means getting to the pool sooner!

PERSONAL DELIVERY: You'll have your event wristband brought to you either at check in or your room!

PRIORITY ADMITTANCE: Front of the line access to all events and reserved VIP seats for the comedy show, regardless of what time you arrive.

EXCLUSIVE VIP LOUNGE AT THE NIGHT PARTIES: Private VIP lounges with comfortable seating, VIP bar, and bottle service available (while supplies last).

VIP AREA AT HILTON POOL: A private VIP area at the Hilton main pool near the stage and cabana service (while supplies last).

PRIVATE BAR SERVICE: All VIP areas have private bars, so no long lines!

BOTTLE SERVICE OPTIONS: Offered first to VIP Guests. Limited quantities. This sells out.  Order early.

VIP RECEPTION FRIDAY AND SATURDAY NIGHT: These parties include many of our celebrity guests.

VIP TEAM: A whole team of ladies to help with any and all needs throughout the festival.

FREE COMMEMORATIVE DINAH 2020 TEE SHIRT!
IMPORTANT VIP INFORMATION
All events are included in the VIP Package, even ones we announce after you purchase.

All VIP areas will be clearly marked. Our poolside VIP area is a deck area adjacent to the hotel restaurant with a VIP-only bar and seating.

The following are NOT INCLUDED in any package: Drinks, meals, or pool/lawn chairs.

No person(s) will be allowed in the hotel during event hours unless they have an event pass or a hotel wristband. This means that during event hours, you may only have people in your room or on your balcony who have one of these wristbands. Room occupancy levels will still apply.

Palm Springs Hilton adheres to a strict occupancy policy. Due to this, parties are not allowed in Hilton  rooms. 
ADDITIONAL INFORMATION
All sales are final. Absolutely NO refunds or exchanges.**