Description
Brown Girls Do Invest (BGDI) is a nonprofit organization established to educate girls and women in the African American community how to improve retirement savings, invest in real estate and acquire multiple streams of income. In an Ariel & Charles Schwab Black Investor Survey, "African-Americans were retreating from the stock market. After five straight years of steady increases in the percentages of Blacks who own stocks, only 61% of Blacks in 2003 had money in the market, down from 74% in 2002 and approaching the 1998 level of 57%. White stock ownership, held steady at 79%."
African American women control the purse strings and are eager to learn how to invest and grow our money. Our spending power is massive and many are getting into investing at a fast pace.
Brown Girls Do Invest is Meeting for a VIP Dinner and Masterclass!
We have exciting news for those who want to sit down with the experts. How would you like to have a personal session and dinner with the ladies of Brown Girls Do Invest? Normally, one office visit with a financial expert can cost hundreds of dollars. You will receive two masterclasses, personal discussion, elegant dinner, and a swag bag. Please note the VIP dinner is limited in space and availability.
Come enjoy an elegant dinner on October 25, while you have the opportunity to ask questions and receive invaluable information. Meet the ladies for fine, intimate dining at The Pyramid Club. You also have the option to add the conference for a two-day event.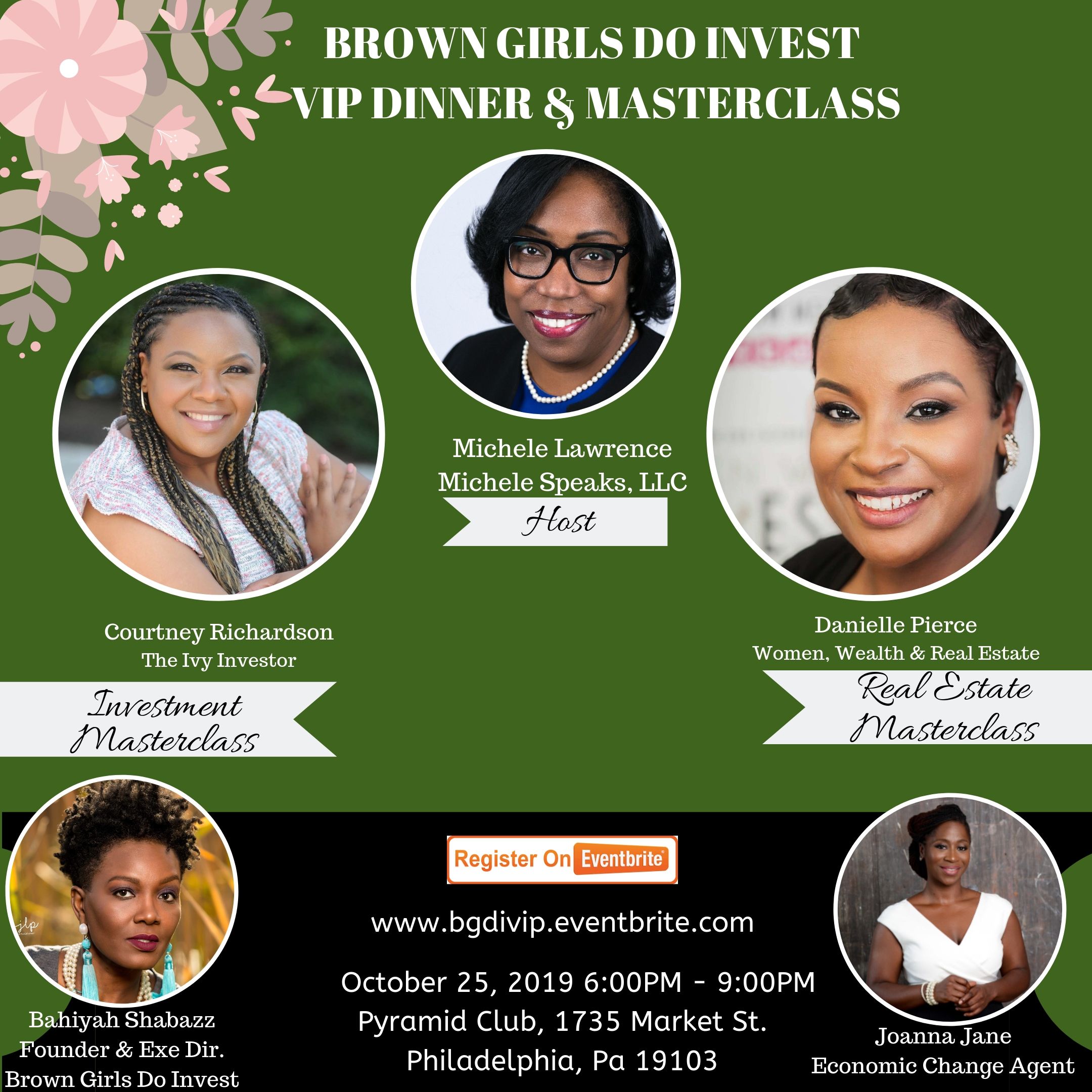 FAQ:
Can I refund the dinner ticket if I am unable to attend?

No, due to reservation requirements we are unable to refund tickets for the VIP dinner.

Can I contact for dietary restrictions?
Absolutely. After purchase, please email browngirlsdoinvest@gmail.com with your name and dietary restrictions so that we are able to accommodate.