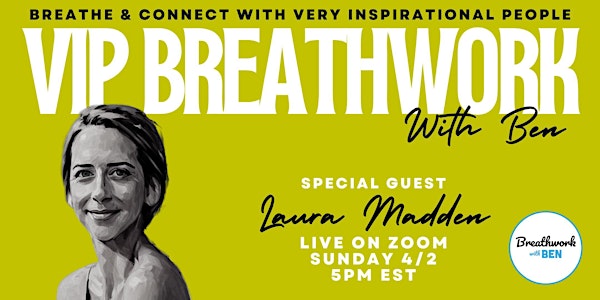 VIP Breathwork with Ben - Special Guest : Laura Madden
Breathe + Connect with Very Inspirational People! Enjoy great music, feel the power of breathwork, + ask the questions you want answers to!
By Ben Cecchini-Ramos AKA Ben.The.Bridge
Date and time
Sunday, April 2 · 2 - 3pm PDT
Refund Policy
Refunds up to 1 day before event
Eventbrite's fee is nonrefundable.
About this event
My name is Ben Cecchini-Ramos AKA @Ben.The.Bridge and I'd like to invite you to join this experience with me and all of the VIPs - Very Inspirational People - that I'll be interviewing and guiding on breathwork journeys!
You've most likely never experienced an event like this, and may feel a little confused amidst the curiosity you have... so here is exactly what is about to go down in this event.
Welcome / VIP Intros - Meet the VIPs and others who find them inspiring!
VIP Interview - We'll talk about the VIPs life, their challenges along the way, their personal development / spiritual practices, & their experience with Breathwork.
Interactive Breathwork Experience - Everyone will receive a mini breathwork lesson and then we'll breathe along to the music that the VIP either created or selected, diving into deep meditative and transformational states. FYI - the music will be 🔥🔥🔥
Community Share / Q&A - Everyone will have the opportunity to share what happened during the breathwork segment - visions, colors, emotional releases, sensations - and ask the VIP/me whatever you want to know!
Our special guest this week is Laura "Lu" Madden. Laura is on a mission simply to remind people of the goodness in this world. Whether she is working within someone's business or facilitating a transformational retreat, Laura loves connecting with dope individuals who have a fire in their heart to lead, serve, and make a difference in the lives of others. As a Brand Strategist, she believes that content and messaging can change narratives, break paradigms, and open people's minds and hearts. It's an avenue to creatively connect us back to our humanity, while utilizing business to do well, by doing good. For the past 15 years, Laura has also worked in various health & wellness spaces as a marketing professional, a coach, a leader, and student. Music, movement, and meditation have been the greatest catalysts for Laura on her own journey, and she believes that these 3 tools can heal, activate and awaken the heart of the spirit that lives in each and every one of us. Also known by her nickname Lu, she reminds us to be the light we wish to see in the world.
See you there!