Description
"BOOZY BRUNCH ROOFTOP PARTY"

Saturday August, 13th

DOORS OPEN 1PM - ???
LIVE DJ's on all 3 Floors, Indoor / Outdoor Party areas
Party on the Retractable Rooftop, The Garden Terrace or The Salon Floor all day long.
Confetti Shots
Party Giveaways, Prizes and Interactive contests
SHOWING THE OLYMPIC GAMES
-A Party like no other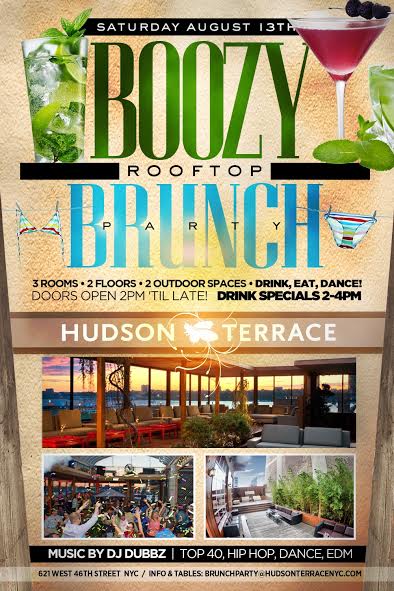 The *Boozy Rooftop Brunch Party* spans over all 3 of Hudson Terrace's rooms,
with amazing MUSIC provided by several Guest DJ's, amazing views of

The Hudson River from our retractable rooftop. !
TABLES AND VIP PACKAGES AVAILABLE AS WELL. email us info@iclubnyc.com
No Refunds