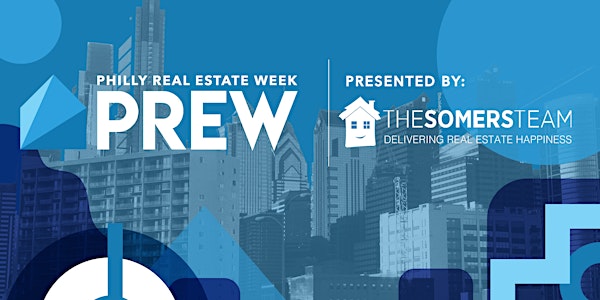 VIP All Access Pass to Philly Real Estate Week 2020- 20 events (Virtual Ed)
VIP All Access Pass to Philly Real Estate Week 2020-20 events (Virtual Edition)
Refund Policy
Contact the organizer to request a refund.
About this event
***This VIP Pass gets you access to all 20 #PREW2020 events***
The 3rd Annual Philly Real Estate Week (#PREW2020) presented by The Somers Team will be a VIRTUAL, week-long celebration honoring real estate planning, development, investing and wealth building. Hosted by Better Than Success, PREW 2020 will take place during July 15-18, 2020.
Tracks
9:30AM Hour (Wed-Sat) - Beginner's Real Estate Hour
11:30AM Hour (Wed-Sat) - Wholesaling Hour
2:30PM Hour (Wed-Sat) - Real Estate Investing Inside and Outside of Philly Hour
5:00PM Hour (Wed-Sat) - Home Buying Hour
7:00PM Hour (Wed-Sat) - Advanced Real Estate Investing Hour
Themed Days
Wednesday, July 15 - Financing & Finances Day
Thursday, July 16 - Real Estate Technology Day
Friday, July 17 - 'Real Estate in a Post Covid World' Day
Saturday, July 18 - Real Estate Service Providers Day
Agenda:
Wednesday, July 15 (Financing & Finances Day)
9:30 AM - Beginner's Real Estate Hour
Event #1 of 20
Title:
Creative Financing to Do Your Real Estate Deals
Speakers:
Renae Stennett (Spring Garden Lending), Luke Taylor (Crowdcopia), Sarah Stroney (PIDC)
_________
11:30 AM- Wholesaling Hour
Event #2 of 20
Title:
Top Mistakes that Wholesalers Make at the Closing Table That Cost Them Thousands
Speakers:
Heidi Becker (Acro Settlements), Jamisa Bennett (RoseBuds Investments)
_________
2:30 PM - Real Estate Investing Inside and Outside of Philly Hour
Event #3 of 20
Title:
Using Other People's Money (OPM) to Invest in Baltimore
Speakers:
Khalil & Kyara Uqdah (Charm City Buyers)
_________
5:00 PM - Home Buying Hour
Event #4 of 20
Title:
How to get 100% Financing to Buy Your First Home
Speakers:
Ugochukwu U Opara , Brandon Bailey (Magnum Opus)
_________
7:00 PM - Advanced Real Estate Investing Hour
Event #5 of 20
Title:
Advanced Financing Strategies for Investing in Philly
Speakers:
Ken Weinstein (Jump Start Germantown, Philly Office Retail)
_________
Thursday, July 16 (Real Estate Technology Day)
9:30 AM - Beginner's Real Estate Hour
Event #6 of 20
Title:
Using Technology to Build Your Real Estate Investing Portfolio from Home
Speakers:
Derek Boone (Boone Premier Real Estate), Glynis Tart (Verden Interior Design Studio), Jabbar Fairweather (Workwithbar.com, Better Than Success)
_________
11:30 - Wholesaling Hour
Event #7 of 20
Title:
The Exact Technology to Build a Well Oiled Wholesaling Machine
Speakers:
Ashley Molina (Prime Cash Philly)
_________
2:30 PM - Real Estate Investing Inside and Outside of Philly Hour
Event #8 of 20
Title:
Using Technology to Invest in Mobile Homes in Any City
Speakers:
Sharnice Williams & Byron Sellers (mobilehomeeliteinvestors)
_________
5:00 PM - Home Buying Hour
Event #9 of 20
Title:
Using Technology to Buy Your Dream Home without Leaving the Couch
Speakers:
Noah Ostroff (Philly Living), Raffaellina Merlino & Becky Rynkiewicz, (Artemis)
_________
7:00 PM - Advanced Real Estate Investing Hour
Event #10 of 20
Title:
Using Technology to Grow a Large Real Estate Portfolio
Speakers:
Logan Kramer (Design Pro Development), Brian Corcodilos (Design Blendz)
_________
Friday, July 17 ('Real Estate in a Post Covid World' Day)
9:30 AM - Beginner's Real Estate Hour
Event #11 of 20
Title:
What You Should Know about Succeeding in Real Estate During a Pandemic
Speakers:
Jane Mittleman (Jane Draws Plans), Malik Carter (Carter Realty Group LLC), Charles "Tank" Harris (Wealth Our Way)
_________
11:30 - Wholesaling Hour
Event #12 of 20
Title:
Virtual Wholesaling in a Post Covid World
Speakers:
Margaret DiPippo (Cash Now Philly) and Cory Mundt (Cash Now Philly)
_________
2:30 PM - Real Estate Investing Inside and Outside of Philly Hour
Event #13 of 20
Title:
Earn in Philly; Invest in MD, DC, DE, NJ, & TX
Speakers:
Kendra Barnes (The Key Resource)
Joanna Jane, (O'Hara Developments)
Ian Walsh (Hard Money Bankers)
_________
5:00 PM - Home Buying Hour
Event #14 of 20
Title:
How to Win the House You Really Want in Post COVID
Speakers:
Marc Brown (Loan Depot), Dana Friedman (The Somers Team)
_________
7:00 PM - Advanced Real Estate Investing Hour
Event #15 of 20
Title:
How Covid Affected Our Commercial Real Estate Investing Business
Speakers:
Leslie Smallwood- Lewis (Mosaic Partners)
_________
Saturday July 18 (Real Estate Service Providers Day)
9:30 AM - Beginner's Real Estate Hour
Event #16 of 20
Title:
Panel (lightning round): Build Your Real Estate Team
Speakers:
Dom Landry (CGM Philly), Terri Couser (Care Credit Tools) , Kim Avant-Babb (Landlord Docs), Brett Madsen (Permit Philly), Jennifer Hightower (Hightower FA)
_________
11:30 - Wholesaling Hour
Event #17 of 20
Title:
Working Title: How to use Propstream to Build Your Wholesale Business
Speakers:
Burton Alicando (Propstream) 1 hour
_________
2:30 PM - Real Estate Investing Inside and Outside of Philly Hour
Event #18 of 20
Title:
Buying A Home in the County
Speakers:
Traci Powell (Mosaic Brokerage), Mikia Muhammad (Mosaic Brokerage)
_________
5:00 PM - Home Buying Hour
Event #19 of 20
Speakers:
Terri Couser (Care Credit Tools) , Somers Team (KW)
_________
7:00 PM - Advanced Real Estate Investing Hour
Event #20 of 20
Title:
Women in Real Estate Summit Mini Bootcamp
Speakers:
Jane Mittleman (Jane Draws Plans) , Rachael Pritzker (Pritzker Law Group), Maria Quattrone (RE/MAX @ HOME – Maria Quattrone and Associates), Julia Choseed (Brick House Builders)