Join Violette on Friday, April 30 at 8pm (MST) for a burlesque livestream show with some of her favourite performers from around the world!
About this event
For the first time ever, Violette is bringing her decadent pop-up speakeasy burlesque show to you as a livestream event!
...........
Zoom links: 
https://us02web.zoom.us/j/83696512561?pwd=TG0rWDZRTytjUU91c1BtcFRUQ2Q1UT09
Meeting ID: 836 9651 2561
Passcode: Coquette
In celebration of her birthday month, Violette is presenting some of her very favourite burlesque artists from across the globe – performers who inspire her and that she's been secretly crushing on from afar... This is your chance to immerse yourself in the art of some of the world's most delightful burlesque performers in the private luxury of your living room, AND to order a custom Tip Menu item performed just for you.
Hosted by local stars Beau Creep and LeTabby Lexington, this show will be featuring some major icons and international burlesque figures, from Montréal to Portland to London INCLUDING:
Miss Betsy Rose (London, UK)
Demi Noire (London, UK)
Delta Daggers (Sweden–Canada)
Freya West (Nashville, TN)
Isaiah Esquire + Johnny Nuriel (Portland, OR)
Elektra Cute (Minneapolis, MN)
Lola Coquette (Portland, OR)
Miss Paige (Montreal, QC)
Violette Coquette (Edmonton, AB)
...........
Tickets
Because everyone deserves a luxurious experience once in awhile, this livestream show is a pay-what-you-can. Click the "Donation/Tickets" button above to donate, or you can also e-transfer us directly to hellothere@violettecoquette.com (please make the password April2021).
If you can't afford to donate there are other ways to support us: you can follow our performers on social media, share this event with your friends, and cheer loudly during the show! We want all of you there enjoying this fabulous art, so please come one, come all!
...........
Performer Tip Menus
Performers Tip Menus posted below! We suggest making your order BEFORE April 30. Last chance to order will be intermission during the show. Reminder, after you send your tip payment EMAIL VIOLETTE at hellothere@violettecoquette.com with your order and the performer's name!
...........
Zoom links: 
https://us02web.zoom.us/j/83696512561?pwd=TG0rWDZRTytjUU91c1BtcFRUQ2Q1UT09
Meeting ID: 836 9651 2561
Passcode: Coquette
Suggested living room dress code: formal/cocktail/sparkly attire
Show start time by time zone:
7pm PDT (Vancouver + Portland)
8pm MDT (Edmonton)
9pm CDT (Minneapolis + Nashville)
10pm EDT (Montreal + Toronto)
3am (GMT+1) (London, UK)
...........
Stay up-to-date on show news and posts by following Violette on Instagram @violettecoquette!
This is an 18+ show with burlesque, which involves mature themes and partial nudity.
Feel free to email us if you have any questions not covered here: hellothere@violettecoquette.com or visit violettecoquette.com/violetteunderground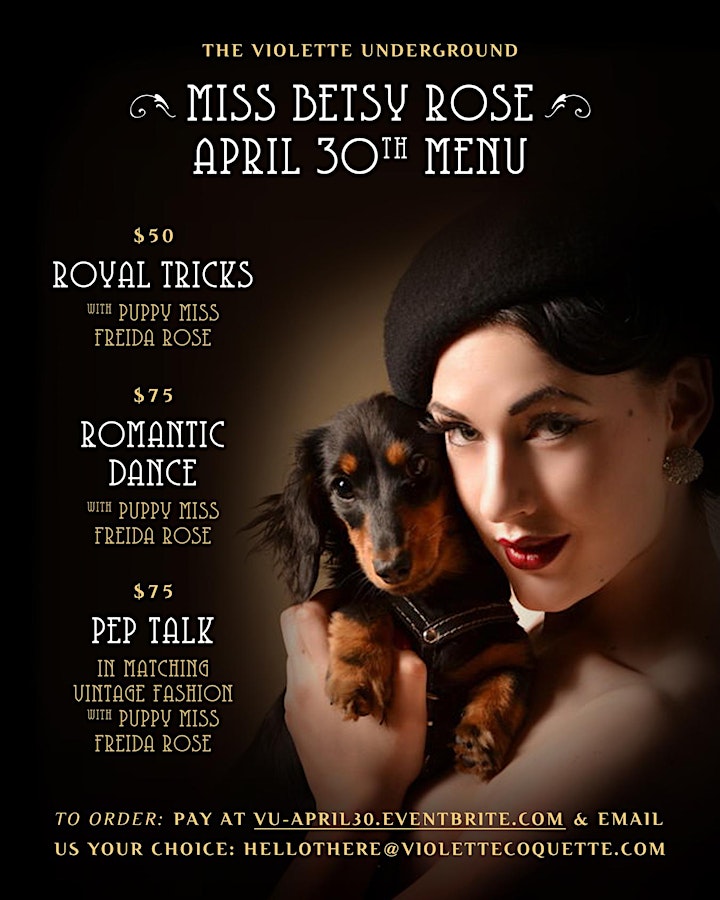 Miss Betsy Rose's Tip Menu:
💜 $50 ROYAL TRICKS: Royal Tricks with Miss Freida Rose & Animal trainer Rose.
💜 $75 ROMANTIC DANCE: Miss Betsy Rose dances romantically with Miss Freida Rose.
💜 $75 PEP TALK: Miss Betsy Rose and Miss Freida Rose give you a pep talk in matching vintage fashion!!!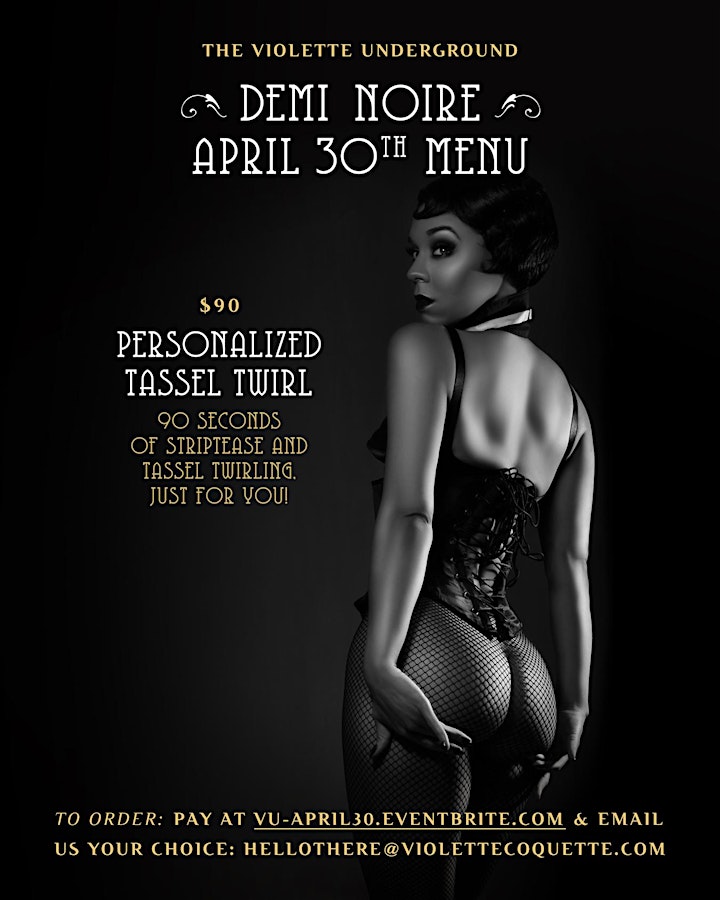 Demi Noire's Tip Menu:
💜 $90 PERSONALIZED TASSEL TWIRL: 90 seconds of stripteasing and tassel twirling, just for you!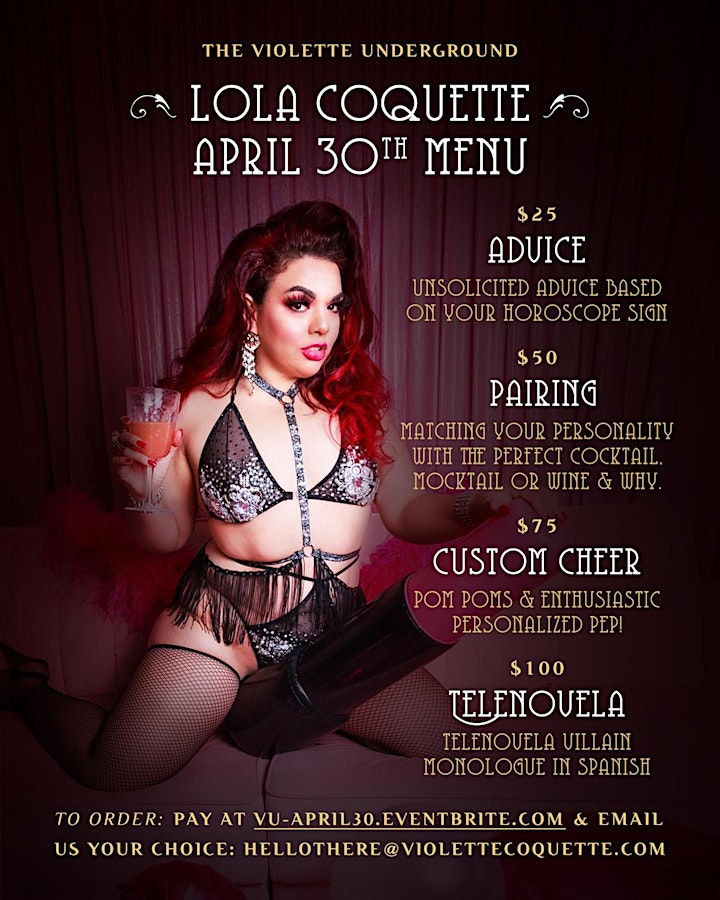 Lola Coquette's Tip Menu:
💜 $25 ADVICE: Unsolicited advice based in your horoscope sign.
💜 $50 PERSONALITY PAIRING: Matching your personality who the perfect cocktail, mocktail, or wine. And why.
💜 $75 CUSTOM CHEER: Pom poms and enthusiastic personalized pep!
💜 $100 TELENOVELA: Telenovela Villain Monologue in Spanish.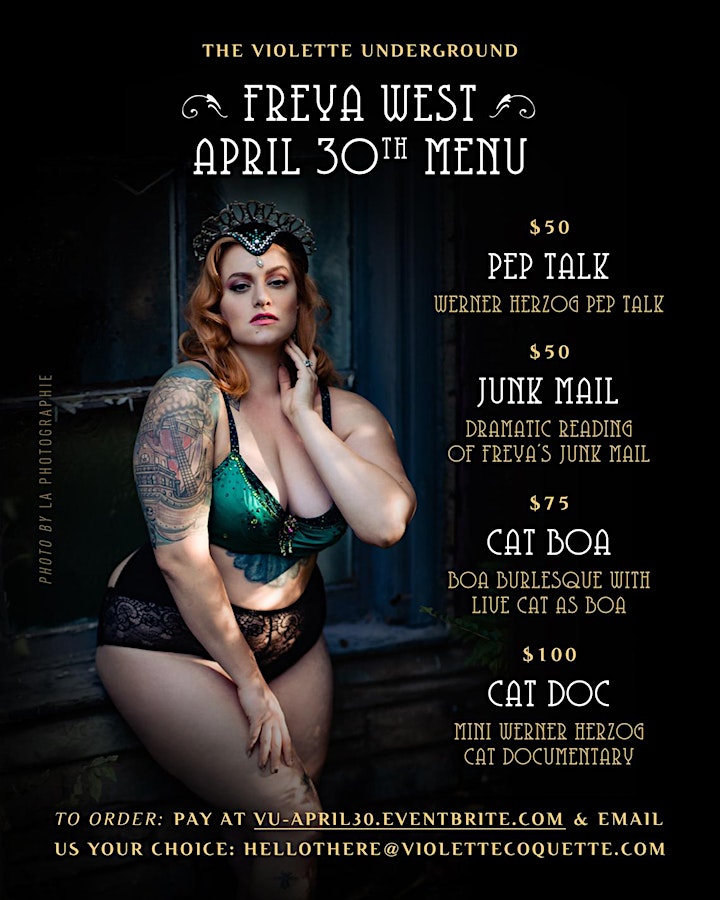 Freya West's Tip Menu:
💜 $50 PEP TALK: A Werner Herzog pep talk.
💜 $50 JUNK MAIL: dramatic reading of Freya's junk mail.
💜 $75 CAT BOA: Boa Burlesque with Live Cat as Boa!
💜 $100 CAT DOC: Mini Werner Herzog Cat Documentary.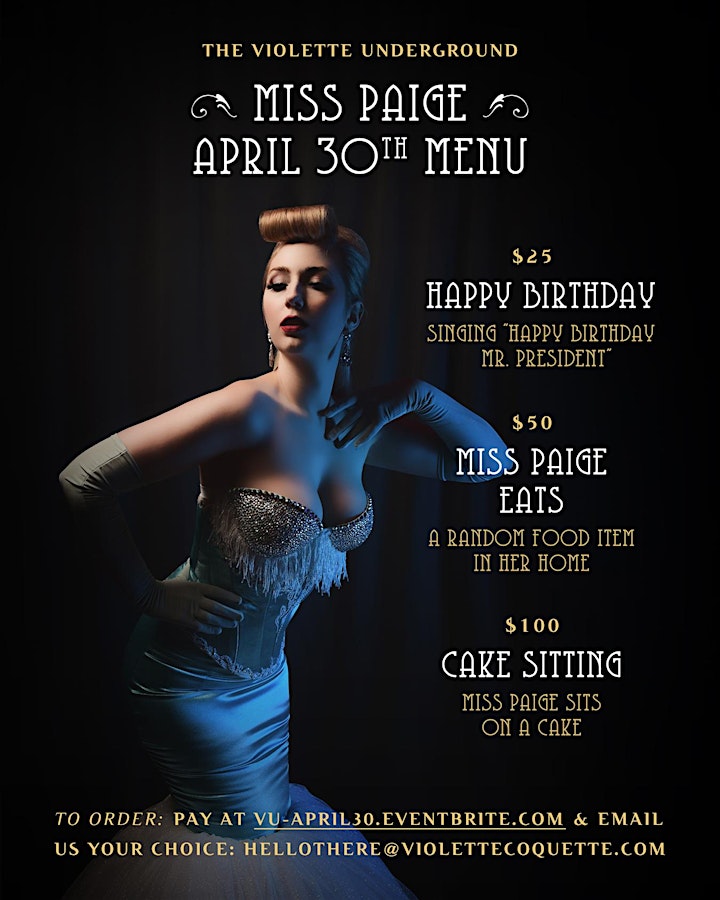 Miss Paige's Tip Menu:
💜 $25 HAPPY BIRTHDAY: Miss Paige sings "Happy Birthday Mr. President" à la Marilyn Monroe.
💜 $50 MISS PAIGE EATS: Miss Paige eats a random food item.
💜 $100 CAKE SITTING: Miss Paige sits on a cake.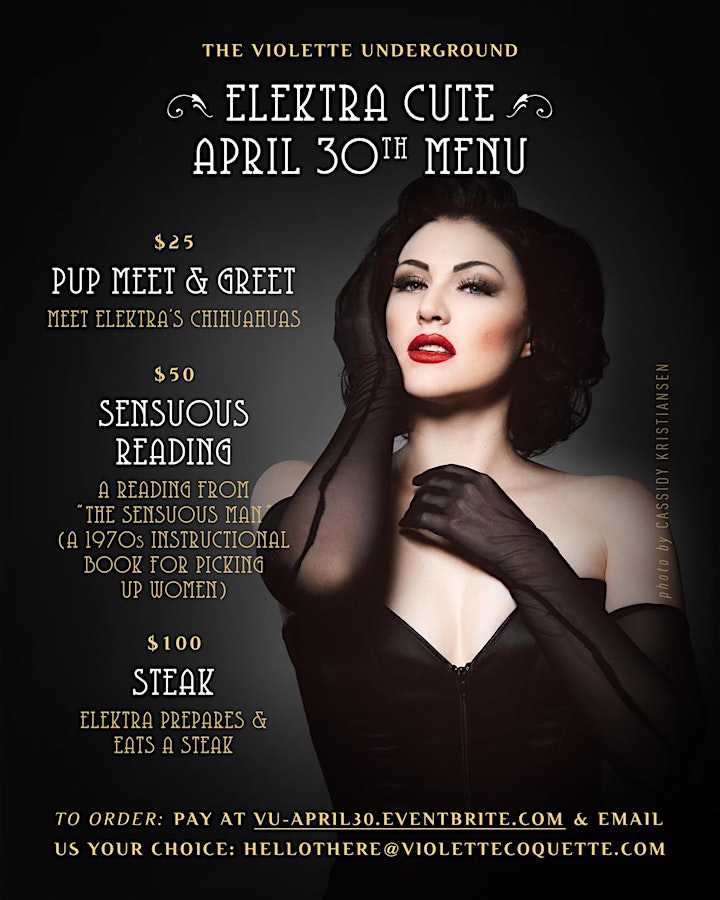 Elektra Cute's Tip Menu:
💜 $25 PUP MEET & GREET: Meet Elektra's chihuahuas!
💜 $50 SENSUOUS READING: A reading from 'The Sensuous Man', a 1970s instructional book for picking up women.
💜 $100 STEAK: Elektra prepares and eats a steak.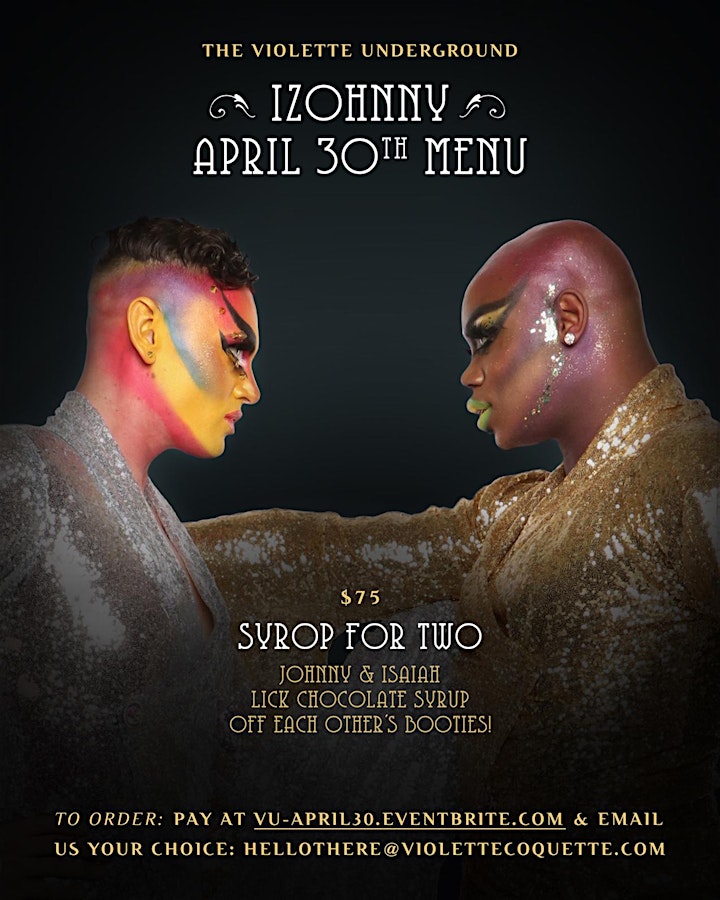 IZOHNNY's Tip Menu:
💜 $75 SYRUP FOR TWO: Johnny & Isaiah Lick chocolate Syrup off each other's booties!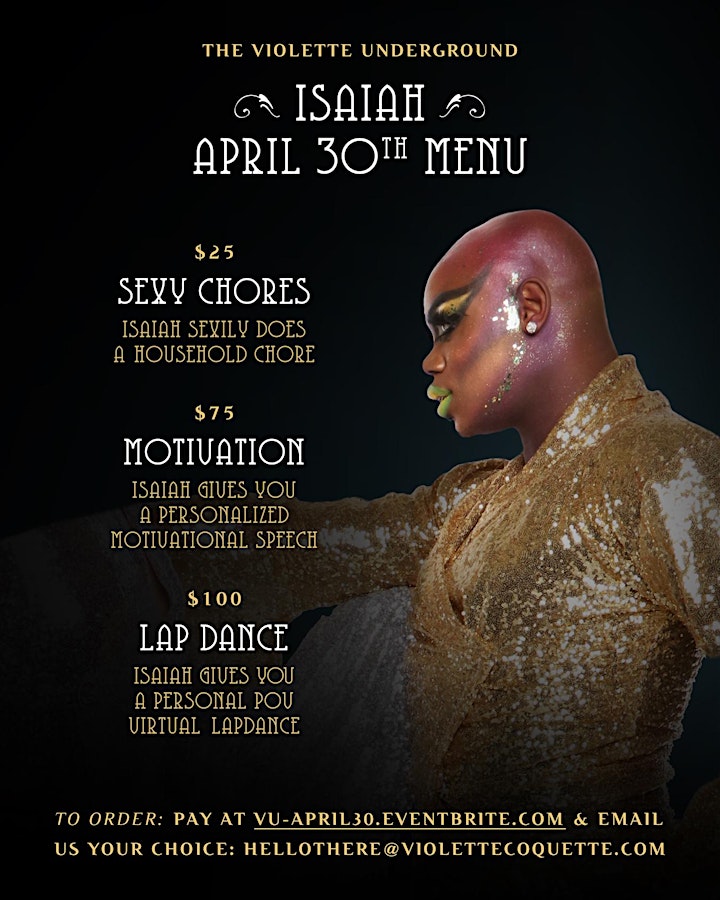 ISAIAH's Tip Menu:
💜 $25 SEXY CHORES: Isaiah Sexily does a household chore
💜 $75 MOTIVATION: Isaiah Gives a Personalized Motivational Speech
💜 $100 VIRTUAL LAPDANCE: Isaiah Gives you a personal POV Virtual Lapdance!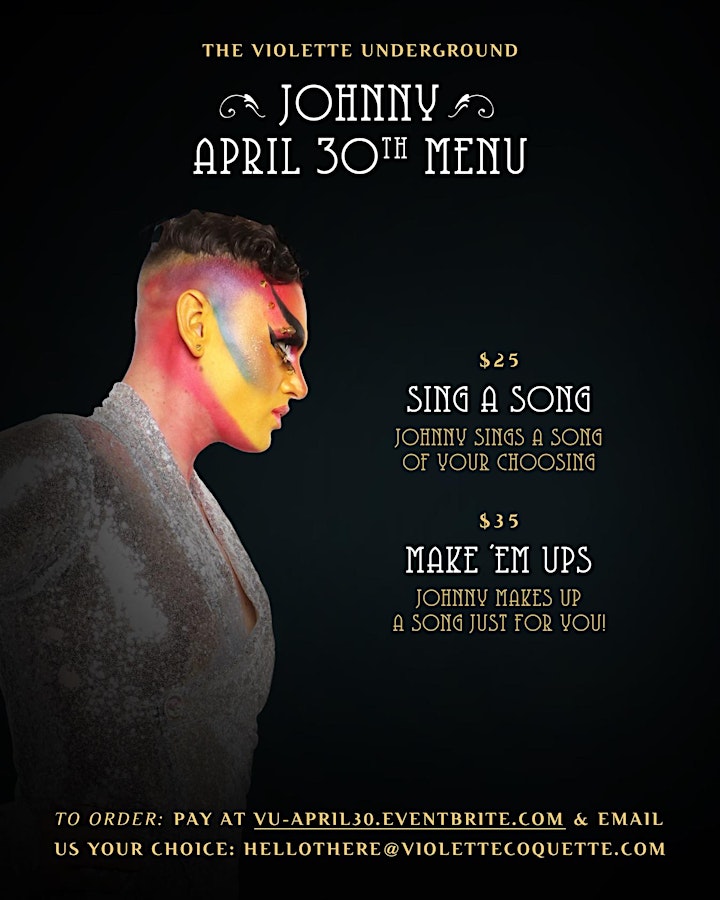 JOHNNY's Tip Menu:
💜 $25 SING A SONG: Johnny Sings a song of your choosing
💜 $35 MAKE 'EM UPS: Johnny Makes up a song just for you!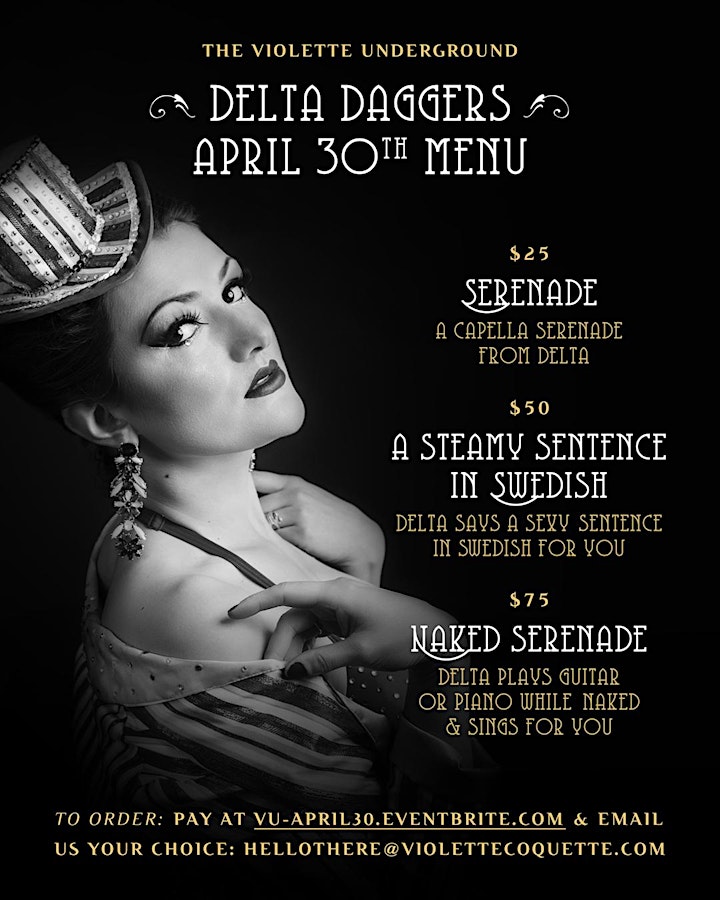 Delta Daggers Tip Menu:
💜 $25 SERENADE: A capella serenade from Delta.
💜 $50 STEAMY SENTENCE IN SWEDISH: Delta says a sexy sentence in Swedish for you.
💜 $75 NAKED SERENADE: Delta plays guitar or piano naked and sings for you!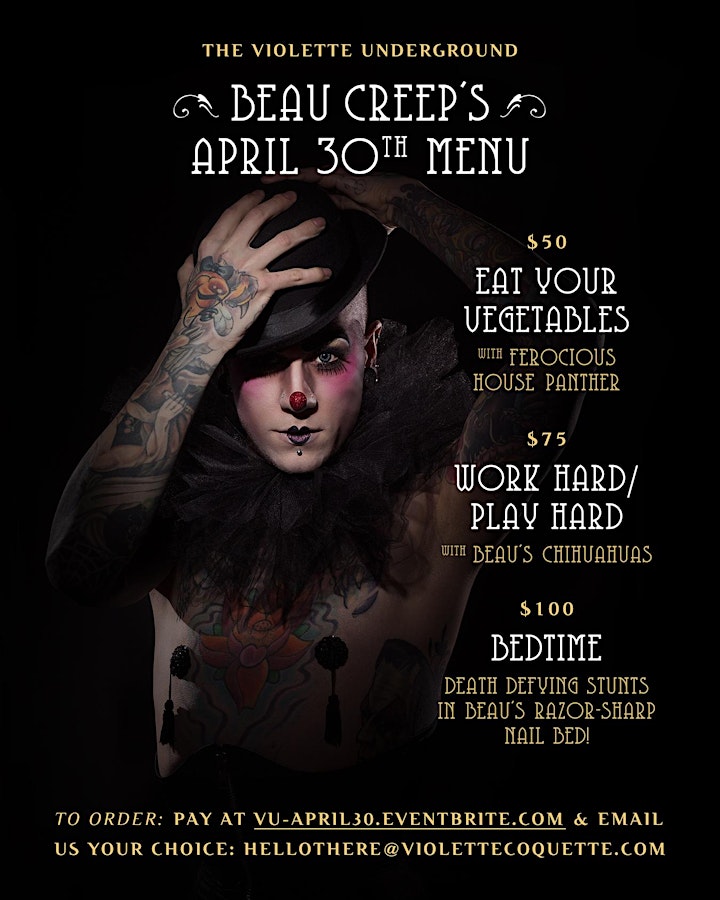 Beau Creep's Tip Menu:
💜 $50 EAT YOUR VEGETABLES: watch Beau tame his ferocious house panther with... vegetables? Here kitty kitty!
💜 $75 WORK HARD/PLAY HARD: Beau shows off the tricks of his charming chihuahuas as they enthusiastically perform for carbohydrate compensation.
💜 $100 BEDTIME: Watch Beau perform death-defying stunts, all from the safety of his bed - which is made up of over 200 six-inch razor sharp nails!
LeTabby Lexington's Tip Menu:
💜 $25 CUSTOM ASMR: Theme/object of your choice
💜 $50 IMPROVISED MONOLOGUE: Theme of your choice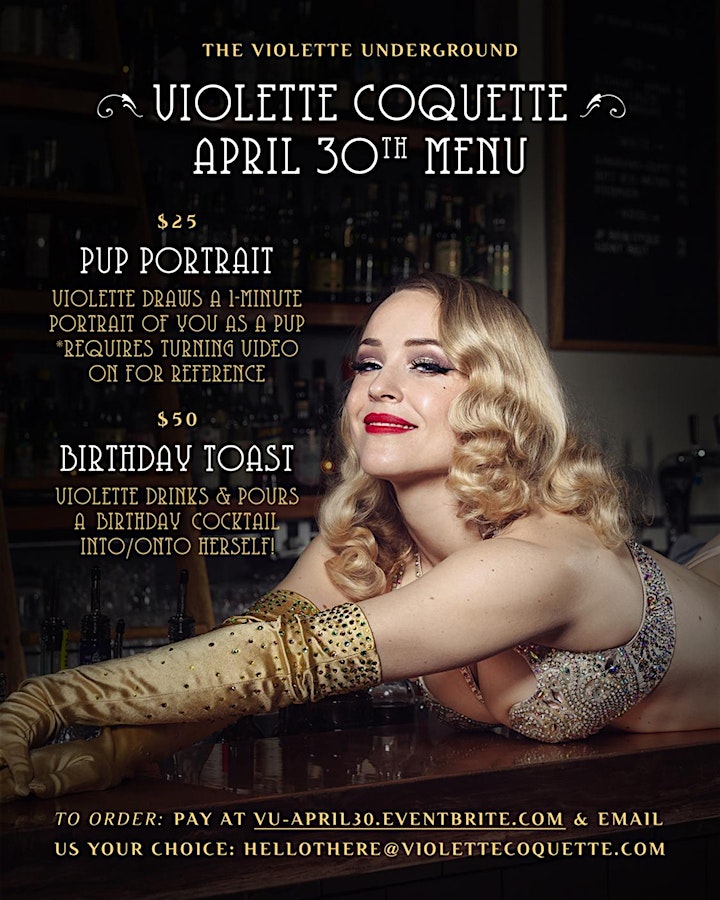 Violette Coquette's Tip Menu:
💜 $25 PUP PORTRAIT: Violette draws a 1-minute portrait of you as a pup. *Requires guest to turn on video for reference!
💜 $50 BIRTHDAY TOAST: Violette drinks & pours a birthday cocktail into/onto herself!