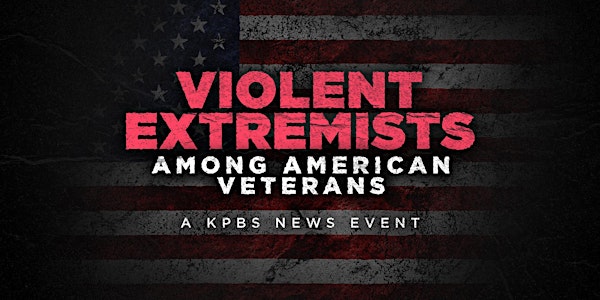 Violent Extremists Among American Veterans | A KPBS News Event
KPBS Military Reporter Steve Walsh moderates a panel discussion on the rise of violent extremists among veterans.
About this event
How are veteran organizations grappling with racial extremism and other conspiracies among their members? Join KPBS at a free virtual event featuring Military Reporter Steve Walsh and a panel of experts. They will look at the history and the potential role veteran organizations could play in deradicalization.
This event is FREE. Registration is required.
***
Links to the online event will be provided upon completed registration.
This event is sponsored by the Corporation for Public Broadcasting, a major funder of the American Homefront Project. American Homefront is a collaboration between NPR and seven public radio stations that looks at veterans and the military.
****
Videos from KPBS News: Military & Veterans

PANELISTS
Richard Brookshire (above, left) - Co-Founder & Executive Director, Black Veterans Project
John H. Clark III (above, second left) - Commander, United States Navy (retired); Author and Principal Consultant, The PIE Group
Tony McAleer (above, middle) - Author, "The Cure For Hate"
Pete Simi (above, second right) - Professor of Sociology, specializing in right-wing extremism, social psychology of hate, and domestic terrorism, Chapman University
Akilah Templeton (above, right) - MPA, MSW, President and CEO, Veterans Village of San Diego
THIS EVENT IS MADE POSSIBLE BY