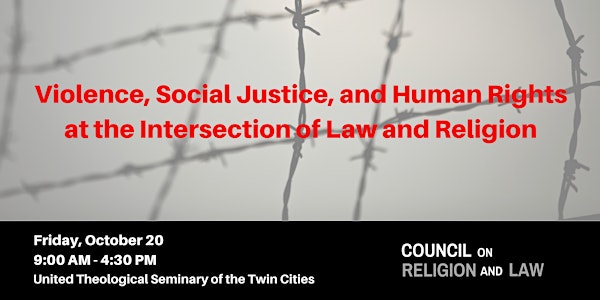 Violence, Social Justice, & Human Rights at the Intersection of Law & Religion
When and where
Location
United Theological Seminary of the Twin Cities 3000 5th Street Northwest New Brighton, MN 55112
Refund Policy
Contact the organizer to request a refund.
Description
A JOURNAL OF LAW AND RELIGION RETROSPECTIVE: Violence, Social Justice, and Human Rights at the Intersection of Law and Religion
Thursday, October 19, 2017
7:00 p.m. Welcome Mix and Mingle at United.
United Theological Seminary of the Twin Cities
Friday, October 20, 2017
9:00 a.m. to 4:30 p.m.
United Theological Seminary of the Twin Cities
OUT OF TOWN GUESTS: please contact Kimberly McGlothlin at kmcglothlin@unitedseminary.edu by September 15 to guarantee hotel accommodations.
---
9:00
Introduction to the conference
9:15-11:30 a.m.
Panel 1: LAW AND VIOLENCE
Rumee Ahmed, University of British Columbia--Vancouver

Deborah Cantrell, University of Colorado Law School

Oren Gross, University of Minnesota Law School

Adnan Zulfiqar, Rutgers Law School
The relationship between law and violence has been a perennial challenge in human history. In international circles, especially after 9-11, scholars, activists and leaders have debated the limits of national rights to respond to state group violence, including the detention and treatment of combatants. Debates on just war, extraordinary rendition, and torture raise only some of these questions in which religion, law and the state come to a crossroads. Violence also has domestic manifestations: religious institutions and theorists grapple with family violence and sexual violence as well as the propriety of the use of violence in justified revolution or struggles for human rights. This panel will explore religious commitments to nonviolence, for example, from the Buddhist tradition, and concerns at the intersection of religion and law.
11:30-12:15
Lunch and informal community conversation
12:00-2:15 p.m.
Panel 2: GLOBAL SOCIAL JUSTICE
Azizah al-Hibri, University of Richmond Law School

Ayesha Chaudhry, University of British Columbia-Vancouver

Elizabeth Clark, Brigham Young University Law School

Vincent Rougeau, Boston College Law School
The cry for social justice on a global scale demands both critiques of the false narratives of modernity and a new imagination about achieving such justice. Both Muslim and Christian intellectuals are challenging the "clash of civilizations" rhetoric and the identity politics that marginalizes Muslims and other minorities, and separates peoples by nation and culture. This panel will explore intellectual challenges to these ideologies, from Pope Francis' call for a radical embrace of the other to arguments for the renewed salience of religious communities and religious freedom as a challenge to state power and social injustice to Muslim feminists' exploration of the contested nature of Islamic feminisms through intersectionality analysis of the politics of social justice. Similarly, Muslim thinkers who call for an inclusive Islamic vision for social justice that ensures the human dignity of women and others and the Pope's more cosmopolitan vision for the Roman Catholic Church offer hope for a new vision of solidarity among diverse peoples and nations. This panel will explore both critiques and possibilities.
2:30-4:30 p.m.
Panel 3: THE SOURCE OF HUMAN RIGHTS
Anver Emon, University of Toronto Faculty of Law

Mary Leary, Columbus School of Law, Catholic University of America

Michael Perry, Emory University School of Law
A consensus resolution of these concrete issues rests upon a theory and definition of human rights, the source, grounding and justification of which has been vigorously debated. The conference will explore the question "What reason(s) do we have--if indeed we have any--to take seriously the morality of human rights?" It will also explore views, and critiques of those views, that there is a Islamic natural law tradition that can ground universal human rights and dignity in a religiously pluralistic world.
---
We invite participants to explore the original Journal articles that the speakers may be engaging:
Law and Violence
Chris Eberle, "God and War: An Exploration"

Jonathan Crane, "Torture: Judaic Twists"

John Howard Yoder, "How Many Ways are there to Think Morally about W

ar?"
The Source of Human Rights
Jean Bethke Elshtain, "The Dignity of the Human Person and the Idea of Human Rights: Four Inquiries"

Jean Porter, "From Natural Law to Human Rights: Or, Why Rights Talk Matters"

Anver Emon, "Natural Law and Natural Rights in Islam"
Global Social Justice
Doug Sturm, "A View of Justice and Solidarity"

Robert Cover, "Obligation: A Jewish Jurisprudence of Social Order"

Azizah al-Hibri, "Muslim Women's Rights in the Global Village: Challenges and Opportunities"