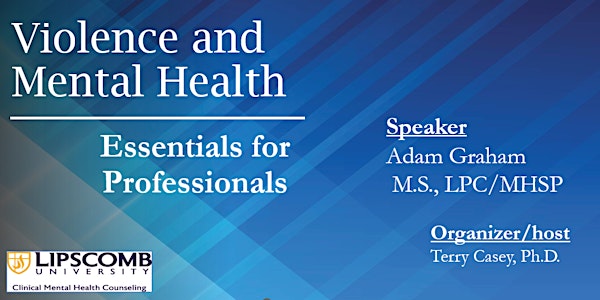 Violence and Mental Health: Essentials for Professionals
This webinar explores new perspectives and practical interventions to better understand and prevent violence, homicide, and suicide.
Refund Policy
Refunds up to 1 day before event
Eventbrite's fee is nonrefundable.
About this event
Violence and Mental Health:
Essentials for Professionals
October 7, 2022, 8:30 a.m. -11:45 a.m. CDT
Live webinar*
Speaker: Adam Graham, M.S., LPC/MHSP
Organizer/host: Terry Casey, Ph.D., Licensed Psychologist, HSP, in association with the Clinical Mental Health Counseling program at Lipscomb University.
Violence and New Multidisciplinary Perspectives
It is a reality that violence, whether directed toward others or oneself, is all too common in our society. Mental health professionals must be properly equipped to understand the often complex variables that lead to violent behavior.
For decades, a diverse range of disciplines has been interested in understanding human behavior, identifying what effectively brings about change, and implementing strategies to save lives from violence. This webinar explores the application of concepts from a combination of diverse sources including professional threat assessment and management, psychology, professional counseling, mathematical complex systems theory, and even the automotive industry to find new perspectives and practical interventions to best prevent violence, homicide, and suicide.
Included in the seminar:
What professional threat assessment and management discipline show about the functions and pathways of violence.
How Mathematical complex system theory provides novel insights into how suicidal behavior maps onto the Cusp Catastrophe Model.
Insights from how the automobile industry dramatically decreased unpredictable motor vehicle deaths by shifting the focus of change from individuals to environments.
How counseling can apply the above novel insights to provide effective treatment to clients facing threats of violence, violent thoughts towards others, and suicidal thoughts.
Learning Objectives:
At the end of the seminar participants will be able to:
Differentiate between the three primary functions of violence
Identify methods to disrupt potential violence through intervention or treatment, including a thorough understanding of the Duty to Warn statute.
Discuss the main tenants and implications of the Cusp Catastrophe Model of suicide.
Articulate the rationale and application of shifting from internal to external intervention to prevent suicide.
Speaker:
Adam Graham, M.S., LPC/MHSP, is a clinical consultant for TBD Solutions, a counselor with the Melton Counseling Group, and an adjunct professor with Vanderbilt University's graduate counseling program. Adam draws on 14 years of experience in community mental health, with nine of those years in crisis care, serving those in suicidal and homicidal crises in the roles of Crisis Counselor, Crisis Stabilization Unit Supervisor, and Director of Emergency Psychiatric Services in Nashville. Adam also has a five-year history of consulting for the Federal Bureau of Investigation in threat assessment and mitigation.
----------------------------------------------------
When:
October 7, 2022, 8:30 a.m. – 11:45 a.m. CDT
Where:
Webcast (Zoom) -- a link will be emailed approximately two days prior to the webcast to the email address provided by the registrant.
This event will be set up as either a Zoom webinar or Zoom meeting. Be sure that the Zoom app is installed (and updated) on the device you will be using for the webinar. A computer is recommended rather than a smartphone. If you are not familiar with using Zoom it is highly recommended that you review the Zoom website's user information in the days before the webinar.
Continuing education credit and CE certificates
This webinar provides 3.0 CE hours through Lipscomb University's CACREP-accredited M.S. program in Clinical Mental Health Counseling, a pre-approved provider of continuing education for the following TN license types: LCSW, LMFT, LPC & LPC/MHSP, Licensed Psychologist & LPE/LSPE, LCPT & LDAC). Important: Continuing education rules and requirements vary among license types and change periodically. Participants should always check the specifics of their continuing education requirements found in their respective Tennesse licensing rules.
To receive the CE certificate participants must complete the course evaluation form and the CE quiz. These materials will be emailed to the participant prior to the seminar. After the webinar has concluded, participants will complete and return these items via email to Rencouselingtn@gmail.com. After receipt of both the above items, the CE certificate will be emailed to the participant, usually within one week.  
Questions?
Direct all questions to: Rencounselingtn@gmail.com.
                              Registration 
Click the "Register" button above.
FAQs 
How do I access the webinar?
A link will be emailed to you a few days before the webinar. You will need to download the Zoom app on your device. If you already have the Zoom app be sure to update it prior to the webinar. A computer, rather than a smartphone, is recommended.
How can I contact the organizer with any questions?
Contact the host, Dr. Casey, at Rencounselingtn@gmail.com.
What is the refund policy?
Online registration: Refunds are available until 24 hours prior to the webinar. Note that the Eventbrite fees are not refundable. 
Will the seminar be recorded?
A recorded version of the webinar is planned but cannot be guaranteed. If/when available, the recorded version of the seminar will be available as a separately purchased webinar. Inquire by contacting Rencounselingtn@gmail.com.