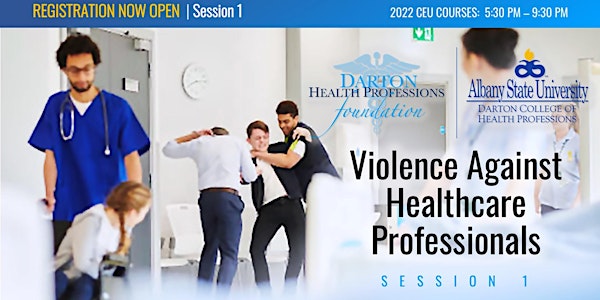 Violence Against Healthcare Workers - 4 Hours CEU
Looking for continuing education units ? Register now for "Violence Against Healthcare Professionals" for 4 hrs. of CEU credits.
About this event
Did you know that healthcare and social service workers are 5 times more likely to experience workplace violence than all other professions?
When is something big or small enough to act on?
This 4-hour CEU session is being offered by the Darton Health Professions Foundation in collaboration with Albany State University as part of a series of CEUs that will address important topics impacting the health professions field.
Violence against healthcare workers is a pervasive problem that threatens the safety of staff, patients, and visitors in healthcare facilities. The results are catastrophic to our greatest human resource, YOU, the healthcare professionals. The injury, mental and emotional stress, and costs are not just felt by the employees, but employers, coworkers, and patients who need and deserve a safe environment. Medical facilities face millions of dollars of lost time, workers' compensation claims, employee turnover, additional security measures and a tarnished reputation for quality care when these events occur.
Topics to be explored include:
What is violence in the healthcare system?
What is being done at a legislative level to help you?
Personal Risk Assessment – Identifying high risks for violence or harm.
Assessment Tools for your facility.
What is the proper response?
How to manage the Agitated Patient/Person
HR Guidelines
This course is designed for CEUs for licensed healthcare workers including but not limited to: Nurses, Physical Therapists, Physical Therapist Assistants, Occupational Therapists, Occupational Therapy Assistants, Speech-Language Pathologists, Respiratory Care Technicians, Diagnostic Medical Sonographers, Radiology Technicians, Health Information Management Professions, Dental Professionals, Emergency Medical Services Professionals, Histologic Technicians, Medical Laboratory Technicians and others.
Certificates will be provided via email after course completion.
*ALL proceeds benefit student scholarships who need financial support to complete their education.