Event Information
Location
Chicago Temple Building
77 W. Washington St
Chicago, IL 60602
Description
Violence: A Faithful Response to the Plague in Our Neighborhoods and in Our Nation
A provocative conversation featuring Thomas Dart, Willie Jennings, Otis Moss III, and Michael Pfleger and moderated by Robin Robinson
Event time:
Monday, April 3, 2017 - 5:30 - 7:30 pm
Location:
The First United Methodist Church at The Chicago Temple
77 W. Washington St
Chicago, IL 60602
For more information contact: Yale Chicago at Events@YaleChicago.org or Zoe Hunter at zoe.hunter@yale.edu or 203-432-5359.

Event description:
Thomas Dart, Sheriff of Cook County, Illinois; Willie Jennings, Associate Professor of Systematic Theology and Africana Studies, YDS; Otis Moss III, '95 M.Div., Senior Pastor of Trinity United Church of Christ in Chicago; and Michael Pfleger, Pastor of The Faith Community of Saint Sabina in Chicago will participate in a public conversation at The Chicago Temple on Monday, April 3.
The program will be moderated by Robin Robinson, award winning journalist and broadcaster and currently Director of Community Affairs at the Chicago Police Department.
This event is a timely conversation between civic, academic, theological, and religious leaders confronting violence in our communities. Audience members will participate with their own questions.
This event is co-sponsored by Yale Chicago and Yale Divinity School with special thanks to The First United Methodist Church at The Chicago Temple.
---
Moderator - Robin Robinson
Robin Robinson is an award winning journalist and respected broadcaster whose three decades of Chicago-based reporting is marked by in depth coverage of social justice issues, politics, significant events and people. Robinson has covered everything from sports championships to Presidential Inaugurations. Her passion is to enlighten audiences with new perspectives and unique content.
In June of 2016, Robinson's activism around social justice, and her citywide grassroots collaborations, led Chicago Police Superintended Eddie Johnson to appoint her Director of Community Affairs at CPD.
---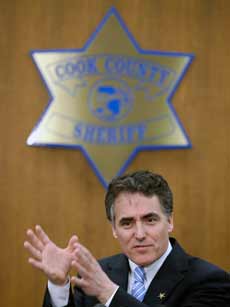 Thomas Dart
As Cook County Sheriff, Tom Dart has brought an aggressive, yet innovative approach to law enforcement. A former prosecutor and state legislator, Sheriff Dart has long fought to protect the most vulnerable members of our society. He helped initiate a massive public corruption investigation in the poverty-stricken village of Ford Heights and has sponsored hundreds of bills that demanded accountability from state officials, while also showing a willingness to take on state bureaucracy. Recognizing the desperate need for reform in the mental healthcare system, Dart is now an outspoken advocate for the mentally ill population housed at his jail.
Willie Jennings
The Rev. Dr. Willie J. Jennings is Associate Professor of Systematic Theology and Africana Studies at Yale University's Divinity School. One of the nation's most distinguished scholars in the areas of theology and race, Professor Jennings' research focuses on liberation, cultural identities, and anthropology. His book, The Christian Imagination: Theology and the Origins of Race (Yale 2010) won the American Academy of Religion Award of Excellence in the Study of Religion in the Constructive-Reflective category the year after it appeared and, in 2015, the Grawemeyer Award in Religion, the largest prize for a theological work in North America.
Otis Moss III
The Rev. Dr. Otis Moss III is the senior pastor of Chicago's Trinity United Church of Christ – which ministers to 8000+ members. Dr. Moss' approach to theology is specifically geared towards addressing the needs of African-Americans within inner-cities. He has spent the last two decades practicing and preaching a Black theology that prophetically calls attention to the problems of mass incarceration, environmental justice, and economic inequality. Dr. Moss is part of a new generation of ministers committed to preaching an unapologetic message of love and justice, which he believes are inseparable companions that form the foundation of the Gospel of Jesus Christ.
Michael Pfleger
The Rev. Dr. Michael Pfleger is a Roman Catholic priest and senior pastor of Chicago's own Faith Community of Saint Sabina Parish. Since 1968, Father Pfleger has lived and ministered in predominately black communities on both the west and south sides of Chicago. Father Pfleger is a prolific activist that is the founder of the Employment Resource Center, the Ark Youth Center, Saint Sabina Social Service Center, Thea Bowman Spiritual Advance Center, Samaritan House for the homeless, Saint Sabina 80-unit Elders Village and the Beloved Community, Inc. On the final day of 2016, one of Chicago's most violent years in decades, Father Pfleger led several hundred demonstrators in a march down the Magnificent Mile – the city's main high-end shopping avenue.
Date and time
Location
Chicago Temple Building
77 W. Washington St
Chicago, IL 60602
Organizer of Violence: A Faithful Response


---
About Yale Chicago
Mission Statement of the Yale Chicago 
Yale Chicago is dedicated to the promotion of the welfare of Yale University, the preservation of its traditions of excellence in education and service, and the advancement of its stature in the Chicago area. The Club also seeks to connect Yale graduates, Yale students, and their parents in the greater Chicago metropolitan area with each other and the University.
The Club believes that an active local alumni association, including graduates of the college, graduate, and professional schools, is the primary instrument by which to advance these principles. The purpose of the Club shall be exclusively educational and charitable.
Services
Recruiting and interviewing prospective Yale students through the Alumni Schools Committee
Presenting educational programs such as guest speaker Dutch luncheons, Yale Connection and Yale faculty seminars.
Raising funds for the Yale Club of Chicago Foundation to support Chicago area students at Yale
Sponsoring community service fellowships in Chicago for Yale undergraduates
Connecting alumni with shared interests through our local Shared Interest Group ("SIG") communities,
Tutoring and mentoring students at the Friedrich Ludwig Jahn Elementary School in Chicago
Hosting activities to build the Yale community in Chicago such as young alumni events, family events, local SIG events, and traditional Yale events including the Yale/Harvard game and the Singing Dinner
Providing career counseling to alumni in the Chicago area