Event Information
Location
Bogart House
230 Bogart Street
Brooklyn, NY 11206
Experience the Fantasy with NYCRavers and Sounds So Sweet For the sixth installment of their Vinyl Fantasy series of epic cosplay raves!
About this event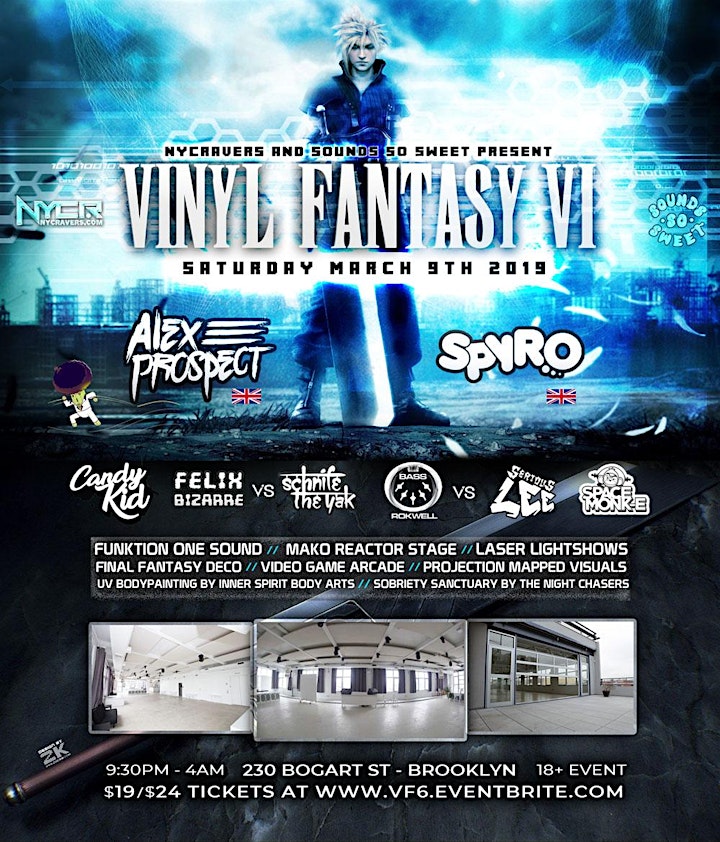 NYCRavers and Sounds So Sweet present
VINYL FANTASY​ VI
A Raving Tribute to Final Fantasy
On Saturday March 9th Experience the Fantasy with NYCRavers and Sounds So Sweet at the 6th installment of their epic cosplay rave VINYL FANTASY. Featuring UK headliners Alex Prospect and Spyro with local support from Candykid, DJ Bizarre vs Schnife the Yak and a 2 hour all VINYL triple tag team set by NYC Rave Legends Bass Rokwell, Serious Lee and Space Monk-E. Also featuring a projection mapped mako reactor stage, laser lightshows, video game arcade, uv bodypainting and much more.
All going down at a virgin loft/warehouse event space located in Williamsburg, Brooklyn with a FUNCTION ONE SOUND SYSTEM. Scroll down for pics of the venue.
█▓▒ LINEUP ▒▓█
Featuring....
█ Alex Prospect █
[ Lethal Theory , UK ]
( UK Hardcore / Multi-Genre )
soundcloud.com/alexprospect
The New York Debut Of ...
█ Spyro █
[ Turnt Generation, UK ]
( UK Hardcore )
soundcloud.com/yesspyro
█ Candykid █
[ Ravers Only, NYC ]
( Special Breaks/DnB Closing Set)
█ DJ Bizarre vs Schnife the Yak █
[ Audiophiles / Sounds So Sweet, NY ]
( Hardstyle / House )
SPECIAL 2 HOUR ALL VINYL TRIPLE TAG TEAM SET
█ Bass Rokwell vs Serious Lee vs Space Monk-E █
[ Serious Sounds / BP2 / Smooth Villain Records, NY/NJ ]
( Techno / House / DnB )
█▓▒ PRODUCTION ▒▓█
─ Projection Mapped Mako Reactor Stage by Sounds So Sweet
─ Function One Sound by Bogart House
─ Final Fantasy Art by NYCR EYECANDY
─ Lighting and Lasers by Storm Lighting and Sound
─ Video Game Arcade by Mashfest NYC.
─ UV Bodypainting By Inner Spirit Body Arts
─ Sober Raver Sanctuary By The Night Chasers
█▓▒ LOCATION ▒▓█
After an expansive search we have found the perfect venue for Vinyl Fantasy VI ...
Bogart House
230 Bogart Street
Brooklyn, NY 11206
The Bogart House is a gorgeous indoor/ outdoor space located in the heart of Williamsburg features function one sound, sweeping views of city skyline, clean bathrooms and is very fancy (Monocles out!).
█▓▒ DIRECTIONS ▒▓█
To get there take the L Train to Grand St (Note : Its a free shuttle bus this weekend), then walk east on Grand St past the highschool, make the first right onto Waterbury St, then the 2nd left onto ten eyck st, then walk one block until you hit bogart st venue is on the corner of bogart st and ten eyck st.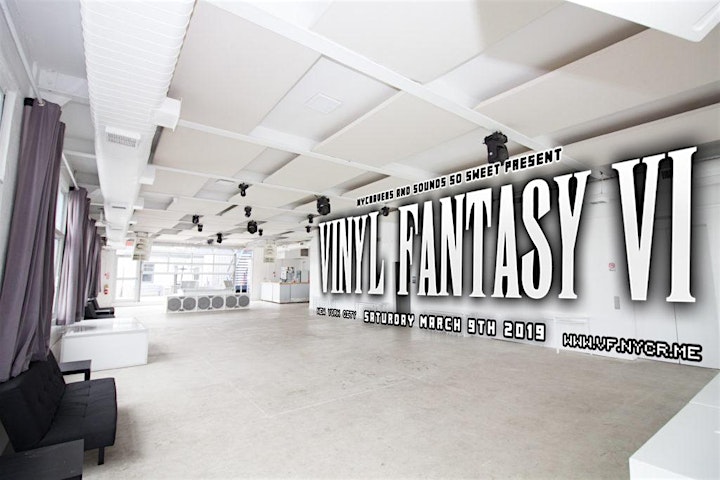 █▓▒ MISC NOTES ▒▓█
DON'T VAPE ME BRO You can't smoke or vape inside the venue. If you are seen smoking or vaping inside the venue you will be kicked out. There will be a rooftop area for smoking and vaping.
ROAR (Right Of Admission Refusal) in effect! We're trying to revitalize the scene please leave your negativity and bad vibes at the door!
Brought to you by...
NYCRavers AND Sounds So Sweet
Pics from previous Vinyl Fantasy events (First one was in 2010!)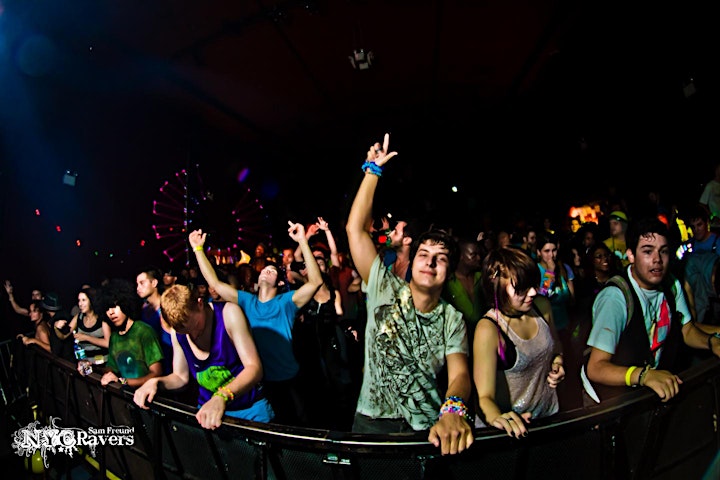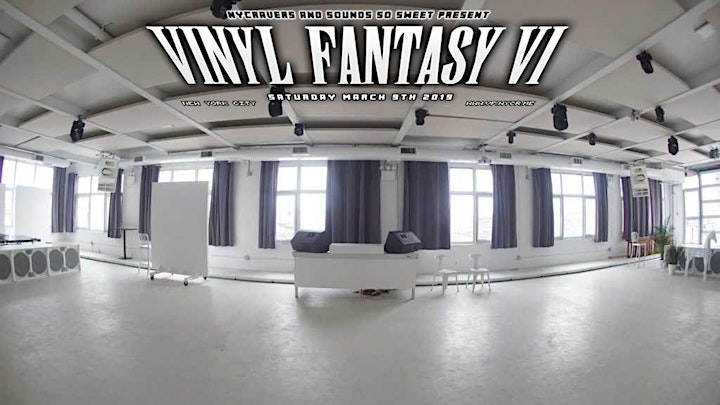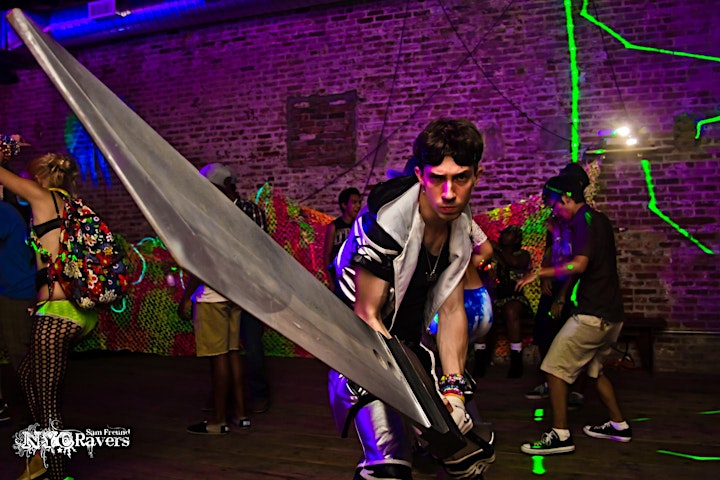 Date and time
Location
Bogart House
230 Bogart Street
Brooklyn, NY 11206