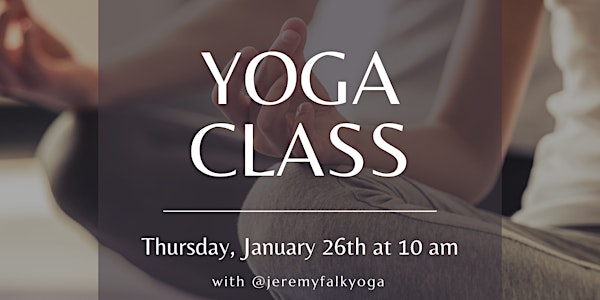 Vinyasa Yoga at House of Web3
Start your day right at House of Web3. Join Jeremy Falk, an SF based yoga teacher with a mission to connect us to our inherent power.
When and where
Location
Edge & Node House of Web3 Building 103, Montgomery Street San Francisco, CA 94129
About this event
Jeremy Falk, E-RYT 500, embodies 16 years of experience and thousands of hours of training in movement sciences, meditation, and positive psychology. He began his foundational yoga studies while living in an ashram in India and completed advanced training with world-renowned teachers Jason Crandell, Stephanie Snyder, and Janet Stone. His meditation channel is one of the most popular on Audible and he's been recognized as an Ambassador for Lululemon, Fitbit, Yoga Journal, and the Head of Yoga for Tempo.
Jeremy teaches a soulful vinyasa rooted in intelligent sequencing, grounded in ancient wisdom, and evolved with a playful spirit. Whether you're a beginner or a seasoned yogi, you'll enjoy a challenging and meditative experience all while discovering the depths of strength, focus, and calm within you. You can connect with him at jeremyfalk.com or @jeremyfalkyoga on Instagram.
Note: Please bring your own yoga mat!
About House of Web3
Edge & Node's House of Web3 is the largest co-creation space for web3, providing nearly 13,000 sq ft for collaboration within the web3 ecosystem located in the Presidio in San Francisco. The location serves as a foundation for web3 growth, where the brightest minds–innovators, builders, researchers, inventors, and partners of the web3 ecosystem join together to build the decentralized internet.
Edge & Node's space hosts the pioneers of web3 as well as those with the desire to get involved in building a better future by solving the world's greatest challenges. The space will facilitate the use of newly launched products, protocols, and existing decentralization technologies – with a focus on learning and teaching alike.
Through interactive panels, workshops, curated events and day-to-day co-creation, House of Web3 builds and grows together!