About this Event
WXPN Welcomes
Vintage Trouble
Greatness begets greatness. The more time you spend around perfection, the more it rubs off on you...
Since forming in 2010, Vintage Trouble have quietly become rock 'n' roll's best kept secret anointed by its very gods on international tours in every corner of the globe.Distilling swaggering rock, soulful blues, R&B (rhythm& blues) grooves, and pop ambition into a bold and brash brew, the quartet—Ty Taylor [vocals], Nalle Colt[guitar], Rick Barrio Dill [bass], and Richard Danielson [drums]—have logged 3,000shows across 30 countries on tour with divinities such as The Who, The Rolling Stones,AC/DC, Lenny Kravitz, and Bon Jovi, to name a few. Along the way, they also performed on Later... with Jools Holland, Jimmy Kimmel LIVE!, Conan, The View, andThe Tonight Show (four times in one year!) in addition to receiving acclaim from NewYork Times, NPR, The Wall Street Journal, Billboard, Rolling Stone, and more. With a trio of albums under their collective belt, namely The Bomb Shelter Sessions, TheSwing House Acoustic Sessions, and 1 Hopeful Rd., they challenged themselves like never before on the Chapter II–EP Iin 2018 and the Chapter II –EP 2 in 2019.
Inspired by this sterling reputation on the road, Vintage Trouble aimed to seamlessly translate that stage spirit into the studio setting for the first time.'
"We've gotten the opportunity to play literally the biggest shows in the world," saysTy. "However, we weren't catching the same feeling on record as we did live. That sent us back to the factory, you could say. We started to listen to a lot of popular music—everything from Amy Winehouse and Adele to Bruno Mars and Lauryn Hill. We wanted to take something from the past and put it in contemporary framing. That was the impetus. We decided to play what felt like pop songs would be with rhythm &blues and rock 'n' roll tension. There's a different life to the music. That was the entire mission behind this new phase."
"We jumped into it without any fear," adds Nalle. "We wanted to show the other side of who we are. It's definitely Chapter II in the story of Vintage Trouble."
In order to bring that vision to life, the guys traded Southern California for the Cayman Islands. Throughout two ten-day trips to a private studio, they recorded a bevy of songs and culled them down to what would become Chapter II alongside producer Jeeve [Bruno Mars, Carlos Santana]. Instead of recording live a la previous releases, the musicians tracked individually for the first time and incorporated keys and horns into an expanding soundscape.
"We used to record everything live, but it was difficult to edit and you're stuck with the full take, mistakes, a lot of bleed, and all," says Richard. "We decided to make music with today's recording techniques for the new EP. Instead of just being a live band in the studio, we got to be a studio recording artist. We didn't paint ourselves into any corners. It's a major evolution for us with a bigger sound that can speak to a much larger audience."
The first single "Can't Stop Rollin" most definitely did. Hinging on an unshakable beat, it steamrolled forward on disco-style shuffle and sinewy guitar before culminating on a slick and show-stopping refrain(Think The Police covering Off TheWall). Elsewhere on the EP, "The Battle's End" encaseda message of social justice underneath a simmering groove and echoing (Ty's trombone). Illuminating the airtight songwriting at the EP's core, Vintage Troubleincluded acoustic takes on all five new cuts.
Between "My Whole World Stopped" and "Do Me Right," the first installment of Chapter II generated over 2 million streams and counting within a few months' time as the musicians played to packed crowds.
EP2 arrived in 2019 and upped the ante again in terms of songcraft and lyricism. This time around,the music honored and paid homage to the group's soul roots. Finding "ways to be impactful with softer sounds," Ty notes, "The records ring of Marvin, Al, Sam, Otis, and Percy, but with the fullest of modern soundscaping."
Hollis Brown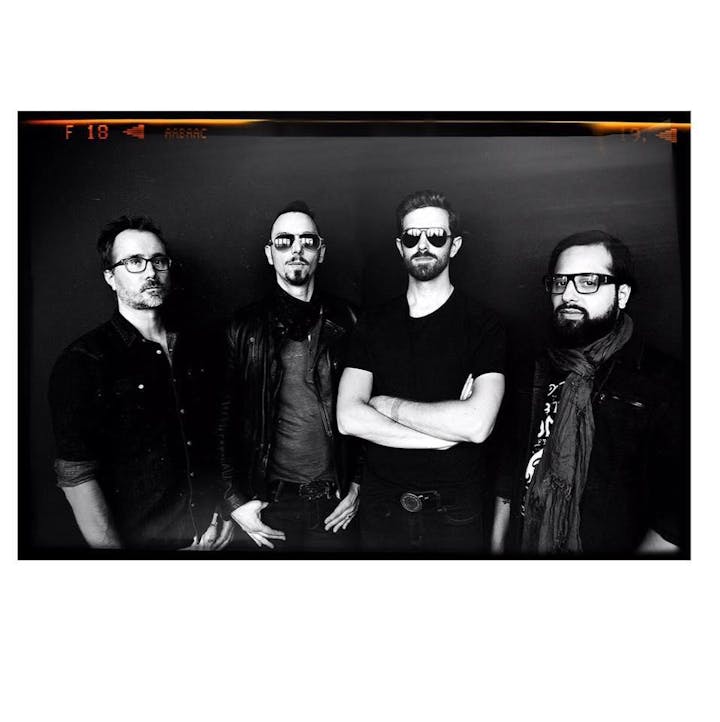 Queens, New York, is a borough rich in rock 'n' roll history. KISS. The Ramones. RUN-DMC. Simon and Garfunkel. Dee Snider. Perry Farrell. And we'll take a leap -- Tony Bennett.
Hollis Brown is a band from Queens, formed by singer-guitarist Mike Montali and lead guitarist Jonathan Bonilla. Rounding out the rest of the band are Andrew Zehnal (drums), Adam Bock (keys), and Chris Urriola (bass). The band has been releasing music since 2013, during which they released an EP and two albums along with a Record Store Day tribute to the Velvet Underground's LOADED album. The group has toured extensively in the U.S. and Europe, both on their own and supporting the likes of Citizen Cope, Counting Crows, Jackie Greene, Jesse Malin, the Zombies, and many more. And you've heard their music in films such as "Bad Country" and on TV series such as Showtime's "Shameless," DirecTV's "Kingdom" and MTV's "Real World." Also their music has been featured in the worldwide trailer for "The Founder" starring Michael Keaton along with the Winter 2018 John Varvatos runway show and online campaign.
Hollis Brown is a (hard) working rock 'n' roll band, in other words, a group that lives up to the blue-collar legacy of their hometown. But, as evidenced on their new album Ozone Park, there's also a great deal of sophistication in the mix, rich melodicism and advanced harmonics that allow Hollis Brown -- yes, named after the Bob Dylan song -- to blend a wealth of influences into a distinctive sound that plants their own one-of-a-kind flag in ground that's been otherwise well-traveled.
"We really feel like the last of the great American rock bands," Montali explains. "When you play rock music it's always kind of a hurdle to not be considered a retro band or a throwback band because somebody is always trying to put you in a box or define you. You're always compared to another artist, another band -- who are great, sometimes, but they're...old. I think we want to make a statement that rock music can still be done in a modern way that is still as good as some of those acts from the past."
That's exactly what Hollis Brown set out to do -- "Great songs but rock 'n' roll with the sound of 2019" -- on the 10 tracks of Ozone Park, which was recorded at Unity Gain Studios in Fort Meyers, Fla. The songs cover plenty of musical ground but this is no mere playlist; rather, they weave together in a cohesive, dynamically exciting ride that ranges from the soulful buoyancy of "Blood From a Stone" and "Stubborn Man" to the ringing Americana guitars of "She Don't Love Me Now," the funky flavor of "Go For It" and the fuzzy hard rock of "Bad Mistakes." It represents care and craft, and a diversity Montali credits to his own musical roots.
"Growing up in Queens I fell in love with all different types of music," he recalls. "we had hip-hop, we had funk music, we had rock 'n' roll music, we had singer-songwriters. Everybody in the band loves all those things, so it's nice to try and incorporate all those things. We're really open.
Making Ozone Park with producer Adam Landry (Deer Tick, Rayland Baxter, Nikki Lane, Vanessa Carlton) in Fort Myers, Fla., Hollis Brown enjoyed plenty of opportunity for rewarding musical adventures. Some of it had to do with the recording process itself, mixing analog and digital technologies as well as the sound of four musicians -- Montali, Bonilla, keyboardist Adam Bock and drummer Andrew Zehnal -- playing together in one room. "We did a lot of pre-production and did the album pretty quick -- eight days, recorded and mixed," Montali says. "We did some sampling, some 808 digital drums on some of the songs and synth stuff we weren't doing before, just to make the sound current. But if it's a great song it's always a great song, no matter how you dress them up."
Montali and his mates are also proud of "the real band sound" they achieved on Ozone Park. "My favorite thing about bands is if you take one member out, it changes," he explains. "If you look at Led Zeppelin, the Beatles, the Ramones -- each member brings his own power. I think we got to that place on this record; if you take one member out of our group, it wouldn't have been the same record. We really developed how these songs would sound with just the four of us before we even went into the studio." Hollis Brown opted to give themselves that time, too. The group stayed off the road for the better part of the year, not only recording but rebuilding their business team and putting strategies in place for what the band felt was a pivotal work.
"It was a challenging year for us," Montali says. "We're so used to playing so much, being home and not playing was something very different. But it was all worth it. We felt like it was time to take a step back and get the right team together so that when this album comes out we're firing on all cylinders. "I think we're in a really good place now. We just want to keep the ball rolling and making music we believe in."
Performers
Date and Time
Location
Refund Policy