Vintage Shop Hop - 6th Annual - March 1 & 2, 2019

Friday, March 1, 2019 at 9:00 AM

-

Saturday, March 2, 2019 at 7:00 PM (CST)
Event Details
VINTAGE SHOP HOP -  6th Annual
FRIDAY & SATURDAY, MARCH 1 and 2, 2019
(participants must be open both days)
Please read these details BEFORE you register your shop...it's a lot of reading...but you NEED to understand how it works before you register. (This registration page is for participating shops only. The shoppers do NOT need to register at all).
What is the Vintage Shop Hop? This event is best described as a "road trip on steroids"--specifically designed for vintage related businesses in Northern Illinois and Southern Wisconsin to attract new customers! We debuted five years ago and found great success with both the participating shops and the shoppers. Last year 480 vintage stores/occasional or pop-up shop/barn sales, ladies boutiques, and vintage-related businesses participated. It's a two-day vintage shopping event, intended to bring new customers into your store from your own town as well as encourages "road trippers" from outside your area. 
This event is a bit different than most in that it is marketed strictly through social media! It's promoted to the public as a "self-guided road trip" within the Northern Illinois & Southern Wisconsin region and marketed totally through facebook via the event fan page and purchased facebook advertising and boosted posts. 
DOES YOUR SHOP QUALIFY?
It's easy to participate but you must agree to the five Eligibility Factors below... 
ELIGIBILITY FACTOR #1 - Business Type
We get feedback every year from our shoppers and they have been LOUD AND CLEAR! Over the past few years, we've gotten complaints on the amount of non-vintage stores creeping into the event. We are listening and have made changes to the eligibility requirements on what type of businesses can participate in the Vintage Shop Hop. These business types are eligible: 
Vintage - vintage shop or antique mall (75% of inventory must be vintage or antique)

Non-Vintage Gifts - all new inventory (no thrift or second-hand) such as home decor, pillows, candles. NO crafts store, NO floral shops, NO single item shops (i.e. soaps only, candles only)

Women's Boutique - new clothing

 & accessory lines (not second-hand), AND locally owned.

Upscale Consignment Boutique - new and/or used upscale clothing or home decor.

Event - barn sale, flea market, pop-up vintage shop, seasonal vintage, an event

 with vintage vendors

 

Restaurants / Cafes / Burger Joints / Food Stops
This event is intended to give shoppers a VINTAGE shopping experience. I have to stay true to the original intent of the event which is to promote vintage shopping. I market to those who like to shop for vintage decor and goods.  We will no longer allow thrift or second-hand stores unless you have a devoted vintage inventory at all times of operation, year 'round. If you are a thrift or second-hand store, please contact us first so we can view your Facebook page before you sign up. We no longer allow Floral shops, Craft shops or Lodging facilities or the following types of businesses:  
box stores

national franchise stores

non-profit agency-run shops such as Goodwill, Salvation Army, and

 St. Vincent de Paul or other thrift and/or community stores

crafts, florists or single item stores (such as candles or soaps only)

new furniture retail stores

clothing stores, unless they are upscale boutique-style and locally owned

museum or attraction gift shops




"store closings" or closeout/liquidations, etc.

book stores (unless you have a dediced vintage book section)

flea markets with no "on-trend" vintage, i.e. hot wheels, tools, old stock, pots n pans, coins, DVDs, sports memorabilia, action figures, etc.
ELIGIBILITY FACTOR #2 - Active Facebook business page
You must operate an ACTIVE and current BUSINESS Facebook page. Personal pages don't count--it MUST be set up as a business page. To be considered an ACTIVE page, you MUST  post at least WEEKLY and include photos in your posts. ACTIVE does not just mean you have a page--it means you post ongoing activity on it. If you are a NEW shop, we understand that and encourage all new shop owners to take part in the event. In fact, it's a perfect way to get the shoppers to know about you.) If I find that your page is not active or current, your registration fee will automatically be refunded and you will not be allowed to participate.
ELIGIBILITY FACTOR #3 - Agree to promote the event on your page.

You agree to promote the event on your business page--meaning you're agreeing to post the official event flyer on your Facebook business page several times prior to the event...including daily posts the week before the event.
ELIGIBILITY FACTOR #4 - Agree to host an in-store promotion

You agree to "roll out the red carpet" for customers by creating an "in-store" promotion for the event weekend. This can be as simple or as elaborate as you wish. During the past five years, shops have done everything from special shop pricing and discounts to product demonstrations, punch card promotions, "meet the dealers", wine/cheese parties, live music and parking lot sales. 
ELIGIBILITY FACTOR #5 - Be within the event's geographic boundry
In order to participate, you must be open both days AND:
1) your shop needs to be located within the colored sections of either the Illinois or Wisconsin map below and,
2) if it is, please remember the Map # of where you are located. You'll need it during the registration process.
The colors below represent the "MINI-REGIONS" that I will group you into to make it easier for the shopper to traverse the region. Don't get too hung up on the borders. In the end, depending on what shops participate I may have to re-draw the border of one or more mini-regions. If you are NOT located inside these borders, please contact us at the Vintage Shop Hop Facebook page using the private message button (Messenger) before registering.
WISCONSIN MINI-REGION MAP #1 - remember the colored zone # you're located in for the registration form.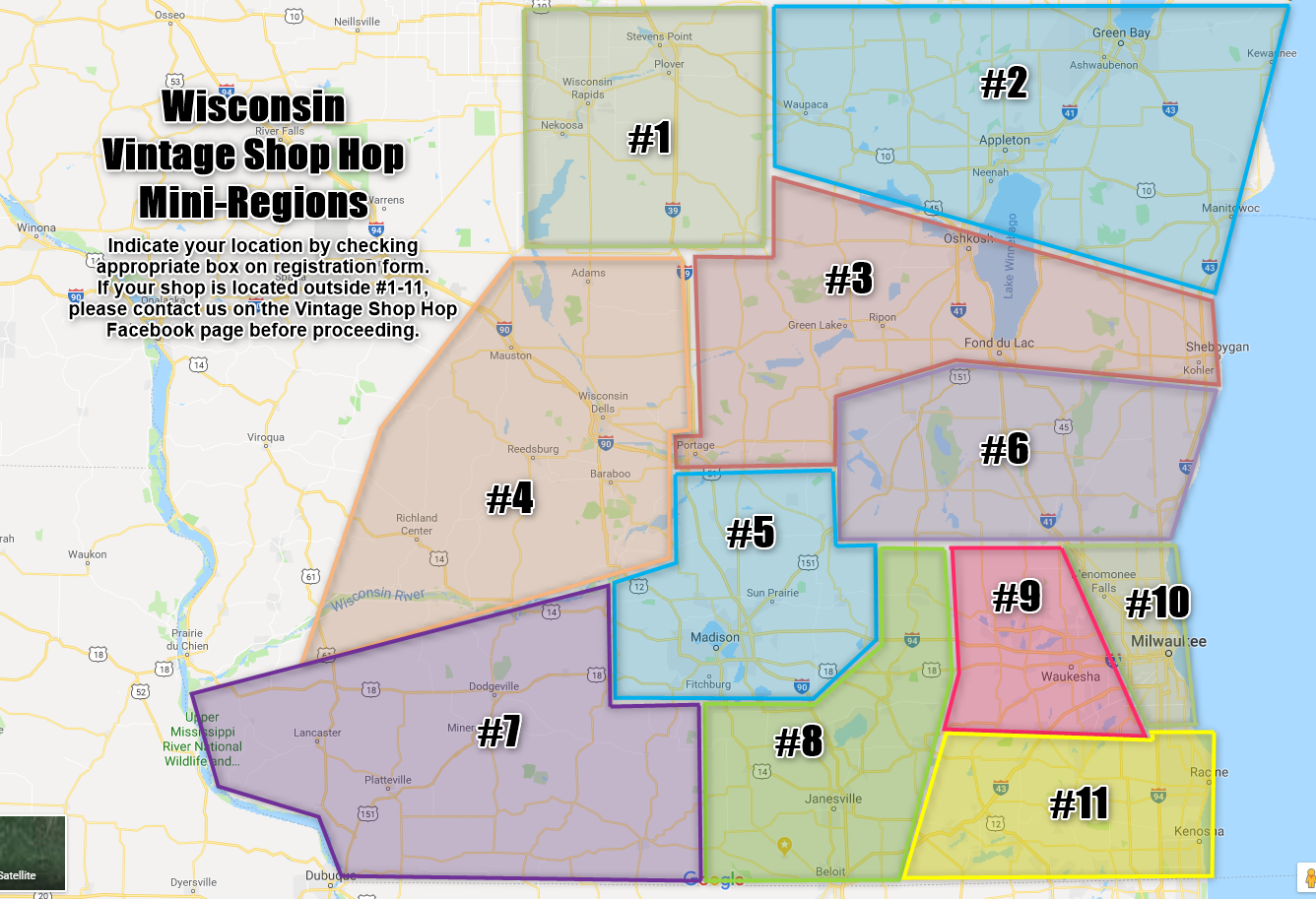 ILLINOIS MINI-REGION MAP #2 - remember the colored zone # you're located in for the registration form.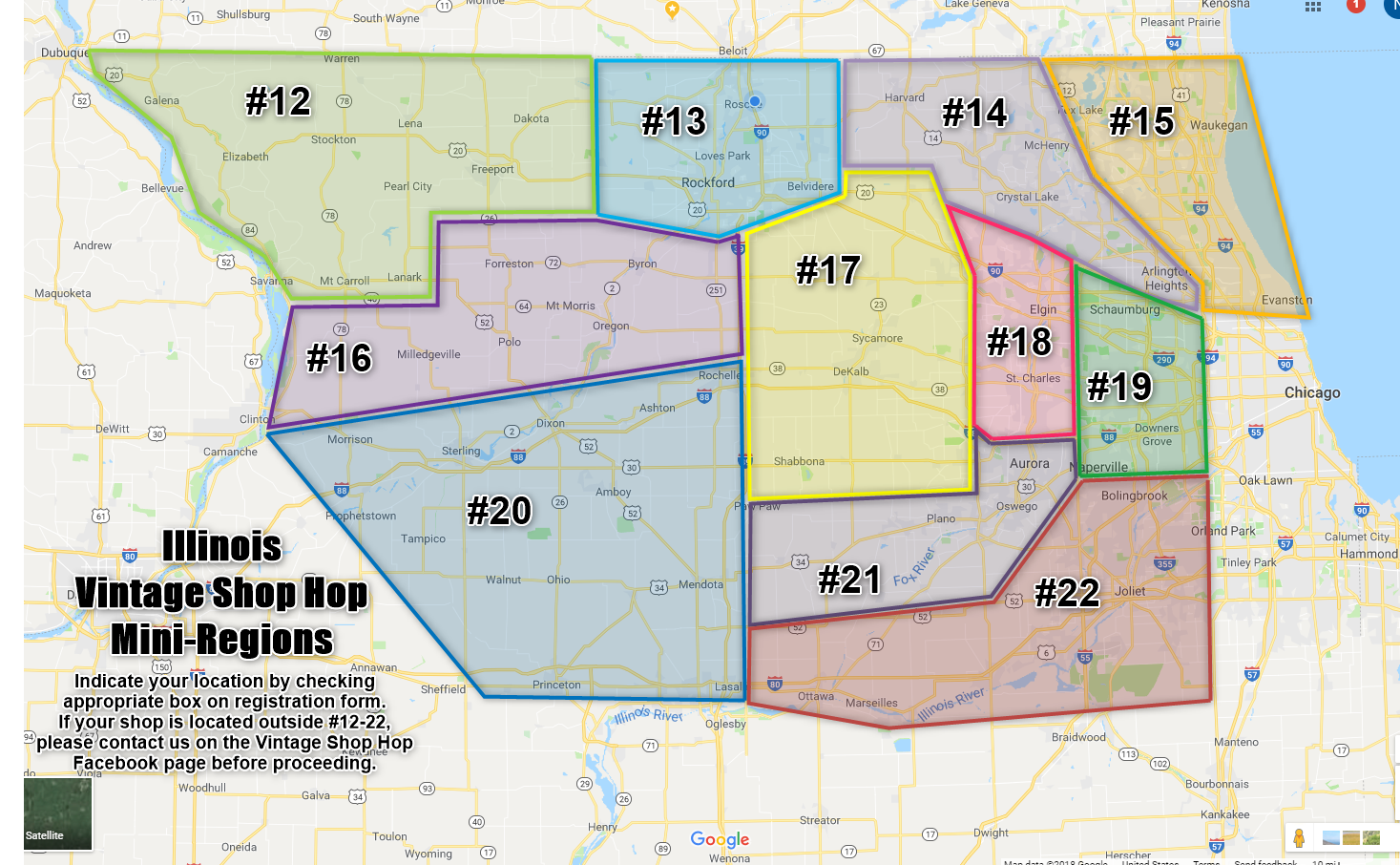 HOURS & PROMOTION IDEAS:
 We suggest that you be open by 10:00 am at the latest and stay open until at least 5:00 pm or longer both days. The actual hours of the event within your own shop are up to you...you don't have to create special hours outside of your normal business hours unless you want to.  The official event days are Friday, March 1 and Saturday, March 2. You must be open both days. If you plan to continue your promotion before or after these dates, please make note of that in your shop description when you register. Many shoppers have asked that shops consider staying open past 5:00 pm so they can have more time to shop. 
 REGISTRATION DEADLINES & FEE:
EARLY BIRD REGISTRATION January 1 to January 31 = $45 per shop location
REGULAR REGISTRATION  February 1 to February 15 - $55 per shop location
Registration ends on Friday, February 15 at 5:00 pm - NO EXCEPTIONS!!!
Ads will be purchased on Facebook only (there will not be traditional media ads purchased). The ads will be focused on demographics of Facebook users who are interested in antiques and vintage, women, between 25-65 years old, who live in an hour or two of the towns where your shops are located within the Illinois/Wisconsin state line region.
Each shop location needs to register separately in order to receive a separate listing within the official list of shops and be listed on the Google Map. Only businesses that that register and pay the fee will be mentioned by name. If you are planning a "multi-shop" promotion, for instance, a Punch Card with 10 shops taking part...then ALL 10 shops MUST officially register for the shop hop. 
WHAT WILL YOUR SHOP GET BY PARTICIPATING?
1) Each shop will be placed on a master list. Due to the sheer size of the area covered and the number of shops that participate, I will divide the event into "mini-regions" to logically group shops and towns together--making it easier for the shoppers to create a road trip. The mini-region is then promoted on the Vintage Shop Hop Facebook page to the shoppers.  Beginning in January and over the course of the following several weeks, I will purchase Facebook advertising to promote the page to more fans. Currently, the Vintage Shop Hop fan page has almost  25,000 followers. There will be new posts every day featuring the participants and the mini-regions. The mini-regions are shown on the maps above.
I will also promote the event daily on my Nellie's Barn Sale page which has 22,000+ followers. With each of the 450+ participating shops promoting the event on their respective Facebook pages, you can see that the audience grows with each shop that signs on! Last year the participating shops facebook pages added up to an audience of over 200,000+ followers combined! 
2) Each participant will receive a full descriptive placement on the official Vintage Shop Hop interactive Google Map indicating exactly where you are located with your shop's full info, and detail of your "in-store" promotion, all viewable by mouse-over or a tap of the screen. Remember the info on the map comes directly from your registration. I do NOT re-type anything--so please, please be careful when typing your address, spelling, punctuation, etc.

3) Every shop will benefit from general publicity through any coverage the local media picks up on. Press releases are sent to regional media. Local chambers of commerce and tourism agencies are contacted with the event information to encourage their promotion through their own websites and social media outlets. Please feel free to contact your own local chamber, tourism office or media. I am only one person and don't know them personally. It's always good for you to make that connection. I can send you the Media Release for this purpose or you can find it on the blog page as well. 
4) Once the list of participating shops is final, it will be posted to the event blog page along with a link to the Google map. It remains there year 'round for shoppers to use whenever they want, 24/7/365. The 2019 Google Map can be found HERE.  
5) Each shop can use the official artwork for promotions in your store. The blog page is where to go for all the artwork, logos, and ideas. You'll find artwork for bag stuffers, signs for your door and cash register area, and logos for t-shirts or bags. NOTE: The Vintage Shop Hop name and logo is trademarked and is NOT to be changed, cut apart or re-designed in any way. Please contact me BEFORE you order any t-shirts, bags or other promotional items.
The blog can be found HERE.
REGISTRATION AND PAYMENT
go back to the top of this page and click on the REGISTER button. Be sure you've read the ELIGIBILITY FACTORS above AND you know the details of your "in-store" promotion before you begin.
_____________________________________________________________
Read what some of the previous year's participants had to say about the event:
Shop comments:
Thank you too to Ann Campos for the superb coordination involving all things Vintage Shop Hop! Put your ear to the sky Ann, that's a lot of clapping going on.
This is a wonderfully organized event! As a business owner, it is a wonderful boost to draw lots of people into my shop. It is great to meet new people and have a network of vintage businesses that may not have known about each other without this event. 
Customers expressed how they liked the event and how it supported and promoted all the small businesses. Very positive outcome all the way around. People are already excited about next year!
This event was great exposure for us, we really appreciate it and will definitely participate again!
An awesome event! It brought in so many new people. Sales were great!! Thank you for all the work you do for this. Well run. Superb!
Thanks for putting the shop hop together. It has really helped bring more business to our local shops.
Shopper comments:
Had a BLAST today shopping with my girls in the Belvidere, Rockford, and Beloit areas for this annual event. Not only was there free food almost everywhere but some nice drawings, and prizes! -Amanda
I had such a great time checking off the shops with my sister!! All of the shops we visited were excited to be participating. The day had a wonderful vibe with everyone coming together to share their love of vintage. Thank you so much for organizing this fabulous event!! -Kelly
We had a blast shopping! Did not enter either, but we won anyway with this fun adventure! Thanks Ann! - Christina
On Friday we hit 21 stops... Great finds!! Had a blast! -Bonnie
 ________________________________________________________________
 Grab your friends. Hit the road. Shop hard.
Attendee List
Sort by:
Date
When & Where
400+ vintage shop & boutique locations in northern Illinois & southern Wisconsin
61073


Friday, March 1, 2019 at 9:00 AM

-

Saturday, March 2, 2019 at 7:00 PM (CST)
Add to my calendar
Organizer
I have spent over thirty years in the tourism and marketing industry, and most recently spent the last sixteen years hosting my own vintage events. I own and operate Nellie's Barn Sale, an annual two-day vintage extravaganza featuring 55+ vintage vendors, music and food. I co-host the Christmas at the Farm event, held every November with 35 vintage vendors selling seasonal gifts, jewelry and vintage. The Vintage Shop Hop is an annual "marketing" event--giving small, locally owned vintage shops an opportunity to group together for bigger impact. Over 400 shops roll out the red carpet to give the shoppers two days of fun together time with their friends. Find more event info here:
www.facebook.com/nelliesbarnsale
www.nelliesbarnsale.blogspot.com
www.facebook.com/vintageshophopevent
www.vintageshophop.blogspot.com
www.facebook.com/christmasatthefarm