Description
Our ultracompetitive culture tells us we need to be constantly above average to feel good about ourselves. However, the goal posts keep changing depending on who we are comparing ourselves to. We'll discover the role self-compassion can play in maintaining our feelings of security and self-worth. We'll explore practices and strategies which can help us us remember to employ the amazing power of kindness.
Underpining this discussion is the book, Self-Compassion by Kristin Neff. If you'd like to investigate the topic ahead of time, you may. However, these evening are structured in such a way you won't need come "prepared".
I get it. Life is busy.
Show up just as you are. You'll be glad you did. You'll learn a little more about yourself, and enjoy the company of like-minded women – women who relish authentic conversations on a Tuesday night.
There will be an array of healthy snacks, (and wine) since you'll be arriving at the end of your workday.
These evenings are FREE. (A goodwill donation is appreciated to help cover cost of supplies, snacks, and wine.)
Do invite a friend. Vino & Vitality gatherings are guaranteed to refresh your heart and soul.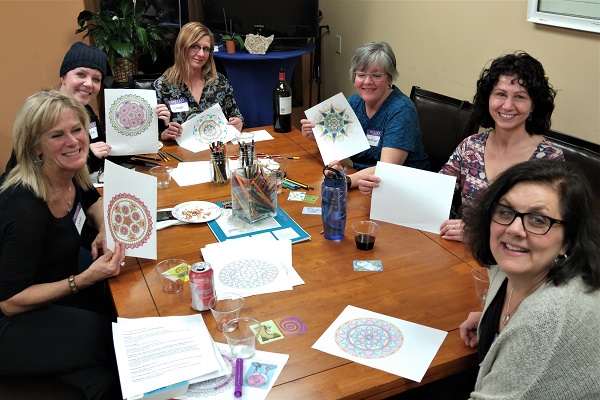 More about Vino & Vitality:
Reflect. Refresh. Rediscover. Rejuvenate.
Welcome. Join our community of women who gather for lighted-hearted, soul-filling evenings of conversation and connection.
We dive into authentic conversations and sip a little wine; you got it, wisdom and wine. Playful, no-skills-required art projects are often, but not always, part of the evening too. If you're not into make-and-take art, no worries. Join the circle and add your wisdom just the same.
Our discussions are centered on how to integrate powerful happiness strategies into our daily lives. Practices like gratitude, mindfulness, and self-compassion. We've played with the "doing" and "being" of staying playful. We've pondered how to arrange our morning and evening routines for a thriving life. We've talked about how to let go, how to lean in, how to be the best versions of ourselves.
While the topics change monthly, what remains constant is the collective brilliance of women. Each life experience offers a profound perspective. We are wise beyond measure; powerful conversations remind us of this truth.