Description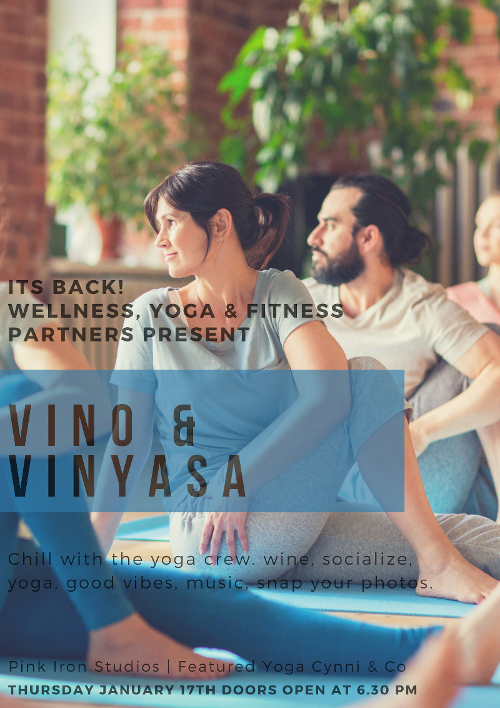 It's a New Year and we know you are ready for more than ever! We sold out the space last time so make sure to save your spot. No need to bring a printed ticket, we will have all registered people on the list.
Join us for a night of mingling, yoga, wine ( non alcoholic drinks available) meeting old and new friends, great music and chillin with the yoga crew. So excited to see you again for a fun, meaningful night.
Our host spot and sponsor is Pink Iron Studio in partnership with wellness retreats, Wild Adventures and yoga instructor and ambassadors at Cynni & Co.
Cynthia Mcphie of Cynni & Co joins us to showcase her C1 class with a 45 - 55 minute Vinyasa Flow to bust out your sweat sesh, followed by a glass (or 2!) of vino. $10 for class and a glass.

6:30 Doors open, wine, drink and music ready
7:30 Class starts. BYOM (Bring Your Own Mat) we are hanging out yo get to know each other better. Meet your hosts.
8.15 Stay for music and wine session in the yoga/ workout space or just enjoy your tribe and chill music vibes
Come… Namaste… and drink wine! Enjoy 45 minutes of Vinyasa yoga and good vibes! After finding your inner peace, celebrate with a glass of wine and good company. Let your inner light shine with this relaxing event made even better the best way we know how, sipping wine!
Plus you can learn about exclusive wellness retreat spots, with 5 coaches to help you transform in 2019.
Find out more about Pink Iron workout passes and yoga options.
Adults 21+ up only. Tickets on sale until midnight January 16th. $10. Can purchase at the door, day of event for $15 space allowing. Cash or credit accepted at door.
Reserve your spot (limited space)
That's it, so simple. Spread the word.
Sponsored by: WildAdventures.Life In Parnership with Pink Iron Studios and Cynni & Co.