Location
Vincent Price Art Museum
1301 Avenida Cesar Chavez
Monterey Park, CA 91754
Description
The Vincent Price Art Museum Foundation Board presents…
¡Tapas & Art!
Celebrate the lifelong legacy of Vincent Price supporting Arts and Culture
and the launch of a new VPAM Foundation Scholarship for East LA College Students
* * *

THE EVENING WILL INCLUDE
Special Presentation by Victoria Price, VPAM Board Member and daughter of Vincent Price & Mary Grant Price
A live auction presented by VPAM Board Member Dan Guerrero with artwork by distinguished ELAC Alumnus
Gronk, Patssi Valdez, new VPAM Board Member John Valadez
and other established and emerging artists
A unique fusion of foods by Chef Draden Medina
Eclectic music by DJ Jeremy Loudenback of the Discostan Collective
Special performance by Mexican singer/songwriter Mitre
Meet and greet current and new VPAM Board Members
Closing of the Crossroads in Clay at Chouinard and Otis: The Ralph Bacerra Years
as well as the Juried Student Art Exhibition
* * *
The Vincent Price Art Museum (VPAM) Foundation Board cordially invites you to join us in celebrating the Vincent Price legacy at East LA College presented in conjunction with the closing of the Crossroads in Clay at Chouinard and Otis: The Ralph Bacerra Years and the Juried Student Art Exhibition.
Special guest, VPAM board member Victoria Price will share personal stories about her distinguished father and his love of art. And we'll learn why he chose ELAC to establish the Vincent and Mary Grant Price Gallery in 1957 that paved the way for the largest museum of it's kind on a community college campus.
Proceeds from the art auction will benefit a new scholarship fund for ELAC students pursuing a degree in the arts.
The Vincent Price Art Museum is located at:
1301 Avenida Cesar Chavez
Monterey Park, CA 91754
Free parking at the Collegian Avenue Parking Structure (P4).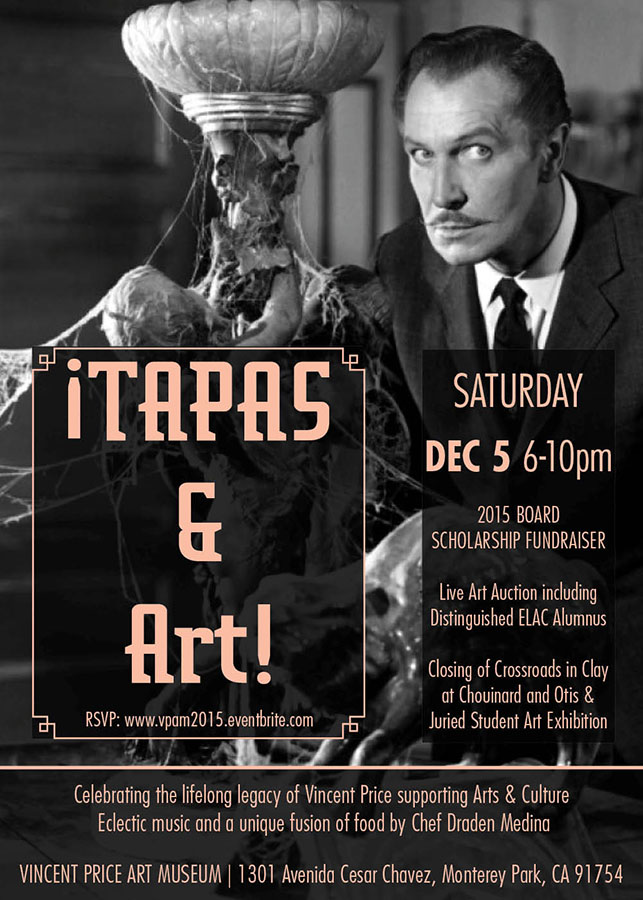 * * *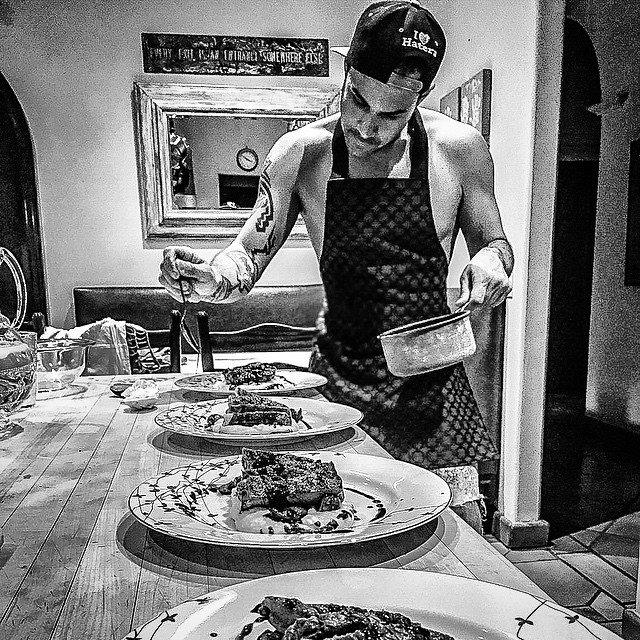 Raised in Southern California, in the predominantly Latino communities of Huntington Park and South Gate, Chef Draden Medina found cooking as a vehicle for self expression and a time for bonding with his family of Mexican and Salvadorian heritage. Chef Draden went on to receive his training at the prestigious California Culinary Institute in San Francisco and The Arizona Culinary Institute in Scottsdale, where amongst an exposure to a wide array of worldly fare, he received specialized training in Mediterranean, Italian and Classic American cuisine. Fresh from culinary school, Draden moved back to Los Angeles and began working as a prep cook at Boca Restaurant located inside The Conga Room at L.A. LIVE. Draden then went on his own and has catered to legendary rockstars, the Beverly Hills elite, and a growing list of private clients. In addition, he has catered many celebrated events such as the Los Angeles Zoo's Annual Beastly Ball, The Pacific Design Center's Fall Market Week, and both the opening and closing weekend events for the Sundance Film Festival.
* * *
DJ Jeremy Loudenback of the Discostan Collective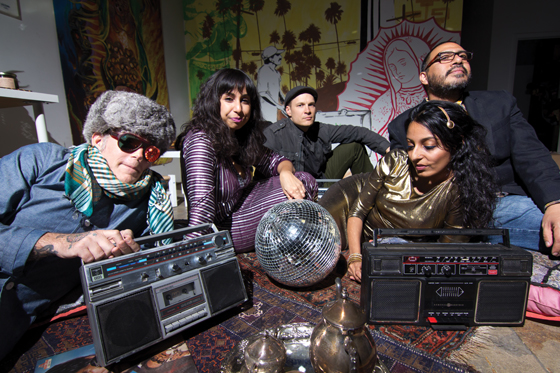 * * *
Mexican singer/songwriter Mitre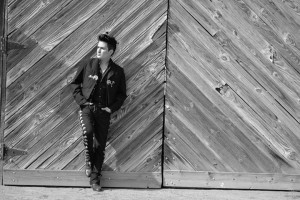 Born in Mexico City, singer/songwriter and producer Mitre hints at all sorts of genres, from Spaghetti Westerns to Tango, in his music. His eponymous album has many invited guests, including Margaret Cho and, on Today's Top Tune, "Aguacero," singer-songwriter David Garza.
* * *
For questions please contact Consuelo Montoya: 310-846-2610, cvelasco@otis.edu