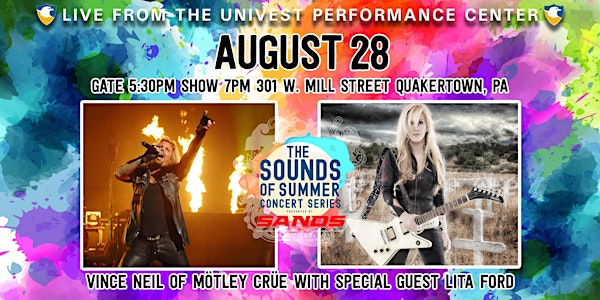 Vince Neil of Mötley Crüe with special guest Lita Ford-Sands Sound of Summe...
Sales Have Ended
Ticket sales have ended
Sorry ticket sales have ended. Hope to see you at our next concert event!
Sales Have Ended
Ticket sales have ended
Sorry ticket sales have ended. Hope to see you at our next concert event!
Description
Vince Neil Bio:
Vince Neil, the legendary front man of Mötley Crüe, is an international superstar, accomplished businessman and heartfelt philanthropist. His unmistakable voice leads some of the greatest rock songs of a generation in‐ cluding "Wild Side", "Shout at the Devil," "Home Sweet Home," "Girls, Girls, Girls," "Dr. Feelgood," "Kickstart My Heart," "Same Ol' Situation," and many others. Raised on the tough streets of Compton, California, Vince Neil fell in love with music as a child, developing a broad vocabulary that ranged from classic Motown to Hard Rock. As a teenager, he began performing with local bands and soon discovered both a passion for the stage and a natural talent as a singer and performer. He fronted the popular band Rock Candy before reuniting with high school buddy Tommy Lee in 1981, estab‐ lishing his spot in rock and roll history with the formation of Mötley Crüe. Mötley Crüe's epic 34‐year run included countless multi‐platinum releases, more than 22 hit singles, 100 mil‐ lion albums sold and dozens of global tours with sold out arenas, inclusive of some of the largest venues in the world. The band completed "The Final Tour" on New Year's Eve 2015, closing the book that told the story of their iconic career. Despite the Mötley Crüe departure from the rock world, however, Vince Neil shows no sign of slow down, continuing to carry on with the unending "The Legacy Continues Tour". Neil continues to perform all the classic Mötley Crüe hits with select cuts from his three solo albums. Addi‐ tionally, this badass performer is working on new music, and has hinted about performing some of it during this tour: "I'll say that we are recording some stuff for a new record this year," he said in a Loudwire interview in January. "You often hear some surprises at our shows. I don't want to give away some of those surpris‐ es…The music is exciting. It's good, fun, nasty, raw energy and great songs." Presently, Neil remains primarily occupied answering the call to his immense following with shows interna‐ tionally in conjunction with the culmination of his fourth solo album. Besides being an International Superstar, Neil is an accomplished businessman and heartfelt philanthropist. He manages to own several restaurants and his own brand of both tequila and vodka. Certainly not least, his efforts have rallied millions of dollars for a Non‐profit organization, The Skylar Neil Memorial Foundation, in tribute to the unfortunate loss of his daugh‐ ter to cancer in 1995. In January of 2017 Vince Neil back in the TV spotlight once again, as a contestant on NBC's The Celebrity Ap‐ prentice, featuring new host Arnold Schwarzenegger.
---
Lita Ford Bio:
Lita Ford's career began in 1975 as a founding member and guitarist of the groundbreaking all female group the Runaways. The groups hard rock / punk edge spawned hits like "Cherry Bomb" and "Queens of Noise". Lita and the Runaways proved their timelessness in 2014 when "Cherry Bomb" was featured in the critically acclaimed Marvel / Disney Studios hit movie "Guardians Of The Galaxy" and was nominated for a Grammy Award.
In 1983 Lita launched her carrier as a solo artist with her début album "Out For Blood" establishing her as the premier female performer in rock and Heavy Metal. Lita quickly followed up in 1984 with the release of "Dancin' on the Edge" which earned her a Grammy nomination in the Best Female Rock Vocal Performance category. The album produced the world charting single "Fire In My Heart" and the U.S. Billboard top 50 charting hit "Gotta Let Go". The song, along with the video being in MTV's top rotation began to make Ford a household name and face.
2018 celebrated the 30th anniversary of the self-titled multi platinum "Lita" album. Released on February 2nd 1988 the "Lita" album boasted four charting hit singles. "Back to the Cave", "Falling In and Out of Love" (co written with Motley Crue's Nikki Sixx) along with the world wide mega hits "Kiss me Deadly", nominated for the MTV Video Music Awards Best Female Video of the year and the certified gold ballad single "Close my Eyes Forever" featuring Ozzy Osbourne, which remained in the Billboard top 10 for 25 weeks.
The "Lita" album solidified Ford as one of the most influential female performers in the music industry and earning her the title "Queen of Metal". Ford released three more studio albums following "Lita". Stiletto, "Dangerous Curves" and "Black". These albums produced the radio and video hits "Hungry","Playin' with Fire" and "Shot of Poison" again nominating her for a Grammy.
In 1995 Lita Ford took a sabbatical from the industry to raise a family. In 2008 Ford answered the calling of her fans and after thirteen years triumphantly returned to the stage. The excitement generated by Ford's return quickly showed the world that the Queen was back. Since then Lita continues to tour at a non-stop pace, headlining major events worldwide and throughout the United States.
Alongside her live performances Lita has followed up with two new studio albums. "Living Like A Runaway" and "Time Capsule". With Ford's long awaited return to the scene, also came the long awaited opportunity by the industry to finally recognize Lita Ford for forever changing the roll of women in music. 2014 saw two of these accolades. At the 50th anniversary of the world famous Whiskey A Go Go Ford was presented with the Guitar Player Lifetime Achievement Award. And in the same year the prestigious Guitar Player Magazine awarded her the Guitar Player Certified Legend Award and inducted her in to the Guitar Player Hall of Fame.
Besides her renown musical career Lita has also appeared in numerous movie, television and media rolls. In 1991 She portrayed the roll of the Hitchhiker in the fantasy/thriller "Highway To Hell" starring Chad Lowe. On television Ford has guested on shows such as Fox's Herman's Head, Food Networks Chopped and Nickelodeon's Big Time Rush. Ford was also featured along with Bruce Springsteen's legendary E Street band saxophonist Clarence Clemons as band members of The Howie Mandel Show's Studio One Band. In 2009 Lita was cast to voice the roll of Rima for the action adventure video game Brutal Legend.
In 2016 Ford released her autobiography "Living Like A Runaway: A Memoir". The books insight and vivid truthfulness so captured audiences that it quickly became a national best seller and awarded 4.7 stars out of 5 by Amazon. The book reached such critical acclaim that Lita was presented the "Outstanding Writer" award in 2017 by the Producers Choice Honors.
At 2017's Fifth Annual She Rocks Awards Lita was chosen as the recipient of the coveted Icon Award. That evening she was also officially bestowed the title of The First Lady of Rock Guitar by Marshall Amplification and Guitar Player Magazine. Laura B. Whitmore, founder of the WiMN and producer of the She Rocks Awards, commented: "Whether as a solo artist, band member, or guitar shredder, Lita Ford is a true pioneer who has broken down barriers and inspires today's female guitarists. I am excited to honor her with an award that really sums up the essence of Lita Ford.
Ford continues to encourage and inspire aspiring musicians by teaching and mentoring through here work with Rock and Roll Fantasy Camps.
2018 has seen Lita and her long time band mates Patrick Kennison (Guitar), Marty O'Brien (Bass) and Bobby Rock (Drums) continuing to tour at her normal feverish pace. The year has also seen her taking on new endeavors and expanding the Lita Ford universe. In May of 2018 Lita launched Lita Ford Guitars. The company, in conjunction with Cara Guitars offers hand worked replicas of Lita's iconic instruments. These classic replicas are also available through the newly formed "Lita Ford Ultimate VIP Concert Experience" meet and greet packages.
Since the start of 2018 Lita has been more present than ever in major media and publications. Filming 24 episodes of AXS TV's hit series "Top 10 Revealed", Nat Geo TV's "Decades Remixed" and a top BBC series focusing on iconic musicians playing styles and their gear. Along with appearances in both the Suzi Quatro and Girls school documentaries. Lita also contributed to two upcoming major release books "The History of Hard Rock" by Tom Beaujour and "No Encore" by Drew Fortune. The year finished out with Lita again being bestowed three prestigious honors. The Hollywood FAME Producers Choice "Icon" Lifetime Achievement Award, the 2019 "Legend" Inductee Nomination in to the Hall of Heavy Metal History and in 2019 a life sized digital portrait of her ionic one of a kind double neck guitar will be on exhibit at London's Saatchi Gallery presented by "The Art of Capture" photographer Kane Hibberd.
---
FAQs
Can I buy a ticket in person?

Yes, but please be advised that buying tickets online is the quickest and most convenient way to purchase a ticket as we will need to collect the same information the website requires. Tickets may be purchased at Borough Hall, open 8:30am-5:00pm Monday through Friday. Borough Hall is located at 35 N. Third Street, Quakertown, PA 18951. General admission tickets may also be purchased at the gate starting at 5:30pm. General admission tickets will cost $34 at the gates.

Will tickets be available at the gate? Can I pick tickets up at will-call?

General admission tickets will be available at the gate starting at 5:30pm. Reserved seating tickets will need to be purchased ahead of time on this concert webpage. There is no will-call so please print your tickets ahead of time or download them on your EventBrite App.

What if I lose my ticket or am unable to print it?

You will receive your ticket via email. So, if your email account is synchronized to your mobile device you will be able to access it at the event. Additionally, we can scan your phone if you have the EventBrite App. If neither of those options work the ticket takers at the gate have the availability to confirm your purchase and grant you entry. Please have a photo ID ready in order for us to confirm your identity.

Are there ID or minimum age requirements to enter the event?

There are no age requirements, but attendees should bring a valid photo identification if they plan on purchasing any alcoholic beverages.

How do I get to the Univest Performance Center?

Use the address of 301 W. Mill Street, Quakertown, PA 18951 when using GPS navigation systems.

Traveling eastbound via Rt. 663/313:

Once you have crossed over Rt. 309 turn left onto either Main Street or 9th Street. Make a right onto Mill Street. Event parking lot will be on your left next to the Quakertown Pool. Additional lots will be on the right across from the James A. Michener Library. Those who require handicapped parking will need to make a left on to 4th Street. Handicapped parking is available behind the James A. Michener Library. There is a $10 (cash only) parking fee per vehicle at every lot.

Traveling westbound via Rt. 313:

Take Rt. 313 to the intersection of Rt. 212 (Hellertown Avenue). Make a right on to Hellertown Avenue and then a left on to Mill Street. Go straight through the intersection of 4th and Mill Streets, parking will be on your left-hand side. Additional parking is available at the Quakertown Community Pool parking lot on your right-hand side. Those who require handicapped parking will need to make a right on to 4th Street at the intersection of 4th and Mill Street. Handicapped parking is available behind the James A. Michener Library. There is a $10 (cash only) parking fee per vehicle at every lot.

What are my parking options?

Multiple parking lots will be available within walking distance of the venue starting at 5pm. At each lot there is a $10 (cash only) parking fee. There is also an option of purchasing a parking pass online that saves two dollars. Handicapped parking is closest to the venue and is located on 4th Street behind the James A. Michener Library.

What can I bring into the event?

No outside food or drinks are permitted except for clear plastic water bottles. Any bags will be subject to search prior to entry. NO COOLERS. The venue has public restrooms which includes a water fountain. Concessions and libations will be available for purchase.

Will food and drink be available for purchase?

Concessions, refreshments, and libations will be available for purchase. Please note that the concession stand will only accept cash transactions. An ATM machine will be available.

How can I contact the organizer with any questions?

Email any questions to concerts@quakertown.org or call the Quakertown Borough at 215-536-5001.

What if it rains? What is the refund policy?

EXCEPT AS EXPLICITY OTHERWISE PROVIDED HEREIN, HOLDER UNCONDITIONALLY UNDERSTANDS THAT ALL TICKET SALES ARE FINAL. THERE WILL BE NO TICKET REFUNDS AND/OR TICKET EXCHANGES. THE EVENT IS A RAIN OR SHINE EVENT.
If the Event is cancelled in whole, or in part, by the promoter, band, or venue due to a Force Majeure Event (as defined below), Holder will not be entitled to a refund. Notwithstanding the foregoing, the Borough may issue, at the Borough's sole and absolute discretion, a credit of this Ticket, by accounting for, among other considerations the extent and nature of the cancellation. A "Force Majeure Event" shall mean an act of God; act of terrorism; flood; tsunami; strike or other labor condition or dispute; an act, order, or injunction of any court, administrative body, or other public authority; severe weather or similar unexpected contingency or event threatening the safety of Event attendees; or similar event or occurrence beyond the reasonable control of the Borough. Holder understands that in all instances, the maximum remedy Holder may receive for any cancellation of any par of the Event, if any, will be the face value of this Ticket, excluding all fees and/or service charges paid by Holder in connection with the purchase of this Ticket.
Organizer of Vince Neil of Mötley Crüe with special guest Lita Ford-Sands Sound of Summer Concert Series