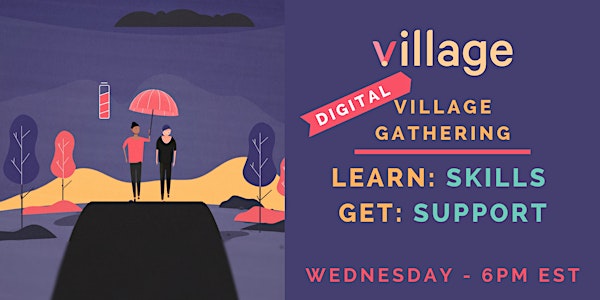 Village Digital Gathering: For Friends & Family Affected by Addiction
When and where
Location
Hosted Online 10016
Description
Join us from the comfort of your own home via Zoom video / call conference.

Learn skills to shift harmful substance use habits in someone we love and to tolerate the journey - important, given that connection is the opposite of addiction.

Join us for a gathering of likeminded peers, also loving someone through addiction. We'll learn from one another as well as from our group guide Erica, who will teach us skills to take into our relationships.
Erica is not only a licensed mental health counselor with years of experience working in top and pioneering clinics she also has hard-earned personal experience of addiction within her family.

Gain practical tools and the optimism needed to shift roadblocks ahead when a loved one is in the grips of active addiction.
Using the power of the group we learn from each other's experiences and foster a sense of community and connection.
---
What Types of Skills?
CRAFT-based - each session we'll cover a rotating series of CRAFT skills, knowing that the more we hear these new skills and practice them the more they'll become our default way of interacting with our loved one and ourselves. And the better the outcomes for all involved.

Examples of Focus Skills we'll cover, one per session:
+ Treatment Options: Not a one-and-done nor a one-size-fits-all - we'll talk options & experimentation!

+ Positive Communication: How to have conversations that work
+ Roadmap to Behavior Change: How to change a loved one's harmful behaviors
+ Positive Reinforcement: Leveraging our knowledge to support positive behavior change
+ Motivational Interviewing: Tapping into our loved one's motivations
+ You are here: Self care, taking care of ourselves to better show up for those we love
+ Know and Set My Limits: Myth-busting boundaries, and setting limits that work for us

+ Sharing: A mentor circle with people like me
---
Agenda -

6.00pm - Welcome and group check in
6.10pm - Guided relaxation
6.15pm - Focus Skill explained
6.30pm - Workshop Focus Skill
7.00pm - Open sharing
7.25pm - Session close
---
Gathering purpose - a series, where We The Village will:

Hold space for much needed conversation and community around the rollercoaster of loving someone through addiction
As well as guide the group through game-changing tools to use in that relationship to influence healthy behavior change
---

Tickets are $25
*If our ticket price prevents you from attending, or you'd prefer to contribute time than money please email hello@wethevillage.co
---
Bios Village Guides:
Erica Lubetkin, LMHC, We The Village
Erica Lubetkin is a psychotherapist working with individuals and families to manage and navigate the world of addiction. Erica works with clients to learn coping skills and gain deeper meaning and purpose. She received her Master's in Mental Health Counseling from the City College of New York and has additional training in behavioral therapies including CRAFT. Erica found a home within We The Village in early 2018, reigniting her passion for the addiction space that had been stifled in traditional clinical environments that prefer 100 year old models of care instead of leading edge, clinical trial proven models. She is a pioneer in the space and has helped hundreds of Village members in the past year.
Jane Macky, Founder and CEO, We The Village
Jane Macky is the founder and CEO of We The Village, a company she founded in 2018 as the brainchild of her own fight to recover her husband's life from addiction. Discovering that the tools she needed to help her loved one did not exist, and that traditional programs told her to detach, when it was clear instead he needed love and support. She made it her mission to revolutionize recovery, starting with empowering friends and family to help when someone they love is struggling with addiction. The online community at www.wethevillage.co is the first step towards that mission and gatherings is an extension of the online platform. Jane is trained by Dr. Robert Meyers in his method, Community Reinforcement and Family Training (CRAFT), which is proven in multiple clinical trials to be 70% effective at getting treatment resistant loved ones the help they need. Paticipated in the United Nations General Assembly (UNGASS) on Drugs in 2016. And holds a Yale BA in Psychology.