Description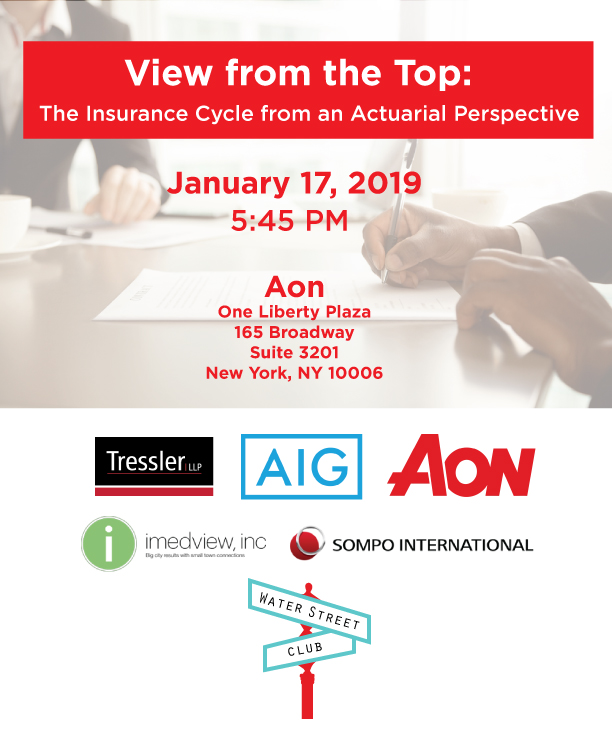 DATE: JANUARY 17, 2019
TIME: 5:45pm
PANEL TOPIC:
View from the Top: The Insurance Cycle from an Actuarial Perspective
LOCATION: Aon, One Liberty Plaza, 165 Broadway, New York, NY 10006
Join us to discuss the world of actuaries, followed by a great networking reception at a local restaurant compliments of our sponsors.
If you would like to be added to our invite list, please register using the following link to the WSC Group page on the MemberPlanet website: http://mp.gg/av426
We welcome all insurance industry professionals in support of the Water Street Club's initiative, and ask that you feel free to forward this information to any employees of insurance carriers, brokerage firms, and insurance agencies you think may be interested.
Please RSVP due to space limitations, and make sure to complete the free registration following checkout. Please make sure that you receive the confirmation email from Eventbrite, if you do not, it means we did not receive your RSVP.
Please note that the Eventbrite RSVP window will automatically close once we reach room capacity. If you registered and subsequently can't attend, let us know so we can open a spot for someone on the waitlist.
There is no cost to attend for employees of insurance companies, brokerage firms, and insurance agencies.
Please email any inquiries to: TheWaterStreetClub@gmail.com

We hope you can make it!

Cheers,
The Water Street Club – Organizing Committee
ORGANIZING COMMITTEE MEMBERS
Andrew Deshong – Signature Bank
Ayesha West – Navigators
John E. Mancebo – Tressler LLP
Kirk Hudson - AIG
Peggy Menard - Sompo International
Tevin Smith – Willis Towers Watson
Denise Campbell - AIG
Ho-Tay Ma - Aegis Insurance Services, Inc.
**********************************

To learn more about The Water Street Club, to be included on the invite list, or if your company is interested in sponsorship opportunities please email us at TheWaterStreetClub@gmail.com or visit at www.TheWaterStreetClub.com.
Join us on LinkedIn with the following link: https://www.linkedin.com/groups/8576399.