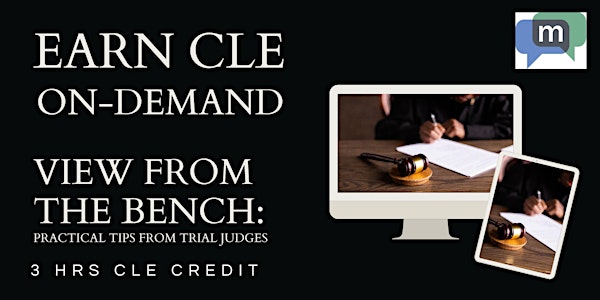 View from the Bench: Practical Tips from Trial Judges -ON-DEMAND
Gain practical instruction and valuable insights from Superior Court judges.
Date and time
March 1 · 8:15am - June 30 · 8:59pm PST
About this event
121 days 11 hours

Mobile eTicket
On-Demand Version. The original CLE was 10/21/2022.
This CLE offers practical instruction and valuable insights directly from Superior Court judges who preside over criminal and civil cases in North Carolina. Learn what judges really think about essential topics, such as:
· what "best practices" make lawyers stand out in court,
· how to avoid the "top ten" mistakes judges see in court,
· what conduct is and is not appropriate decorum in the courtroom or on WebEx
· how lawyers can best help the trial judge make correct rulings,
· use of technology in the courtroom, common blunders and ways to maximize its effectiveness
· how to make the most of your jury selection from voir dire and use of strikes
· what lawyers can do to promote equality in the justice system
· how courtroom interactions with opposing counsel can affect your case
· how to dodge pitfalls at trial and in motion practice, and
· what lawyers can do to help the bar preserve professionalism and high ethical standards.
The following North Carolina Superior Court Judges will make up the panel:
Alyson Grine, Resident Superior Court Judge, District 15B
David Hall, Resident Superior Court Judge, District 21B
Lori I. Hamilton, Resident Superior Court Judge, District 22B
Dan Kuehnert, Resident Superior Court Judge, District 25A
The panel will be moderated by Asheville attorney Senta Rhodes.
3 hours North Carolina Continuing Legal Education (CLE) credit
The Mediation Center is an approved CLE sponsor under the regulations promulgated by the North Carolina State Bar Board of Continuing Legal Education.
SCHEDULE
1:30 p.m. – 3:00 p.m. – Short presentations by each judge
3:00 p.m. – 3:10 p.m. – BREAK
3:10 p.m. – 3:55 p.m. – Panel Discussion
3:55 p.m. – 4:00 p.m. - BREAK
4:00 p.m. – 4:45 p.m. – Question & Answer Session
PRESENTERS
Resident Superior Court Judge Alyson Grine - In January of 2021, North Carolina Governor Roy Cooper appointed Alyson A. Grine to serve as a Superior Court Judge for Judicial District 15B. Prior to being appointed to the bench, Grine was a prosecutor in Durham, North Carolina in the Homicide Unit. She has also worked as an Assistant Professor at North Carolina Central University School of Law, and the Defender Educator at the UNC School of Government, where she specialized in criminal law and procedure and how issues of racial and ethnic bias may affect criminal proceedings. Grine received the Albert and Gladys Hall Coates Teaching Excellence Award from the School in 2012 and the Margaret Taylor Writing Award in 2015 for her work on Raising issues of Race in North Carolina Criminal Cases. Before joining UNC, Grine worked for five years as an Assistant Public Defender in Orange and Chatham counties. She served as a judicial clerk for Chief Justice Henry Frye of the NC Supreme Court in 2000 and for Judge Patricia Timmons-Goodson of the NC Court of Appeals in 1999. Grine earned a BA with distinction and a JD with honors from UNC-Chapel Hill and an MA in Spanish from the University of Virginia.
Resident Superior Court Judge David Hall- Judge David Hall was elected as a Superior Court Judge for the 21st Judicial District in 2012, and re-elected in 2020 for an additional eight-year term. The Superior Court Division is North Carolina's highest trial court. Hall is responsible for presiding over serious criminal and civil motions, trials and hearings across the state. Hall received his B.A. degree from the University of North Carolina at Greensboro in 1986 and obtained his Juris Doctorate from Wake Forest University School of Law in 1990. While at Wake Forest Law School, Hall appeared on the Scholastic Honors List, attained the Order of the Barristers, was a member of the Student Trial Bar and a competing member of the National Trial Team. Hall has served as Adjunct Faculty at Wake Forest University since 1996. As an Adjunct professor, Judge Hall has also served as the Coach of the National Trial Team and has taught Trial Practice and Advanced Trial Practice.
Resident Superior Court Judge Lori I. Hamilton- Superior Court Judge Lori I. Hamilton represents judicial district 22B in Davie and Davidson counties and was elected to the bench in November 2016 to serve a term beginning January 1, 2017, through December 31, 2024. Hamilton is a graduate of UNC-Charlotte (1987), where she earned her BA in Political Science and Psychology. She attended Wake Forest University School of Law, graduated with a Juris Doctorate and was licensed to practice law in North Carolina in 1991. She engaged in the general practice of law from 1991 until 2016 when elected to the Superior Court bench. Hamilton's professional legal experience ranges from family law and contract disputes to the trials of serious felony cases in State and Federal courts including capital defense. While on the bench she has presided over a wide range of civil and criminal matters. Hamilton has three grown children, and three precious grandchildren.
Resident Superior Court Judge Dan Kuehnert - Judge Dan Kuehnert is a Superior Court Judge in Judicial District 25A (Burke & Caldwell Counties). Before becoming elected to the Superior Court bench in this district in 2014, where he has now served as a judge for seven years, he was a small-town lawyer in Morganton for 31+ years where he was a partner at the Law Firm of Kuehnert & Jones PLLC. He also previously served as the town attorney for the Town of Glen Alpine and as an attorney for Burke County and the Town of Rutherford College in North Carolina. Prior to graduating from law school, Kuehnert served as a deputy sheriff. Kuehnert received his undergraduate degree from the State University of New York at Oswego in 1977 and his Juris Doctorate degree from the Wake Forest University School of Law in 1982. He lives in Morganton, North Carolina with his wife and has 6 beautiful children.
Moderator Senta Rhodes - Senta Rhodes is an experienced trial attorney currently with Grimes Teich Anderson where she has worked close to five years and her primary focus is personal injury law. Before joining Grimes Teich Anderson, Senta was an Assistant District Attorney in the Major Felony Crimes Division in Philadelphia, Pennsylvania. There she prosecuted more than 20 jury trials and 50 bench trials. She is experienced in gathering evidence, examining experts and negotiations. She was previously an Assistant State's Attorney in the Domestic Violence Unit for the District Court Division in Prince George's County, Maryland where she prosecuted both bench and jury trials, negotiated plea agreements and examined witnesses before the Grand Jury. She received her B.A. from the University of Wisconsin and J.D. from The Catholic University of America, Columbus School of Law in Washington, DC.
All registration fees benefit The Mediation Center.
About the organizer
The mission of the Mediation Center is to create opportunity from conflict.