Vietnamese Speedway & Barrel-Aged Old Numbskull Bottle Sale
When and where
Location
AleSmith Brewing Company 9990 AleSmith Court San Diego, CA 92126
Description
VIETNAMESE SPEEDWAY STOUT
Imperial Stout with Vietnamese Coffee
This Vietnamese coffee version of Speedway Stout is and continues to be AleSmith's most popular variation of the ever-growing Speedway Stout collection. Since 2012 we have been adding this blend of four Vietnamese coffees, known in Vietnam as cà phê sữa đá, to our popular imperial stout. The coffee beans were slowly roasted at low temperatures and then brewed by AleSmith with a traditional phin-style filter that gently percolates water through the ground coffee. The result is an intensely aromatic and bold tasting coffee that complements the notes of chocolate and roast in this massive stout.
BARREL-AGED OLD NUMBSKULL
Barleywine Ale Aged in Bourbon Barrels
Our American Barleywine Ale, Old Numbskull, has once again been aging in premium Heaven Hill Bourbon Barrels, developing its rich and intense flavor profile. Barrel Aged Old Numbskull is an amazingly complex beer that balances the caramel and toasted malt character of Old Numbskull with notes of vanilla, oak, and bourbon from the barrel aging process.
* * *
Purchasing Instructions (please read ALL instructions before purchasing):
1) Starting 11AM PST on Monday, August 8, you will be able to purchase up to four (4) bottles of Vietnamese Speedway Stout ($20), and up to six (6) bottles of Barrel-Aged Old Numbskull ($28) via Eventbrite (prices exclude tax, CRV, and service fee).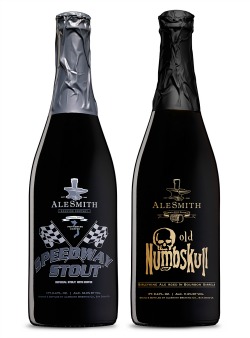 2) Bottles can be picked up starting 11AM on Saturday, August 13 during our Release Party at the AleSmith Tasting Room (9990 AleSmith Court, San Diego, CA). Bottles can be retrieved during tasting room hours from August 13 through September 25, 2016. NOTE: Any bottles not retrieved by SUNDAY, SEPTEMBER 25 will be surrendered back to the brewery (no exceptions).
3) During your transaction, you will be asked to enter the first and last name of the person who will be picking up the bottles ("pickup person"). If you are picking up your own bottles, please enter your name; if you are not able to pick up your own bottles, please enter your designated pickup person's name. Whoever's name is entered as the pickup person must be the one to pick up the bottles (no exceptions).'
4) Due to the high demand for these bottles, no person shall be listed as pickup person for more than two orders. This means, each person will only be allowed to pick up bottles for themselves and, at most, ONE other person. Any pickup person overages will be subject to cancellation.
5) You will be required to show valid ID matching the name listed as the pickup person and confirmation of purchase from Eventbrite in order to retrieve your bottles during the dates listed.
6) Do not purchase more than the maximum number of bottles allowed! Once you place your order, your name will be registered and any additional sales to the same purchaser/purchaser info will be voided. Any overages for whatever reason may be cancelled without notification.
* * *
AleSmith Brewing Company - Policies, Terms and Conditions

Shipping Policy
AleSmith Brewing Company does not ship beer directly to consumers. All beer purchases are only available for brewery pickup in our tasting room in San Diego, CA. For hours and location please visit http://alesmith.com/contact.

Returns & Refunds
We do not accept returns under any circumstances. No refunds or exchanges will be made. All sales are final.

Order Acceptance Policy
Your receipt of an electronic or other form of order confirmation does not signify our acceptance of your order, nor does it constitute confirmation of our offer to sell. AleSmith Brewing Company reserves the right at any time after receipt of your order to accept or decline your order for any reason or to supply less than the quantity you ordered of any item.

Privacy on Other Web Sites
Other sites accessible through our site have their own privacy policies and data collection practices. Please consult each site's privacy policy. AleSmith Brewing Company is not responsible for the actions of third parties.

Links
This site may contain links to other sites on the Internet that are owned and operated by third parties. You acknowledge that AleSmith Brewing Company is not responsible for the operation of or content located on or through any such site.

Copyright and Trademark Notice
Unless otherwise specified, all materials appearing on this site, including the text, site design, logos, graphics, icons, and images, as well as the selection, assembly and arrangement thereof, are the sole property of AleSmith Brewing Company, Copyright © 2002, ALL RIGHTS RESERVED. You may use the content of this site only for the purpose of shopping on this site or placing an order on this site and for no other purpose. No materials from this site may be copied, reproduced, modified, republished, uploaded, posted, transmitted, or distributed in any form or by any means without prior written permission of AleSmith Brewing Company. All rights not expressly granted herein are reserved. Any unauthorized use of the materials appearing on this site may violate copyright, trademark and other applicable laws and could result in criminal or civil penalties.
* * *
FAQs
Are there ID requirements or an age limit to enter the event?
21+ Must show a valid ID when picking up the bottles.
Do I have to bring my ticket to the event?
Yes, you will need to bring your tickets (printed or mobile) in order to recieve your bottles. If you have designated a pickup person, please make sure you forward the tickets to them for pickup.