Break up with your dating app and start connecting in real life!
About this event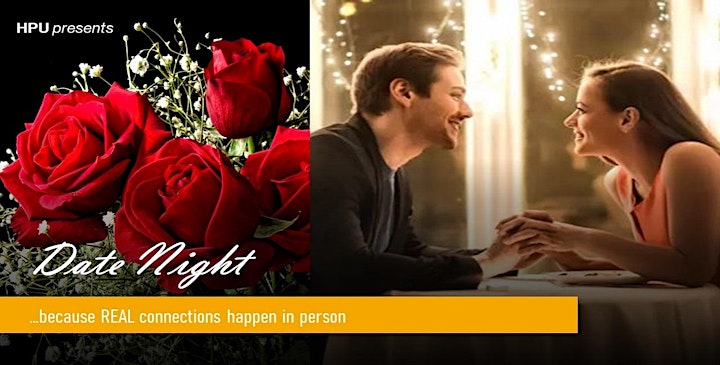 "Love is in the air", so at least they say... so why is it that you haven't found it? Could it be that you are not going out for fresh air?
Staying inside and swiping dating apps doesn't work! Real connections happen in person! "Date Night" makes it easy for you to connect.
WHAT IS "DATE NIGHT"?
"Date Night" is a one-on-one, in person, blind date experience!
WHAT IS THE "DATE NIGHT" ACTIVITY?
Dinner at venue listed (cost of dinner not included)
WHAT IS INCLUDED IN MY TICKET COST?
The ticket covers the service fee for HPU to arrange your date.
DATE NIGHT CRITERIA
Status: Single. Not married. Not in a relationship
Straight Male seeks Straight Female
Straight Female seeks Straight Male
Age: 30 - 45
Race: Vietnamese. Seeks Vietnamese dates
Religion: Not specified. Open to dates with any religion
SELECTING TICKETS
You must select a ticket that identifies your sex and sexual preference AND any add on option you would like to include
COMMUNICATION REQUIREMENTS
Guests are required to check-in with HPU via our app
The app is available to download on IOS and Android phones
The link to the app is provided in the order confirmation e-mail
ORDER CONFIRMATION EMAIL
*** Check your order confirmation e-mail for instructions ***
Sent from Eventbrite
If you do not receive it, check your spam folder
GOT MY TICKET! NEXT STEPS?
Read the Order Confirmation E-mail
Re-confirm agreement in writing via E-mail to HPU
Check in with HPU at least 2 days prior to Date Night
DO NOT go to venue until you speak to HPU
WHEN WILL I HAVE MY DATE?
Your date will NOT be scheduled until you acknowledge receipt of the Order Confirmation E-mail & re-confirm your agreement in writing via E-mail to HPU.
Your ticket event date may or may not be the actual day of your date
HPU will coordinate with you regarding scheduling
Dates are scheduled on weekends, Friday & Saturday's between 7pm -11pm and, Sunday's between 4pm -7pm
DATE NIGHT CONFIRMATION EMAIL
Sent from HPU's e-mail address (typically on Thursday's)
Confirms your date is scheduled.
Provides instructions for checking into your date
WHAT IF I HAVEN'T HEARD FROM THE HPU?
Complete pending actions
Check your e-mail spam folder
E-mail us
WHAT IF MY DATE DOESN'T SHOW UP?
You will receive a $10 refund*
We will schedule a new date
*$10 refund does not apply on "promo" tickets
WHAT IF THERE ARE NO DATES AVAILABLE?
We will work with you to schedule a future date.
Guests with high flexibility are scheduled faster
CAN I PROVIDE ADDITONAL DATING PREFERENCES?
No. Additional dating preference selection is extended to matchmaking service customers only.
DOES HPU OFFER MATCHMAKING SERVICE?
Yes. Please e-mail us using the Contact Organizer option on Eventbrite to inquire. We offer flexible affordable packages.
IS THIS EVENT HELD AT OTHER VENUES?
Yes, see HPUevents.Eventbrite.com.
WHAT OTHER DATE NIGHT EVENTS DOES HPU OFFER?
Straight Sexual Orientation
LGBTQ Sexual Orientation
Race Specific
Religion Specific
Speed Dating
Ethically Poly
Singles Social Mixers
TERMS AND CONDITIONS
Terms and conditions applicable to this event are listed in the order form. You must acknowledge and accept the terms and conditions before your order will be accepted.
SELECTION PROCESS
We do not disclose our selection process as this is proprietary company confidential information.
POSITIVITY PAYS! SHARE YOUR SUCCESS STORIES!
Share your honest, positive review to our Facebook page! Share your post with us and receive $5 off your next Date Night event.
ABOUT US
HPU is an Elite social network with more than 30,000 members in our network through social clubs (Elite Travel Club, Houston Professionals United, Social Saturday's and, through our extended network) on MeetUp.com. Members consist of doctors, lawyers, business owners, engineers and more.
Looking for a travel buddy? => www.meetup.com/Elite_Travel_Club
GET SOCIAL WITH US!
Get to know us, the host and, other attendees before you come to the event! Like and follow us on Facebook and Instagram!
www.fb.me/HelpingPeopleUnite
www.fb.me/HoustonsEliteTravelClub
www.Instagram.com/HPUpanthers
www.Instagram.com/Elit3_Travel_Club
FUTURE EVENTS
Some of our events are not listed on public sites such as Eventbrite and Facebook. To see other events, please view one of the following links:
www.meetup.com/Houston-Professionals-United
www.meetup.com/Elite_Travel_Club
www.meetup.com/Social-Saturdays
Date and time
Location
Refund policy
Organizer of VIETNAMESE *** SINGLES *** DATE NIGHT (Age 30 -45) | Houston
HPU is a social network, organization and, brand by Elite Entertainment of Houston Texas. Our organization helps professionals connect and engage, while enjoying social activities in a postive atmosphere, in the Houston Texas area and abroad.
Through our social clubs on MeetUp.com (Houston Professionals United, Elite Travel Club and, Social Saturday's) we are able to directly connect more than 2,500 members. Through our extended network (Discovering Houston), we are able to connect more than 30,000 members. We are all about network!
Our members range from age 20-60+ and consist of doctors, lawyers, business owners, engineers and, more. We operate similar to Events and Adventures, without the expensive membership fee!
We don't just plan events, we build bonds that create long lasting relationships!