Sales Have Ended
Ticket sales have ended
Thank you for your information!
Sales Have Ended
Ticket sales have ended
Thank you for your information!
About this Event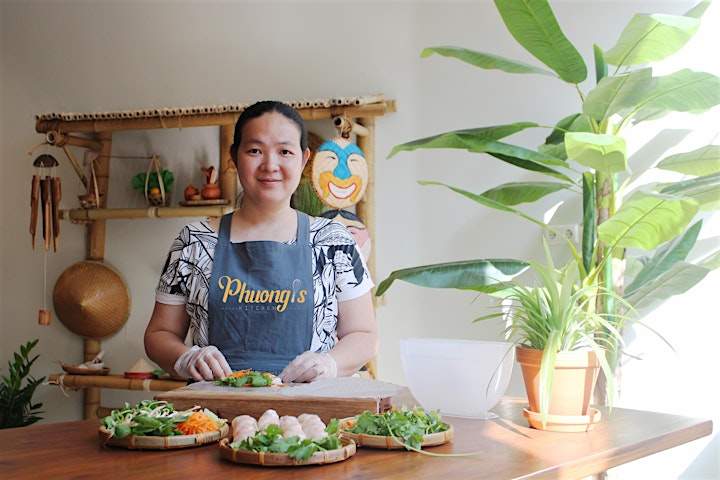 Location: La Ca Vietnamese Streetfood - Oude Kijk in Het Jatstraat 20, 9712 EH Groningen
Duration: 2.5 hour
Language: English
Price: €35 p.p.
Free: Welcome drink and appetizer
Traditional summer roll
Vietnamese summer roll - "Gỏi cuốn'' is a Vietnamese dish consisting of meat (traditionally pork and prawn), fresh vegetables (salad, cucumber, carrot, bell pepper…), bún (rice vermicelli), and herb (coriander, mint, chives, Thai basil…) wrapped in Vietnamese Bánh Tráng (commonly known as rice paper); and is served with homemade fish sauce or peanut sauce. It is a refreshing cousin of the crispy spring roll/loempia but it is much lighter and diet friendly.
Running the workshop
Curious how to make these yummy rolls, come to our workshop!
We will guide you through the essential ingredients, explain the yin and yang of the food. You will get many great tips about cooking techniques, cutting techniques, and Vietnamese products that are used and where to find them. It is not only a demonstration but also you will get your hands on to make your own meal. You also learn how to make two different delicious sauces at home: sweet-sour fish sauce and peanut sauce. Vietnamese food is all about the balance of flavors: sweet, salt, and sour. There is no measuring device that can ever match your own taste buds. But together, we will show you how we do it to get this balance just perfect. At the end of the cooking workshop, everyone is seated and enjoy the lovely summer rolls they have created.
Notice
A minimum of ten people must have signed up for the cooking class to go on.
Our tickets are non-refundable tickets that cannot be returned for a refund. In case you cannot use your ticket, you may be able to give your ticket to another person or apply its value toward a future workshop without additional fees. For additional support, please contact us.