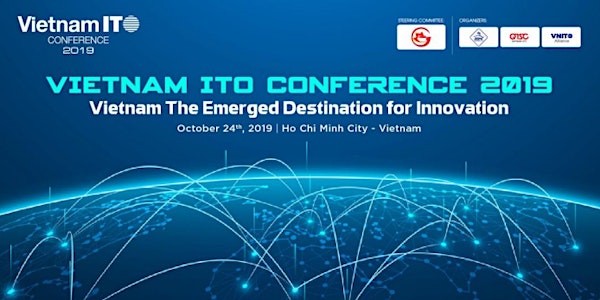 Vietnam ITO Conference 2019
When and where
Location
Floor 4, Tan Son Nhat Pavillon, 202 Hoang Van Thu, Ward 9, Phu Nhuan District, Ho Chi Minh City, Vietnam Viet Nam
Description
MỜI THAM DỰ HỘI NGHỊ PHÁT TRIỂN DỊCH VỤ CÔNG NGHỆ THÔNG TIN VIỆT NAM 2019
VIETNAM ITO CONFERENCE 2019
Việt Nam – Điểm đến cho Đổi mới Sáng tạo
Hội nghị Phát triển Dịch vụ CNTT Việt Nam 2019 (Vietnam ITO Conference 2019) được tổ chức vào ngày 24/10/2019 tại Khách sạn Tân Sơn Nhất, 202 Hoàng Văn Thụ, Phú Nhuận, TP.HCM với sự tham gia của hơn 100 nhà cung cấp dịch vụ và giải pháp CNTT hàng đầu Việt Nam và quốc tế, cung cấp đa dạng các dịch vụ CNTT và hàng trăm giải pháp công nghệ phục vụ chuyển đổi số và gia tăng giá trị đổi mới sáng tạo cho doanh nghiệp.
Hội nghị dự kiến thu hút hơn 500 khách tham dự, bao gồm hàng trăm đối tác, khách mời quốc tế, 64 gian hàng triển lãm công nghệ, 28 bàn giao thương (business matching) với hơn 200 cuộc gặp gỡ chính thức trực tiếp tại sự kiện giữa doanh nghiệp CNTT Việt Nam và đối tác tiềm năng. Hội nghị cũng sẽ quy tụ hơn 30 diễn giả đến từ các tập đoàn, công ty hàng đầu thế giới tham gia thảo luận về các xu hướng công nghệ mới nhất, cung cấp những thông tin, số liệu và đánh giá về thị trường CNTT Việt Nam từ các tổ chức uy tín trên thế giới.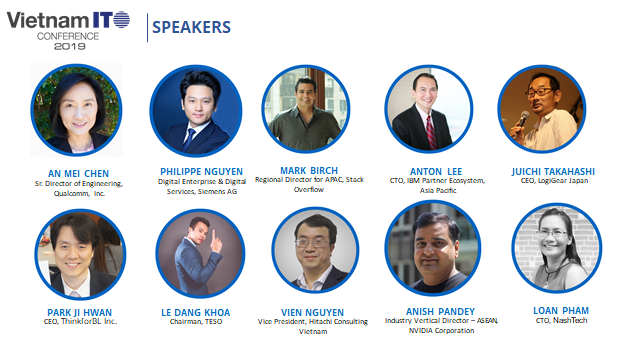 Ban tổ chức Hội nghị trân trọng kính mời đại diện lãnh đạo Quý doanh nghiệp có nhu cầu tìm kiếm các giải pháp công nghệ 4.0 để phục vụ cho chiến lược chuyển đổi số nhằm cải tiến hiệu quả kinh doanh và nâng cao năng lực cạnh tranh, các doanh nghiệp trong và ngoài nước mong muốn tìm kiếm đối tác CNTT của Việt Nam để gia công xuất khẩu phần mềm của DN sắp xếp thời gian đến tham dự Hội nghị.
Danh sách các giải pháp phục vụ cho các lĩnh vực được đăng tải trên website của sự kiện http://vnito2019.vnito.org/ (Innovative Solutions).
----
VNITO Alliance is the leading IT services & solutions alliance in Vietnam with the mission to promote the Vietnam IT sector, assist tech buyers and service providers for business opportunities and create an effective bridge between Vietnamese IT companies to the world. We are delighted to inform you that our biggest event Vietnam ITO Conference 2019 is coming back for the third time in Ho Chi Minh City on October 24, 2019 with the main theme "Vietnam – The Emerged Destination for Innovation".
Prepared to attract +500 participants including +100 Vietnam IT service providers and hundreds of foreign potential partners from many regions all over the world, over 30 speakers from leading corporations, along with more than 200 business matching sessions during the event and thousands of interactions on the ground, Vietnam ITO Conference 2019 set goals to be the premium event where industrial leaders around the world come and meet, get involved in discussions on the latest tech trends and innovation ideas, establish partnership and meet with like-minded professionals.
This year event also showcases technology solutions from "Made in Vietnam" as well as the Vietnam's innovation capability. This is a leading international technology B2B matching platform, a great opportunity for foreign companies to connect to top tech companies in Vietnam.
We would like toinvite innovation-driven firms/ investors seeking IT services/solutions in Vietnam to join this event to explore the dynamic innovation and technology landscape of Vietnam, to meet and connect with hundreds of leading Vietnamese IT service providers and gain more innovative ideas for next digitalization strategies.
List of innovative solutions: http://vnito2019.vnito.org/ (Innovative Solutions).
---
PLEASE CONTACT US FOR RESERVING TICKETS NOW!
Hotline: (+84) 8888 77 602 (Ms. Nga Nguyen), (+84) 8888 77 584 (Ms. Tam Pham)
Viber/Zalo/KakaoTalk: (+84) 8888 77 602 (Ms. Nga Nguyen)
Skype/Zalo/Viber/Whatsapp: (+84) 909863349 (Ms. Tam Pham)
Email: contact@vnito.org
Facebook/Twitter/LinkedIn/Youtube: VNITO Alliance