Description
International Vienna Contest 2019 Festival – Competition in Austria THE PLACE OF HOSPITALITY is held during the Spring holidays. The festival participants are staying in the legendary down Vienna region! The competition is full of sightseeing tours and recreational activities. All participants will receive a diploma certificate plus gifts. At the gala concert all compete for a new award – The Audience Award.
Budgetary Festival – Competition in Austria the heart of hospitality – is a cultural event, representing the achievements of creative groups. The main purpose of the festival is to showcase the art to the viewer.
INVITED DANCE FROM DIFFERENT PART OF THE WORLD TO SHOWCASE THEIR PROFESSIONAL PERFORMANCE SUCH AS MODERN DANCE TO CLASSIC TRADITION.
The main idea of the international festival – competition in Vienna 2019 to provide an opportunity for Men and women, boys and girls (students) to realize their dreams, to show others what they can do. Therefore, this festival organized by us, is a great creative laboratory for children and adolescents.
Vienna 2019 Contest is open to All Qualified Jury from all over the 5 continent can Apply to be part of this historical events, All selected Jury will be Lodge in 4star Hotel free of Charge with full Board and Lots of Benefit.
WE INVITE EVERYONE, FAMILY AND CHILDREN TO BE PART OF THIS HISTORICAL EVENTS.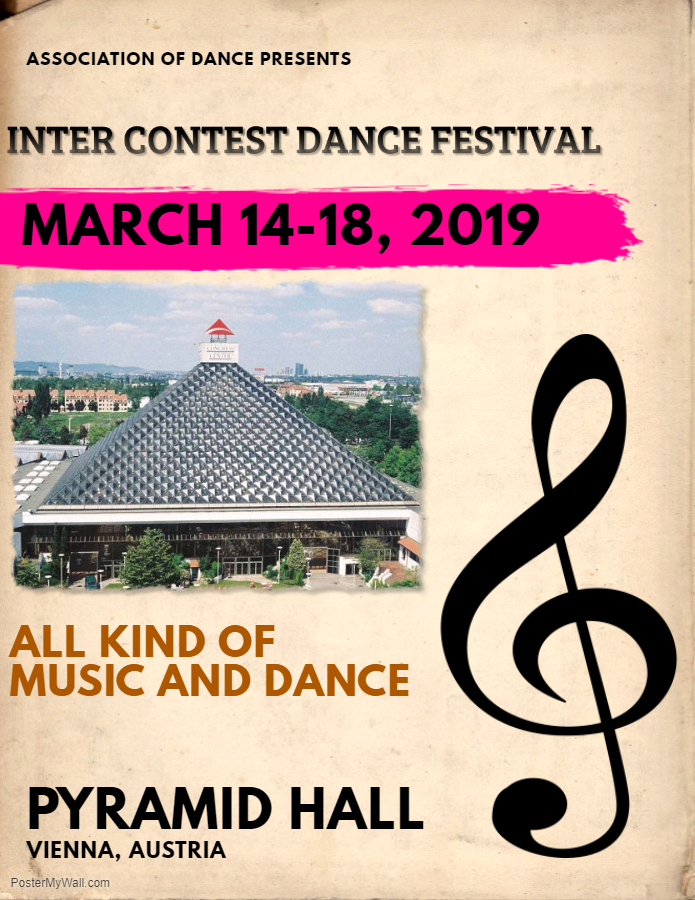 ---
For Further Inforamtion please contact us via Email
info@associationdance.com
or check our website
https://associationdance.com/