Vie privée sur le Net avec Jean-Marc Manach et Ariel Kyrou

Wednesday, December 1, 2010 from 7:30 PM to 10:00 PM (CET)
Event Details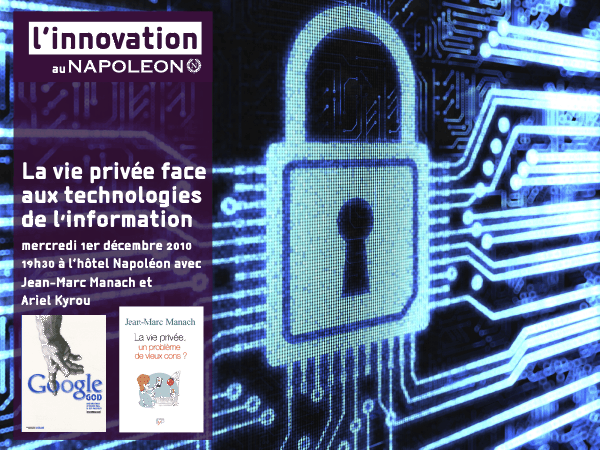 Explosion des fichiers, de police et commerciaux, multiplication de la collecte de données personnelles sur Internet : 32 ans après la loi « Informatique et libertés » et la création de la CNIL en France, quelle place et quels droits réels a l'individu numérique ? Quelles sont nos contradictions entre l'envie de publier et parler au monde via la Toile, et le désir de protéger notre intimité ? La puissance des moteurs de recherche, Google au premier rang, en fait-elle des Big Brother ? Ou sommes-nous face à une multitude de little brothers ? Une conférence débat avec Jean-Marc Manach, journaliste et blogueur (Bug Brother), cofondateur des Big Brother Awards France, auteur de La vie privée, un problème de vieux cons ? et Ariel Kyrou « agitateur multi-casquettes », auteur, notamment de Google God.
---
Jean-Marc Manach, cofondateur des Big Brother Awards et spécialiste de l'impact des technologies sur la société, des questions de surveillance, de libertés, de vie privée et de sécurité informatique, Jean-Marc Manach est journaliste d'investigation. Il écrit notamment pour InternetActu.net, et a créé le fameux blog BugBrother.blog.lemonde.fr. Il enseigne dans plusieurs écoles de journalisme (ESJ, CFJ, Sciences Po).
Ariel Kyrou. Se définissant lui-même comme un «  agitateur multi-casquettes  », a sorti récemment Google God et en 2009 ABC Dick. Nous vivons dans les mots d'un écrivain de science-fiction. Il est également l'auteur de Paranofictions. Traité de savoir vivre pour une époque de science-fiction (Climats, 2007) et de Techno Rebelle. Un siècle de musiques électroniques (Denoël, 2002). Directeur associé de la société Moderne Multimédias qui a créé son premier site Internet en 1995 (le Virgin Megaweb), il est le rédacteur en chef du site Culture Mobile (www.culturemobile.net). Il enseigne par ailleurs «  le sens et le non-sens des musiques du dernier siècle  » à l'Université de Versailles / Saint-Quentin en Yvelines, «  l'histoire critique des cultures actuelles  » à l'Institut d'Études Supérieures des Arts et un cours de «  techno sapiens  » à l'Institut International du Multimédia. Il est membre du collectif de rédaction de Multitudes.
When & Where
40 avenue de Friedland
Paris


Wednesday, December 1, 2010 from 7:30 PM to 10:00 PM (CET)
Add to my calendar
Organizer
L'innovation au Napoléon : une série de rencontres tous les mois à l'hôtel Napoléon, à Paris, où l'on débattra de tout ce qui fait l'innovation : réseaux sociaux, économie collaborative, prospective, logiciels libres, identité numérique, entrepreneuriat, etc.