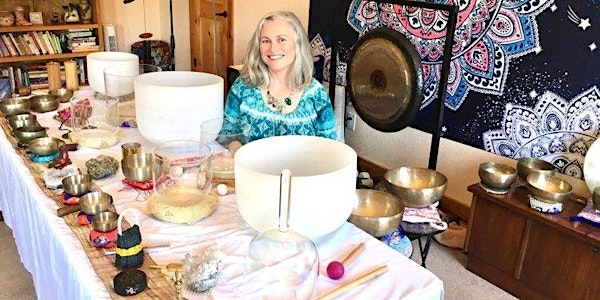 Video Recording-- New Moon Sound Bath + Reiki with Mikaela Katherine Jones
Recording of Reiki & Sound Bath Session for New Moon in Cancer -- with Mikaela Katherine Jones. Link up for 4 full days
About this event
Join me for my VIDEO RECORDING (4 nights if you like) with my New Moon in Cancer Sound Bath + Reiki session. . Using my professional sound gear, it sounds like I'm playing right over your ears, and it will feel like it's just you and me!
I'll begin with a brief intro on the astrological dynamics, then move into a Reiki energy healing, followed by a Sound Bath with my clear quartz & frosted crystal bowls for each chakra, my 22 Tibetan bowls, Venus Paiste gong, Koshi chimes, seedpods & more.... All from the comfort of your own home. For as many times as you like within the 4-day period the link will be available. The session will be appx 90 minutes long.
Release & recharge in alignment with the powerful moon cycles each month. The New Moon is a powerful time to set Intentions and plant the seeds of what you'd like to manifest in your life/ world. You'll feel lighter, grounded, relaxed, deeply nourished, and more connected to your True Self so that you can move forward in your life with more clarity, grace, strength, and resilience.
The Recording will be available from 5pm PST for the New Moon at 7:52pm PST. And will remain available until 11:00pm Friday night.
Love Exchange:
$15-85 sliding scale (Please pay by your means. If you are flowing prosperity, your generosity enables me to offer this to those who would otherwise not be able. Together we all win! )
As long as you have earbuds /headphones/speakers, it will sound like I'm right there in the room with you. The feedback has been awesome. :)
Pay with a credit card here via Eventbrite or without fees in the following ways:
Venmo me at Mikaela-Jones-6
PayPal me at MikaelaKatherineJones@gmail.com
CashApp at $MikaelaJones6
Zelle: Use the above email & 503-705-1609 for the id
Eventbrite tix link:
https://www.eventbrite.com/e/online-recorded-new-moon-sound-bath-reiki-with-mikaela-katherine-jones-tickets-364374131837
***After you reserve your spot with payment, please send your email address unless you purchased via Eventbrite! I'll email out the link for the event at 5 pm PST on the evening of the New Moon on 6/28. You can purchase the link anytime from now up until the last day of the 4-day link availability- which is Friday, July 1.
Tips for optimum experience:
Light a candle, and have your crystals and essential oils if you wish for a luxurious Self-Care experience. Tell friends & family your Self-Care time is sacred. No heavy meals prior to your experience. Have water; drink lots following and take an Epsom salt bath after if you feel called.
More Sound Bath Benefits:
Physical & Emotional Pain Relief, Lower Blood Pressure, Release of Blocked Emotions, Anxiety / Stress Relief, Deep Relaxation, Decreased Insomnia, Boost in Immunity System, Heightened Clarity, Ability to Concentrate & Creativity, Elevated States of Consciousness, Enhanced Intuition...Bliss...to name a few!
MIKAELA KATHERINE JONES is a multi-trained Sound healing practitioner, a member of the American Sound Healers Association, and has been offering public sound bath events since 2007. She has thirty years of training/teaching experience in spiritual & healing traditions from sound healing and vocal toning training with Jonathan Goldman, Suren Shrestha, etc, to meditation, manifestation, Modern Mystery school training & Reiki / the Radiance Technique. A multi-published inspirational author of the Book of Light & best-selling Little Book of Light, it is her Intention to restore you to harmony so that you may live your most fulfilling life.
http://www.MikaelaKatherineJones.com