VIDEO GAMES: THE MOVIE Theatrical Premiere Event!

Friday, July 18, 2014 from 6:00 PM to 9:00 PM (EDT)
Event Details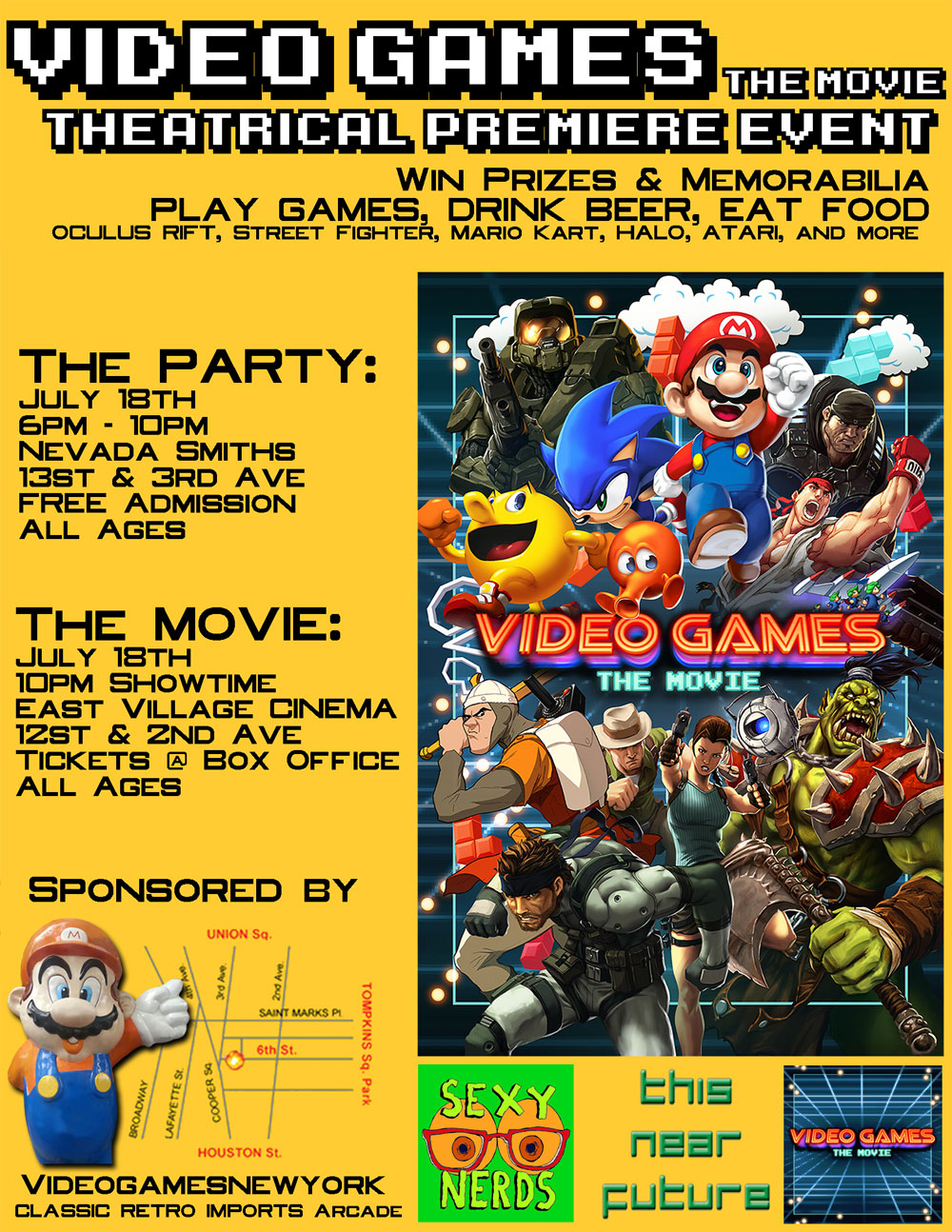 MORE TICKETS ADDED TO THE EVENT!!!
VIDEO GAMES: THE MOVIE is a telling of the history of video games, and what better way to celebrate its theatrical premiere than to have a Retro Game Party!!!! Come join us before the movie for a night of video games! Old Games, new Games, casual Games, competitive games to win prizes, gifts and just have a good night out!
---

The Pre-Party event is open to ALL AGES and is FREE TO ATTEND and will have 10 screens and a 60 foot projector playing video games from its entire history, including:
Atari 2600 (Pacman, Pitfal, Combat, River Raid...etc)

Sega Genesis (Sonic, Street of Rage, Altered Beast...etc)

Super Nintendo (Donkey Kong Country, Killer Instinct, Mario Kart...etc)

Nintendo 64 (Mario Kart 64, Super Smash Brothers, Golden Eye, Nfl Blitz 2000...etc)

PlayStation 3 (Ultra Street Fighter, Injustice, Mortal Kombat)

Xbox 360 (Halo, Gears of War, Portal 2)

Nintendo Wii U (Mario Kart 8)

Oculus Rift
It does not matter if you are going to see the movie at the theater or have already watched the streaming version, everyone is welcome to come to the Pre-Party!
---

Thanks to generous support from the movie and our sponsores we are able to host a FREE EVENT open to everyone and still have a raffle to give out prizes! The prizes for the raffle will include, tickets to the movie, digital streaming passes, buttons, possibly signed theater posters, retron systems and more. Be sure to RSVP to get your name on the raffle.

---
What is VIDEO GAMES: THE MOVIE Theatrical Premiere Event?
This is a chance for those who have already watched the streaming version, or for those who will attend the theatrical screening to play games from the entire history of video gaming. Grab a drink and some food before going to the showing just a block over. There will be event exclusive prizes and chances to win other goodies for free at the event.

WHEN?
The Party starts at 6pm, July 18th at Nevada Smiths located on 12th St. and 3rd Ave (just 1 block over from the movie theater). The movie then starts at 10pm at Village East Cinema (For other cities and information check here: http://videogamesthemovie.com/#theaters)
What is VIDEO GAMES: THE MOVIE about?



From executive producer Zach Braff comes an epic feature length documentary chronicling the meteroic rise of video games from nerd niche to multi-billion dollar industry. Featuring in-depth interviews with the godfathers who started it all, the icons of game design, and the geek gurus who are leading us into the future, VIDEO GAMES: THE MOVIE is a celebration of gaming from Atari to Xbox, and an eye-opening look at what lies ahead.
---
THIS EVENT IS SPONSORED BY:

Videogamesnewyork (www.videogamesnewyork.com)
Videogamesnewyork is an independent video game store located in the heart of the East Village of New York City. We are internationally known for our unique collection of video game systems and games, both domestic and imported. From the Game & Watches of the 70's to the first systems such as the Magnavox Odyssey, Atari, Intellivision, Colecovision, and Commodore 64 to the latest such as Play Station 4, XBOX ONE, Play Station Vita and Nintendo 3DS.
Sexy Nerds (www.sexynerds.net)
Sexy Nerds is a music collective and entertainment company. We host lifestyle events, dance parties, and music concerts. We also produce music, media and online content.
VIDEO GAMES: THE MOVIE (www.videogamesthemovie.com)
With out their support, we would not have something to party for! Officialy supporting independant retailers, establishments, film makers and the video game Industry. Thank you for your contributition. 
Davis Cox and This Near Future (@thisnearfuture)
Additional Supporters:
Mashfest