Video Game Truck & Outdoor Movie Night- FREE/Family/Fun (Back to School)
Description
Free Back to School Party featuring Pixel Play's BRAND NEW VIDEO GAME TRUCK with the latest games and a family friendly outdoor movie in the parking lot of Burn Bootcamp and Empowered Living Church located in the Town of Ayrsley in Steele Creek (Southwest Charlotte). Visit Pixel Play Games Facebook Page HERE.
Bring lawn chairs. Free Popcorn (and maybe ice cream).
This is the FINAL Summer outdoor movie night of the year! In June we held our first Summer outdoor movie a free book giveaway. We gave out hundreds of books to kids and the community came out in great numbers for a funfilled night.
Last year we held movies at Berewick Elementary School, Empowered Living Church, and HWY 55 in Steele Creek. Each of the movies were a BIG success for families and friends. Everyone had a lot of fun, met new friends, and connected with old friends, too.
Bring lawn chairs. No grass. Chairs are a necessity.
Check out our other summer family fun events here: EmpoweredLiving.Church/Summer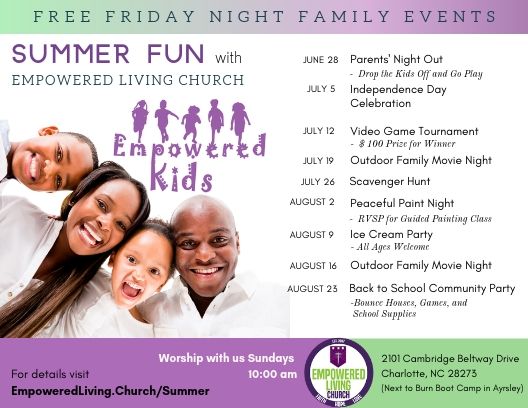 Check out our other summer family fun events here: EmpoweredLiving.Church/Summer