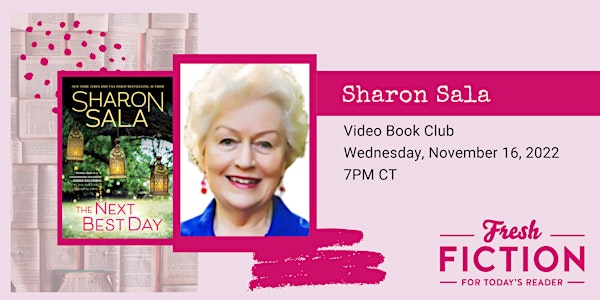 Video Book Club with Author Sharon Sala
Stay home, stay sane, and stay connected with our video book club! Join us for a gathering with Sharon Sala!
About this event
This week, we're chatting with Sharon Sala author of THE NEXT BEST DAY. Join us for a lively conversation about romance and stay for the reader afterparty!
Register by Wednesday, 11/16/2022. We start at 7:00 pm.
Evening Rundown (all times CT):
7:00 pm - informal chitchat and ice breaker with readers
7:30 pm - Interview with Sharon Sala (recorded live)
8:00 pm - Unrecorded Q&A with readers
8:30 pm - Reader after party
Don't miss out on any North Texas events! Sign up for our weekly newsletter. (http://eepurl.com/cc9BoH)
ABOUT THE AUTHOR:
Sharon Sala has over 135 books and novellas in print, published in six different genres – Romance, Young Adult, Western, Fiction, and Women's Fiction and Non-Fiction. First published in 1991, she's an eight-time RITA finalist, winner of the Janet Dailey Award, five-time Career Achievement winner from RT Magazine, five time winner of the National Reader's Choice Award, and five time winner of the Colorado Romance Writer's Award of Excellence, winner of the Heart of Excellence Award, as well as winner of the Booksellers Best Award. In 2011 she was named RWA's recipient of the Nora Roberts Lifetime Achievement Award. In 2017 Romance Writers of America presented her with the Centennial Award for recognition of her 100th published novel.
Her books are New York Times , USA Today, Publisher's Weekly best-sellers. Writing changed her life, her world, and her fate.
Join us every week on Zoom for the Fresh Fiction Video Book Club from the comfort of your home. This online version of our in-person book club is the perfect way to stay connected (no matter the distance) each week with your reader friends. It's easy to sign up. Just create a Zoom.us account, download the app to your computer or device, and sit back with a snack while you chat with friends and a special guest author. If you missed a bookclub, you can find our videos of the interview on YouTube.