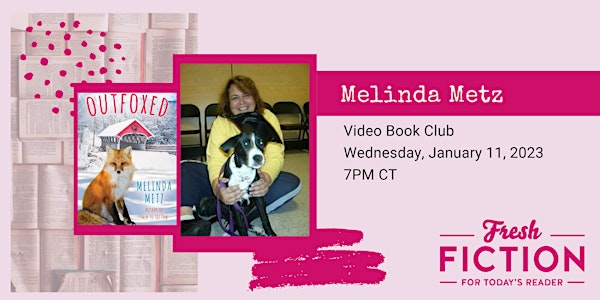 Video Book Club with Author Melinda Metz
Stay home, stay sane, and stay connected with our video book club! Join us for a gathering with Melinda Metz!
About this event
This week, we're chatting with Melinda Metz (https://freshfiction.com/author.php?id=39259) author of OUTFOXED (https://freshfiction.com/book.php?id=119828). Join us for a lively conversation about romance and stay for the reader afterparty!
Register by Wednesday, 1/11/2023. We start at 7:00 pm.
https://VBC-metz.eventbrite.com
Evening Rundown (all times CT):
7:00 pm - informal chitchat and ice breaker with readers
7:30 pm - Interview with Melinda Metz (recorded live)
8:00 pm - Unrecorded Q&A with readers
8:30 pm - Reader after party
Don't miss out on any North Texas events! Sign up for our weekly newsletter. (http://eepurl.com/cc9BoH)
ABOUT THE AUTHOR:
Melinda Metz grew up in San Jose, California. People sometimes ask if she knows the way there. She kinda does, but she has an off-kilter sense of direction, so to be confident of arriving, it's better to consult some kind of navigational device.
Her mother tried to teach her to read in kindergarten, but Melinda had no interest. She also had no interest in learning to write her name. (FYI, when Melinda was in kindergarten it was all about finger-painting, play time, and naps.) Eventually, she mastered both and even majored in English at San Jose State University.
After college, Melinda moved to Manhattan to seek her fortune, which involved learning to identify fruits and vegetables while working at a grocery store, making $2.73 working backstage for an off-off-off Broadway play (her part of the box-office profits), and editing books.
Join us every week on Zoom for the Fresh Fiction Video Book Club from the comfort of your home. This online version of our in-person book club is the perfect way to stay connected (no matter the distance) each week with your reader friends. It's easy to sign up. Just create a Zoom.us account, download the app to your computer or device, and sit back with a snack while you chat with friends and a special guest author. If you missed a bookclub, you can find our videos of the interview on YouTube.