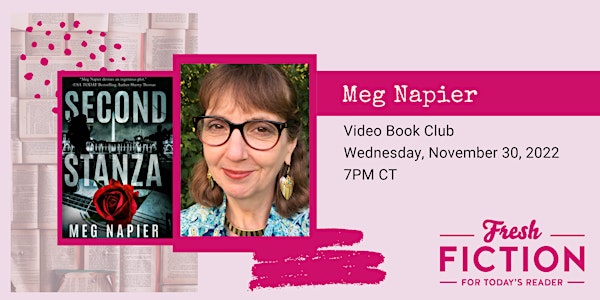 Video Book Club with Author Meg Napier
Stay home, stay sane, and stay connected with our video book club! Join us for a gathering with Meg Napier!
About this event
This week, we're chatting with Meg Napier author of SECOND STANZA. Join us for a lively conversation about romance and stay for the reader afterparty!
Register by Wednesday, 11/30/2022. We start at 7:00 pm.
Evening Rundown (all times CT):
7:00 pm - informal chitchat and ice breaker with readers
7:30 pm - Interview with Meg Napier (recorded live)
8:00 pm - Unrecorded Q&A with readers
8:30 pm - Reader after party
Don't miss out on any North Texas events! Sign up for our weekly newsletter. (http://eepurl.com/cc9BoH)
ABOUT THE AUTHOR:
Meg's friends during her high school years all expected her romance novels to hit the shelves decades ago, but she foolishly allowed "serious pursuits" to get in her way. Now that her beloved children can feed, clothe, and most importantly, support themselves, she's free to turn her attention to her first passion - putting words to paper that capture your attention and make your heart sing in quiet joy. Her stories tell most frequently of second chances--in life, love, and sometimes even at rediscovering a soul-mate from a previous life.
Join us every week on Zoom for the Fresh Fiction Video Book Club from the comfort of your home. This online version of our in-person book club is the perfect way to stay connected (no matter the distance) each week with your reader friends. It's easy to sign up. Just create a Zoom.us account, download the app to your computer or device, and sit back with a snack while you chat with friends and a special guest author. If you missed a bookclub, you can find our videos of the interview on YouTube.