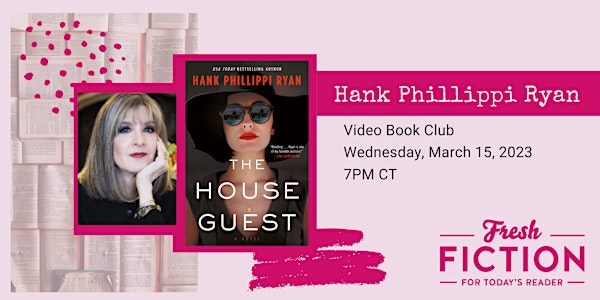 Video Book Club with Author Hank Phillippi Ryan
Stay home, stay sane, and stay connected with our video book club! Join us for a gathering with Hank Phillippi Ryan
Date and time
Wednesday, March 15 · 5 - 7pm PDT
About this event
This week, we're chatting with Hank Phillippi Ryan author of THE HOUSE GUEST. Join us for a lively conversation about romance and stay for the reader afterparty!
Register by Wednesday, 3/15/2023. We start at 7:00 pm.
Evening Rundown (all times CT):
7:00 pm - informal chitchat and ice breaker with readers
7:30 pm - Interview with Hank Phillippi Ryan (recorded live)
8:00 pm - Unrecorded Q&A with readers
8:30 pm - Reader after party
Don't miss out on any North Texas events! Sign up for our weekly newsletter. (http://eepurl.com/cc9BoH)
ABOUT THE AUTHOR:
HANK PHILLIPPI RYAN is the on-air investigative reporter for Boston's WHDH-TV. She's won 37 EMMYs and dozens more honors for her ground-breaking journalism. The nationally bestselling author of 14 thrillers, Ryan's also an award-winner in her second profession—with five Agathas, five Anthonys, two Macavitys, the Daphne, and for THE OTHER WOMAN, the coveted Mary Higgins Clark Award.
Critics call her "a master of suspense" and "a superb and gifted storyteller" and she is the only author to have won the Agatha in four different categories: Best First, Best Novel, Best Short Story and Best Non-Fiction. Ryan's 2019 release, THE MURDER LIST is a USA Today Bestseller, won the Anthony Award for Best Novel of the Year, and was an Agatha and Mary Higgins Clark Award nominee. Her 2020 release, THE FIRST TO LIE, also a USA Today Bestseller, was nominated for the Mary Higgins Clark Award and the Anthony Award, and Publishers Weekly called it "Stellar" in a starred review. And HER PERFECT LIFE, published in 2021, received starred reviews from Publishers Weekly "(A superlative thriller") and Kirkus, is an Agatha Award nominee for Best Novel.
Ryan is past president of National Sisters in Crime, and a sought-after teacher and speaker. She now hosts Crime Time on A Mighty Blaze, is a founder and co-host of The Back Room, and is co-host of First Chapter Fun. She lives in Boston.
Join us every week on Zoom for the Fresh Fiction Video Book Club from the comfort of your home. This online version of our in-person book club is the perfect way to stay connected (no matter the distance) each week with your reader friends. It's easy to sign up. Just create a Zoom.us account, download the app to your computer or device, and sit back with a snack while you chat with friends and a special guest author. If you missed a bookclub, you can find our videos of the interview on YouTube.