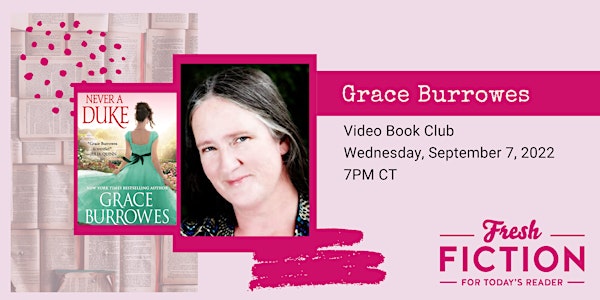 Video Book Club with Author Grace Burrowes
Stay home, stay sane, and stay connected with our video book club! Join us for a "historical" gathering with GRACE BURROWES!
About this event
This week, we're chatting with Grace Burrowes, author of NEVER A DUKE. Join us for a lively conversation about romance and stay for the reader afterparty!
Register by Wednesday, 9/7/2022. We start at 7:00 pm.
Evening Rundown (all times CT):
7:00 pm - informal chitchat and ice breaker with readers
7:30 pm - Interview with Grace Burrowes (recorded live)
8:00 pm - Unrecorded Q&A with readers
8:30 pm - Reader after party
Don't miss out on any North Texas events! Sign up for our weekly newsletter. (http://eepurl.com/cc9BoH)
ABOUT THE AUTHOR:
Grace Burrowes started writing romance novels as an antidote to empty nest, and soon found that penning happily ever afters is an antidote to all of life's little challenges. She has published more than fifty Regency, contemporary, and Victorian love stories, including Publishers Weekly, Library Journal, Kirkus, and Apple Book Store books of the year. She spent more than 25 years representing children in foster care court, and lives in western Maryland.
Join us every week on Zoom for the Fresh Fiction Video Book Club from the comfort of your home. This online version of our in-person book club is the perfect way to stay connected (no matter the distance) each week with your reader friends. It's easy to sign up. Just create a Zoom.us account, download the app to your computer or device, and sit back with a snack while you chat with friends and a special guest author. If you missed a bookclub, you can find our videos of the interview on YouTube.