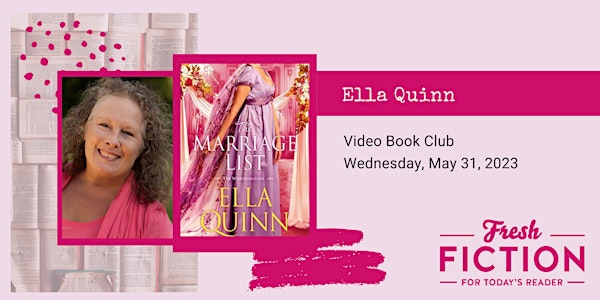 Video Book Club with Author Ella Quinn
Stay home, stay sane, and stay connected with our video book club! Join us for a gathering with Ella!
Date and time
Wednesday, May 31 · 5 - 7pm PDT
About this event
This week, we're chatting with Ella Quinn author of THE MARRIAGE LIST. Join us for a lively conversation about romance and stay for the reader afterparty!
Register by Wednesday, 5/31/2023. We start at 7:00 pm.
Evening Rundown (all times CT):
7:00 pm - informal chitchat and ice breaker with readers
7:30 pm - Interview with Ella Quinn (recorded live)
8:00 pm - Unrecorded Q&A with readers
8:30 pm - Reader after party
Don't miss out on any North Texas events! Sign up for our weekly newsletter. (http://eepurl.com/cc9BoH)
ABOUT THE AUTHOR:
USA Today bestselling author Ella Quinn's studies and other jobs have always been on the serious side. Reading historical romances, especially Regencies, were her escape. Eventually her love of historical novels led her to start writing them.
She is married to her wonderful husband of over thirty years. They have a son and two beautiful granddaughters. After living in the South Pacific, Central America, North Africa, England and Europe, she and her husband decided to make their dreams come true and are now living on a sailboat. After cruising the Caribbean and North America, she completed a transatlantic crossing from St. Martin to Southern Europe. She's currently living in Italy, happily writing while her husband is back at work, recovering from retirement.
Join us every week on Zoom for the Fresh Fiction Video Book Club from the comfort of your home. This online version of our in-person book club is the perfect way to stay connected (no matter the distance) each week with your reader friends. It's easy to sign up. Just create a Zoom.us account, download the app to your computer or device, and sit back with a snack while you chat with friends and a special guest author. If you missed a bookclub, you can find our videos of the interview on YouTube.