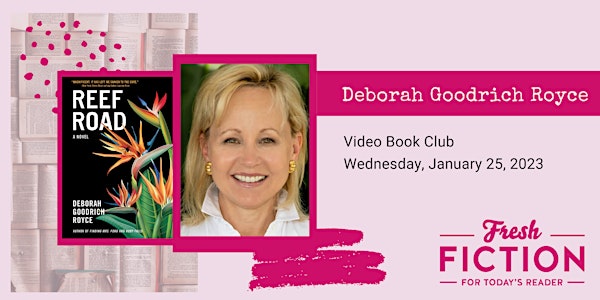 Video Book Club with Author Deborah Goodrich Royce
Stay home, stay sane, and stay connected with our video book club! Join us for a gathering with Deborah Goodrich Royce!
About this event
This week, we're chatting with Deborah Goodrich Royce author of REEF ROAD. Join us for a lively conversation about romance and stay for the reader afterparty!
Register by Wednesday, 1/25/2023. We start at 7:00 pm.
Evening Rundown (all times CT):
7:00 pm - informal chitchat and ice breaker with readers
7:30 pm - Interview with Deborah Goodrich Royce (recorded live)
8:00 pm - Unrecorded Q&A with readers
8:30 pm - Reader after party
Don't miss out on any North Texas events! Sign up for our weekly newsletter. (http://eepurl.com/cc9BoH)
ABOUT THE AUTHOR:
Deborah Goodrich Royce launched her acting career in 1982 in the lead role of Silver Kane (sister of the legendary Erica Kane) on ABC's All My Children. She went on to star in dozens of feature films, television series, and TV movies.
In the '90s, Deborah was the story editor at Miramax Films, overseeing readers, manuscript acquisitions, and script development; editing such notable screenplays as Emma by Doug McGrath. Deborah and a writing partner won a grant from the Massachusetts Arts Council in 2002 to develop and workshop their screenplay, Susan Taft Has Run Amok.
With her husband, Chuck, Deborah restored the 1939 Avon Theatre in Stamford, CT. Under her leadership, the Avon hosts an ongoing series of speakers, most recently, Marcus Zusak, Richard Gere and Chloe Sevigny. Deborah serves on the national council of the American Film Institute, the executive board of the Greenwich International Film Festival, the international council of the Preservation Society of Newport, and the governing boards of New York Botanical Garden, the Greenwich Historical Society, and the PRASAD Project.
Deborah and Chuck have a tribe of children, stepchildren, grandchildren and animals.
Join us every week on Zoom for the Fresh Fiction Video Book Club from the comfort of your home. This online version of our in-person book club is the perfect way to stay connected (no matter the distance) each week with your reader friends. It's easy to sign up. Just create a Zoom.us account, download the app to your computer or device, and sit back with a snack while you chat with friends and a special guest author. If you missed a bookclub, you can find our videos of the interview on YouTube.