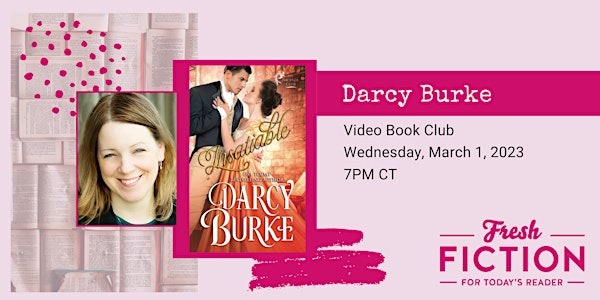 Video Book Club with Author Darcy Burke
Stay home, stay sane, and stay connected with our video book club! Join us for a gathering with Darcy!
Date and time
Wednesday, March 1 · 5 - 7pm PST
About this event
This week, we're chatting with Darcy Burke author of INSATIABLE. Join us for a lively conversation about romance and stay for the reader afterparty!
Register by Wednesday, 3/1/2023. We start at 7:00 pm.
Evening Rundown (all times CT):
7:00 pm - informal chitchat and ice breaker with readers
7:30 pm - Interview with Darcy Burke (recorded live)
8:00 pm - Unrecorded Q&A with readers
8:30 pm - Reader after party
Don't miss out on any North Texas events! Sign up for our weekly newsletter. (http://eepurl.com/cc9BoH)
ABOUT THE AUTHOR:
Darcy Burke is the USA Today Bestselling Author of sexy, emotional historical and contemporary romance. Darcy wrote her first book at age 11, a happily ever after about a swan addicted to magic and the female swan who loved him, with exceedingly poor illustrations. Join her Reader Group. A native Oregonian, Darcy lives on the edge of wine country with her guitar-strumming husband, their two hilarious kids who seem to have inherited the writing gene, two Bengal cats and a third cat named after a fruit.
Join us every week on Zoom for the Fresh Fiction Video Book Club from the comfort of your home. This online version of our in-person book club is the perfect way to stay connected (no matter the distance) each week with your reader friends. It's easy to sign up. Just create a Zoom.us account, download the app to your computer or device, and sit back with a snack while you chat with friends and a special guest author. If you missed a bookclub, you can find our videos of the interview on YouTube.