Location
Skinny's Lounge
4923 Lankershim Blvd
North Hollywood, CA 91601
Description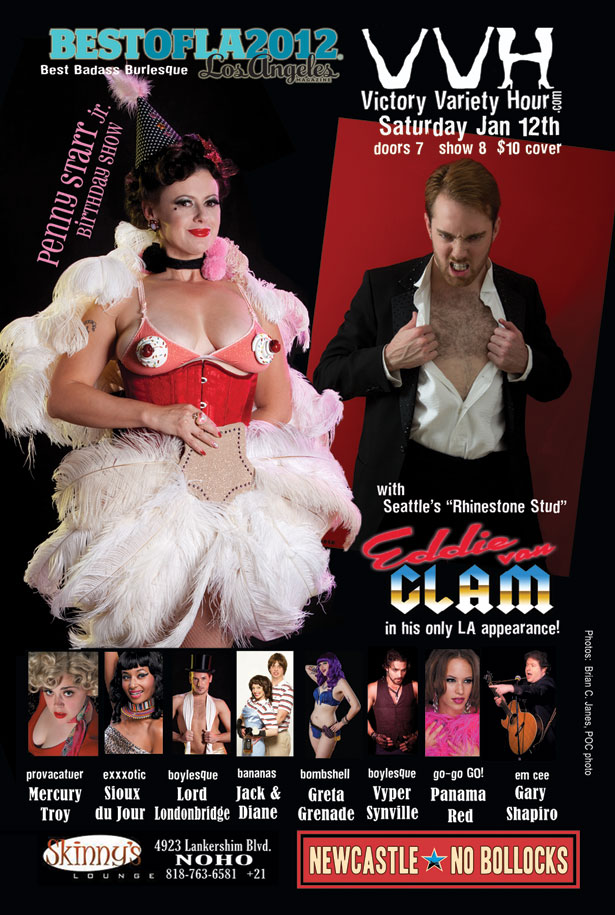 Please note: although eventbrite ticket sales will end day of show at 4pm, there may still be tickets available at the door.
Last year, our braless leader, PENNY STARR, JR. celebrated her birthday by having an eating contest by handcuffing audience members and having them eat cupcakes off the junk in her trunk…
How will she top that this year?
With the best orgy of burlesque in LA, featuring Seattle's own "Rhinestone Stud" EDDIE VAN GLAM, and the revival of the Tableaux VaVoom©, not seen on the VVH stage since 2005!
Also starring
The eXXXotic SIOUX DU JOUR
Our suicide bombshell GRETA GRENADE
In the Tableaux VaVoom "Man-Tastic"
The exhibitionist to your voyeur VYPER SYNVILLE
The patron saint of virgin strippers MERCURY TROY
Here to perform a homosexual act LORD LONDONBRIDGE
Public insanity with MATT MORGAN and HEIDI BRUCKER
And here to go-go Go! Smoking hot PANAMA RED
With the best em cee in Los Angeles GARY SHAPIRO
Produced and directed by PENNY STARR, JR.
Saturday, January 12th, 2013
Doors 7pm, Show 8pm, Cover $10
And enjoy $5 pints from our sponsor NEWCASTLE BROWN ALE, celebrating 85 years of excellence.
At Skinny's Lounge, 4923 Lankershim Blvd. North Hollywood CA 91601 +21