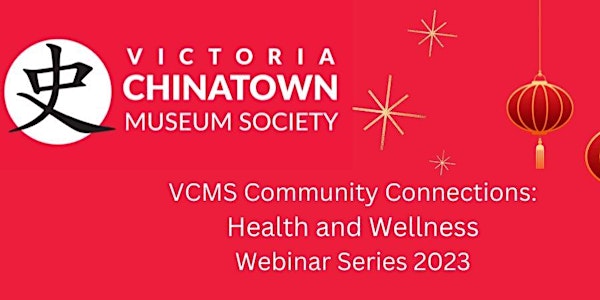 Multiple dates
Victoria Chinatown Museum Society Community Connections Series
VCMS Presents an Online Webinar Series: Resilience, Health and Well-being for Chinese Canadians: Past, Present and Future
By Victoria Chinatown Museum Society (VCMS)
Date and time
Mon, May 29, 2023 6:30 PM - Thu, Dec 14, 2023 8:00 PM PDT
About this event
This on-line series features Chinese Canadian speakers/facilitators from British Columbia who possess unique perspectives related to resilience, health and well-being. By looking at our Chinese Canadian heritage, present-day lives, and future generations, this series highlights key topics that contribute to the enduring resilience of Chinese Canadians.
Each session begins with an introduction to the speaker/facilitator and their personal background. Sessions are scheduled for 60 minutes, followed by an optional 30 minute "conversation space" where community members can reflect, share comments and exchange personal experiences.
Register for this series to learn more about resilience, health and well-being of Chinese Canadians; reflect upon your own cultural connections and identity; and connect with a community of like-minded people!
Resilience in the Chinese Canadian Context
Monday May 29, 2023
6:30 pm to 8:00 pm PDT
Grace Wong Sneddon, 陳美真, R.C.C., ICD.D., Ph.D., focuses on the strengths of Chinese Canadians and discusses historical, economic, social, cultural and political examples of our resilience in British Columbia. Join us as Grace provides insight into significant moments that demonstrate collective resilience.
Looking at Intergenerational Trauma with a Chinese Canadian Lens
Tuesday, June 13, 2023
6:30 pm to 8:00 pm PDT
Fred Chou, Ph.D., RPsych., discusses how intergenerational trauma can affect families, providing culturally-relevant examples to show how we are deeply connected to family in many different ways. Join us as we learn about strategies to recognize and engage with intergenerational trauma.
Engaging with Productive Conflict
Thursday, September 14, 2023
6:30 pm to 8:00 pm PDT
Brighten Chiou discusses the nature of conflict, highlighting how culture affects our perspective and engagement with disagreements. Join us as we learn about strategies and skills to manage ourselves and others when conflict arises
Building Resilience
Thursday, October 26,2023
6:30 pm to 8:00 pm PDT
Kevin Chin, Ph.D., provides a contemporary approach for strengthening resilience to manage adversity and uncertainty in life. Join us as we learn about using protective factors with the R2 Resilience© framework to help us navigate challenging times.
Journeys Toward Well-being
Thursday, December 14,2023
6:30 pm to 8:00 pm PST
Carmen Huang, R.C.C., and Tina Tam (譚玉婷) focus on different approaches to supporting well-being from the perspectives of psychotherapy and art therapy. Join us as we learn about how we can support the next generations of Chinese Canadians as they navigate life.