Description

Revelry: An Intimate Experience at the Asheville Masonic Temple presents an evening of conversation and music with 5 time Grammy winner Victor Wooten and the Victor Wooten Trio featuring Dennis Chambers and Bob Franceschini and your host Gary Jules.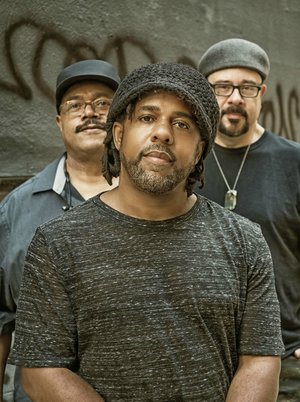 When: Thursday May 18, 2017 at 6:00 pm
Where: Asheville Masonic Temple 80 Broadway Street Asheville, NC 28801
What: An evening of Music and Conversation in the Historic Asheville Masonic Temple with the Victor Wooten Trio and your host Gary Jules. This series will kick off with our featured performer Victor Wooten Trio featuring Dennis Chambers and Bob Franceschini​. Victor Wooten is 5 time Grammy Winner and he is accompanied by Bob Franceschini (saxophonist for Mike Stern, Paul Simon, Céline Dion, Tito Puente, Lionel Richie, and more) and the legendary Dennis Chambers (drummer for Parliament-Funkadelic, John McLaughlin, Carlos Santana, and more)
Gary Jules​ will be leading a thought provoking and entertaining conversation with Victor Wooten.​
Don't miss the kick off event by Revelry: An Intimate Experience at the Asheville Masonic Temple of what promises to be an extraordinary series of intimate performances in this beautiful and historic theater at The Asheville Masonic Temple
Doors Open at 6:00 pm with a Cocktail Hour and Meet and Greet with Victor Wooten and Gary Jules prior to the show. Show Starting at 7:00 pm following the first set there will be a Q&A with Gary and Victor with a closing set. Then everyone is invited to photo opts and merchandice autographs with Victor Wooten and Gary Jules.
Tickets: $60 for floor, $35 balcony
Who is Victor Lemonte Wooten?
"Who am I? Now, that's a good question."
Victor Lemonte Wooten is a unique human being. Born the youngest of five boys, he began learning to play music at the tender age of two. He started performing in nightclubs and theaters as the bassist with the family band at age five, and at age six, was on tour with his brothers opening shows for legendary soul artist Curtis Mayfield. Soon after, he was affectionately known as the 8-year-old Bass Ace, and before graduating high school, he and his brothers had shared the stage with artists such as Stephanie Mills, War, Ramsey Lewis, Frankie Beverly and Maze, Dexter Wansel, and The Temptations. But, this only begins to tell the tale of this Tennessee titan.
Wooten, now a five-time Grammy winner, hit the worldwide scene in 1990 as a founding member of the super-group Bela Fleck and the Flecktones. Continuing to blaze a musical trail with the band, Victor has also become widely known for his own Grammy nominated solo recordings and tours.
Among other things, he is a loving husband and father of four, a skilled naturalist and teacher, a published author, a magician and acrobat, and has won every major award given to a bass guitarist including being voted Bassist of the Year in Bass Player Magazine's readers poll three times (the only person to win it more than once.) In 2011, Rolling Stone Magazine voted Victor one of the Top Ten Bassist of ALL TIME.
"I was born at the right place and the right time to a wonderful family."
Victor Lemonte Wooten was born September 11, 1964 to military parents on an air force base outside of Boise, Idaho. Soon after, the family packed up and moved on as military families often do. It was during the years stationed in Hawaii that the brothers began performing as a five-piece band. With Regi on guitar, Roy on drums, Rudy on sax, Joseph on keys, and Victor on bass, the Wooten Brothers band was born. Performing in their front yard, the band immediately began honing their skills. Victor credits the brothers' early ability to play a variety of musical genres to the experience of relocating frequently, the diversity of 1960's radio stations, and the unwavering support of their parents who provided many opportunities and booked all of their performances.
"My brothers, who were already playing music, knew they needed a bass player to complete the family band. Regi started teaching me as soon as I could sit up straight, and my parents let him do it."
Victor has been heralded as "the Michael Jordan of the bass" and "one of the most fearless musicians on the planet." These qualities were evident when, in 1981, his older brother, Roy, recommended him as a bluegrass fiddle player for a job performing at a nearby amusement park. Victor, having never played violin in his life, was thrilled to meet the challenge. He borrowed an instrument from his high school orchestra teacher and immediately began practicing. Quickly learning the most popular fiddle tunes and techniques, he took the job at Busch Gardens' The Old Country in Williamsburg, VA playing fiddle and bass in the Good Time Country Show.
"I remember getting that call from Roy. He trusted me. I had to learn to be a fiddler real quick, almost over night. I don't think the people who hired me ever knew I'd never played before."
What they soon found out was that the brothers were quickly becoming star attractions. The Wooten Brothers rapidly became staple figures and star attractions at the park throughout the 1980's working in the German, Italian, Country and Bluegrass, and Americana shows.
The years 1980 and 1981 found the brothers performing for US troops overseas as the band for the Busch Gardens USO show. Traveling the world was an eye-opening time of learning for young Victor, but it was one summer performing in the country show that, unbeknownst to him, changed his life forever. That was when he became aware of a unique banjo player named Béla Fleck.
"My brothers and parents were the foundation. They prepared me for just about anything by teaching me to keep my mind open and to learn to adapt."
While messing around with a friend's banjo between shows, the friend commented on Wooten's unique banjo sound. Because the instrument is tuned different from a bass, Victor's lines came out sounding pretty strange when he played his friend's instrument. With a thick southern accent, the friend told him that he sounded just like a banjo player named "Baylor Fleck". Wooten couldn't imagine anyone playing a banjo that way, so he sought out to find out who this Baylor guy was. When he finally heard a recording of Béla's band New Grass Revival, he was hooked.
In 1987, Victor traveled with his friend to Nashville, TN. During their short visit, he connected with the banjoist Fleck for the first time. After their initial meeting, Wooten and Fleck kept in touch and continued sharing musical ideas. In 1988, Wooten found himself living in Nashville. Later that year, Béla and Victor, along with Victor's inventive brother Roy "Future Man" Wooten, and harmonica & piano wizard Howard Levy, formed the eclectic ensemble Béla Fleck and the Flecktones. With a dozen recordings under their belt, the band has created a completely new sound and has become known for its genre-defying music. Currently, over twenty years later, the band is still going strong.
"Musically, that means not being rigid and not having to play in a certain way."
A few years after he began touring with the Flecktones, Victor released his first solo project, A Show of Hands. Recorded with only a 4-string bass, no multi-tracking, and a lot of groove and soul, this revolutionary CD was voted one of the most important bass records of all time.
Musicians wanting to learn Victor's unique style and elusive techniques began seeking him out for lessons and seminars at music stores and schools around the world. These workshops became the training ground that lead to the formation of his acclaimed Bass/Nature Camp in 2000, which eventually expanded into Victor Wooten's Center for Music and Nature. These "intensive" style programs, now in its thirteenth year, welcome all instrumentation and vocalists, and have helped thousands of people of all ages from all corners of the world enhance their musical and personal lives.
"People frequently thank us for sending their new spouses home."
In 2009, Wooten Woods became the new home for all of Victor's camps. The nearly 150-acre retreat, owned by Victor and his wife, is located on the beautiful Duck River west of Nashville, TN. This picturesque retreat center, largely built by the hands and hearts of past students, has provided many more opportunities for Victor and his staff to share their lifelong experiences with others.
"We give students the opportunity to completely let go and be themselves while congregating in a peaceful non-competitive manner on an equal playing ground with each other and their instructors. We've found this to be the best environment for learning."
April 1st, 2008 marked the debut of two new releases by Victor Wooten. Palmystery (Heads Up) is his sixth solo recording and contains a collection of all new music. It features Bootsy Collins, Mike Stern, Keb Mo, Carl Denson, Jd Blair, Derico Watson, Saundra Williams, Anthony Wellington, Steve Bailey, Will Lee, Dennis Chambers, The Lee Boys, The Wooten Brothers, and others. The album showcases Wooten's jazz composition and arranging skills with songs like "Two Timers", 'Flex', and "Song for my Father", but also brings to the forefront his artistically humble side with the celebratory track "Bass Tribute" and the thought provoking "I Saw God".
On the same date, Victor released The Music Lesson-A Spiritual Search for Growth Through Music, a self-published novel about Life and Music. The book presold hundreds of copies before its release quickly becoming a "must-read" for musicians world-wide. The choice of using this unconventional approach to sharing unique ideas about music was a surprise to all. Offering an intriguing story full of anecdotes and mysticism, The Music Lesson has helped free the minds of musicians worldwide. Soon after its release, it was picked up and published by the Berkley Publishing Group/ Penguin USA Inc. Now translated into multiple languages, The Music Lesson is currently used as required reading and part of curriculums in study groups, schools, and universities including the prestigious Berklee College of Music and Stanford.
With the success of the book came the release of The Music Lesson audiobook (Tantor Audio). Victor lends his voice as the narrator and main character, but enlisted many of his friends and fellow musicians to read the parts of all the remaining characters. Victor also wrote and performed the musical score to the audio book, which was voted as a one of five finalists at the 2011 Audie Awards (the audio book's equivalent to the Grammys) in the category of Personal Development.
"My mom always said the world needs more than just good musicians. She said we need good people."
Wooten's sought-after skills and growing popularity have lead to recordings and performances with artists such as Chick Corea, The Dave Matthews Band, Bootsy Collins, Branford Marsalis, Mike Stern, Prince, India Arie, Keb Mo, Dennis Chambers, Susan Tedeschi, Gov't Mule, Bruce Hornsby, Stanley Clarke, Marcus Miller, Frank Gambale, the legendary Moroccan group Nass El Ghiwane, and many others.
His respected reputation as a teacher and speaker/lecturer on the subjects of both Music and Nature have garnered invitations for him to speak and teach at schools, universities, classes and spiritual centers around the world. Some of these places include Strathmore College, Berklee College of Music, Stanford University, Harvard, Mississippi State, Miami University, Middle Tennessee State University, The Haven (Gabriola Isle BC, Canada), Various Nature Centers and camps, and The NYC "Y" with Dan Levitin, author of "This Is Your Brain On Music".
Along with recording Grammy winning and Billboard charting albums with Béla Fleck and the Flecktones, Victor also spearheaded the formation of the super-group SMV with two of his childhood heroes, Stanley Clarke and Marcus Miller. He continues to record and tour with the Flecktones, various other artists, and as a solo artist. He also currently leads six to eight camps at Wooten Woods each year (which he takes part in all day every day). With all of this going on, it would seem like Victor Wooten would have no time for anything else, but that is not the case.
Taking matters completely into his own hands, Wooten has recently formed his own record label. Vix Records, Wooten's self-proclaimed "Label of Love", entered the scene in 2011 with a re-mastered version of his pioneering debut solo CD. The new version, A Show of Hands 15, contains three bonus tracks and is also released on vinyl.
"If the world were to follow you today, where would you lead them?"
Continuing to grow and always willing to share his gifts with all who desire to learn, it seems that Victor Wooten has no plans of slowing down.
I'm currently writing the sequel to The Music Lesson, and have at least three more books planned after that. I feel like we're just getting started with the camps and Wooten Woods. Now that we are officially recognized as a not-for-profit organization (501c3), the door is wide open. Vix Records has already released multiple products and we're not even a year old yet. Writing music for movies and television is the next logical step, and with the amazing team I have helping me, including my manager Danette Albetta, my assistant Dave Welsch, and my wife Holly, I'm sure we'l accomplish all of our dreams and more. You know, my kids are actually starting to play gigs on their own now. Who knows, I may be able to retire soon and become their manager. I'm just happy that people like what I do and that I have a lot of support. You can't beat that.
Keep checking in at VictorWooten.com to stay current with everything Victor Lemonte Wooten has his hands and heart wrapped around. He's moving quickly, so you'll have to try hard to keep up. One thing is for sure; you won't want to miss any of it
Dennis Chambers - Chambers began drumming at the age of four years, and was gigging in Baltimore-area nightclubs by the age of six. He was recruited in 1981 by the Sugar Hill Label to be their "house drummer." Dennis plays on many Sugar Hill releases including, "Rapper's Delight." In 1978 (at 18 years old) he joined Parliament/Funkadelic, and stayed with them until 1985. In 1986 he joined the John Scofield band. Since then he has played with most of the major figures in jazz fusion music.
Bob Franceschini - Saxophonist, songwriter, and arranger Bob Franceschini has appeared on more than 200 albums for artists of many idioms including Mike Stern, Paul Simon, Willie Colon, Celine Dion, Bebe Winans, Tito Puente, Tower of Power, Victor Wooten, and Tom Browne. In addition to composing and arranging, Bob has performed as a touring musician with Mike Stern, The Yellow Jackets, Chaka Khan, Victor Wooten, George Benson, Paul Simon, Eddie Palmieri, Tom Browne, Willie Colón, and many others
Revelry is excited to present to you an Intimate Evening with the Victor Wooten Trio, this performance will include a Q&A with Victor and a meet and greet after the show.
Your Host Gary Jules: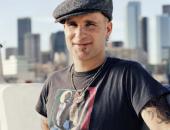 "Falling Awake", the first song from Gary Jules' independently released self-titled album appeared on two separate Billboard 'Top 100' charts in January 2007, one week after being heavily featured in an exceptionally popular episode of "Grey's Anatomy".When the editorial staff at Billboard learned that Jules' sales numbers were generated solely by iTunes downloads with no commercial radio airplay, record company, manager, publicist, publisher, radio or licensing agent to 'sell' the new album into the public eye, they wrote a full-page feature detailing Jules' unlikely rise to recognition with his album "Trading Snakeoil for Wolftickets" (featuring a cover of Tears for Fears' "Mad World") and the excitement surrounding the early success of his follow-up, "Gary Jules".
A live performance of "Falling Awake" on Last Call with Carson Daly on March 21st has sparked a scramble for worldwide physical release and international tour plans, and locked-up opening slots for Tears for Fears this summer.
After years struggling in the nascent Los Angeles underground singer-songwriter scene of the mid-90's, Gary Jules' first record "Greetings from the Side" was recorded for A&M Records and released in August 1998. Weeks later A&M's parent label Polygram was bought by MCA/Universal. Jules and "Greetings" were lost in the proverbial shuffle, but not before both received considerable critical acclaim. Zeke Piestrup of VH-1's show "Fresh" called Jules "The best American singer-songwriter to emerge out of the late '90's — and the only one worthy of being mentioned in the same sentence with Paul Simon, James Taylor, Cat Stevens and Nick Drake."
In 2001 Jules' original independent release of "Trading Snakeoil for Wolftickets," which included a cover of Tears For Fears' "Mad World" that Jules recorded with friend and producer Michael Andrews for the film "Donnie Darko," arrived to even more critical acclaim. The Village Voice called it "the best album to be released this year, anywhere. Period." Rolling Stone Magazine said "Trading Snakeoil for Wolftickets is at once beautiful and haunting, depressing and inspiring, lonely and welcoming — delicately crafted folk music of the highest order." In October 2001, Richard Kelly's film "Donnie Darko" came out in theaters and quickly became a cult phenomenon. Not bad for an album created in a basement for less than $100.
In 2002 "Snakeoil" was championed by Nic Harcourt, host of "Morning Becomes Eclectic" at KCRW-FM in Los Angeles, and by Bruce Warren at WXPN-FM in Philadelphia. With these giants of listener-supported radio spreading the word, Jules toured constantly as an independent artist, sharing the stage with Jack Johnson, Damien Rice, Sheryl Crow, Beck, Mason Jennings, Jewel, Jason Mraz, The Polyphonic Spree, Liz Phair, and Todd Rundgren. His year-long residency at the then anonymous Hotel Cafe in Hollywood has become the stuff of legend in the new LA underground.
In the Fall of 2003 the Jules/Andrews version of "Mad World" started receiving major airplay in the UK. One story goes that it was originally played on-air by Robbie Williams during a guest DJ spot. Others say it was Radiohead's Thom Yorke. Either way, Jules and "Snakeoil" were licensed by Adventures/Sanctuary and in December, fueled by a slew of powerful live television performances and tons of old-fashioned word-of-mouth, Gary Jules and Michael Andrews became only the 6th American act ever to win the coveted "Christmas #1."
"Snakeoil" was released in the UK and Europe in early 2004. Jules went gold, then platinum, in fewer than 8 weeks and in several different European territories. "Mad World" was the biggest single of the year.
Jules also played more than 300 live shows from Summer 2003 through August 2004 in the US, Australia, UK and Europe, including a 3-week Summer '04 run with Bob Dylan, from Ireland to Portugal.
In August 2004, Gary and his wife Greta welcomed the birth of their first child.
In 2006 Jules recorded his self-produced, and self-titled album, released it independently with longtime friends CdBaby.com, then left Los Angeles and moved to the mountains of Western North Carolina, where he is building a home studio and making plans for tours of the US, Canada, Australia, and the United Kingdom.
See you all May 18, 2017 for this special evening ~
A little about the Asheville Masonic Temple:
Our Mission is to preserve and protect the Masonic and architectural heritage of The Asheville Masonic Temple, encouraging and promoting its continued Masonic use by offering the public an exceptional and unique event venue.
The Asheville Masonic Temple is home to Asheville's most intimate and unique 250-seat Theater. It features hand-painted sets created in 1915 by the traveling Masonic artist from Chicago, Thomas Gibbs Moses. The preservation of this theater is breathtaking and the 52 back drops that it offers for your event will set yours apart from others in the area.
The Theater has hosted the Montford Park Players, Asheville Ballet, Asheville Performing Arts, Moogfest, Warren Haynes and The Rocky Horror Picture Show just to name a few. This beautiful theater is well equipped to host concerts, musicals, comedies, plays, lectures, salons, socials, dances, and anything else the imagination can manifest. Our usual seating capacity of 250 expands to 400 when adding additional intimate floor seating.
We look forward to you visiting the Historic Theater for our Revelry Concert Series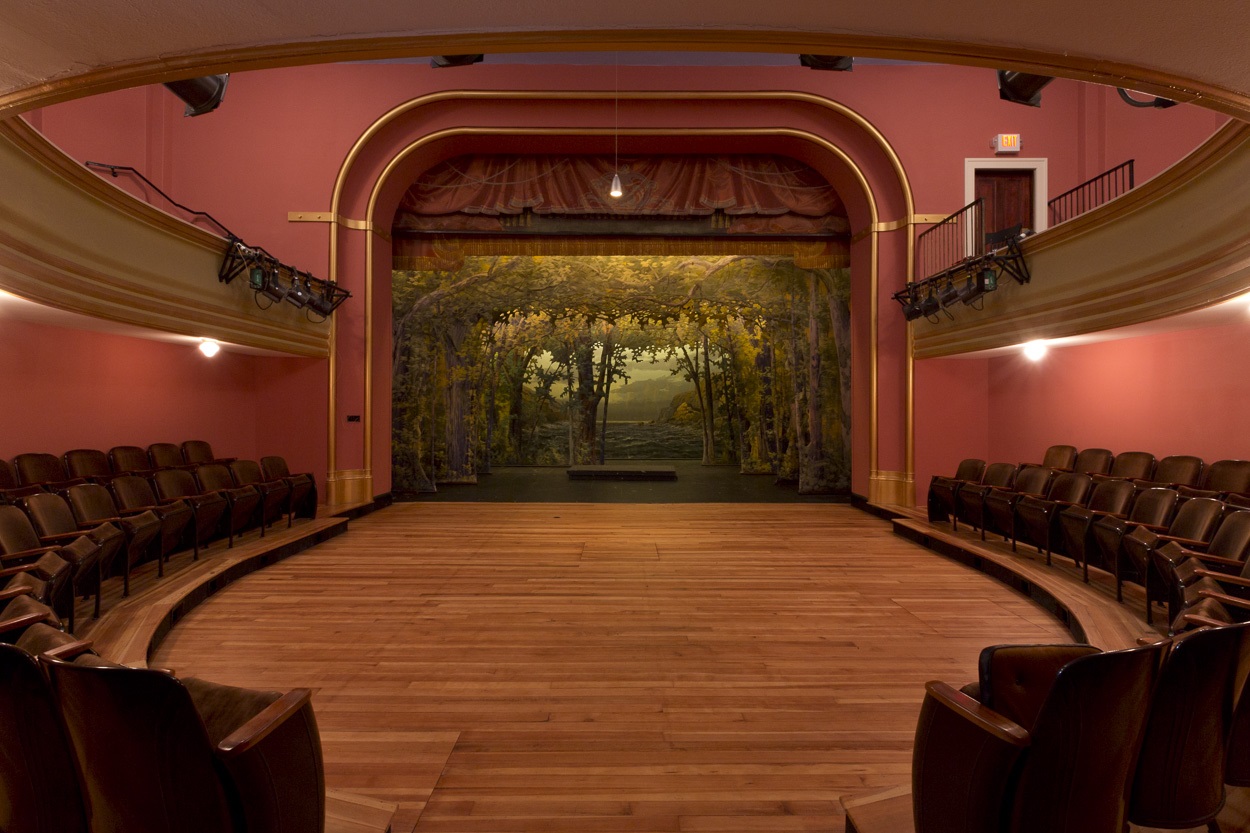 Produced by: Shay Brown Events Management, Worthwhile Sound and Hunt and Peck Mediastuff